Roasted Winter Vegetable and Chicken Traybake
Preparation Time:

15 minutes

Cooking Time:

1 hour

Serves:

3-4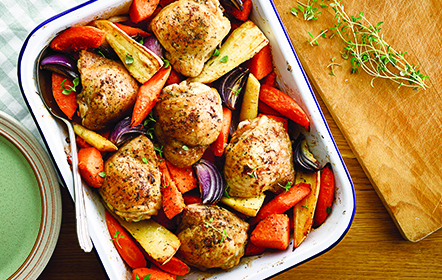 Mmmm, bake everything together to infuse your vegetables with delicious cooking juices – and a sprinkle of thyme at end just makes your dish look so enticing!
Method:
Preheat the oven to 180ºC fan/200ºC conventional/gas 6.
Place the chicken, carrots and parsnips into a large deep baking tin and drizzle over the Crisp 'n Dry oil. Sprinkle over the dried herbs, cinnamon and salt then season generously with pepper. Toss everything together then place in the oven for 20 minutes.
Remove from the oven and add the squash and onion wedges, then turn to coat in the oil and juices. Make sure the chicken thighs are on the top with skin side up so that it goes golden and crispy.
Return to the oven for a further 40 minutes, basting occasionally in the oil and juices until the chicken is cooked and golden and the vegetables are tender and starting to caramelise around the edges.
Scatter with the thyme before serving.