Souk Spiced Aubergines with California Walnuts, Pomegranate and Tahini Yoghurt
Preparation Time:

20 minutes

Cooking Time:

20 minutes

Serves:

4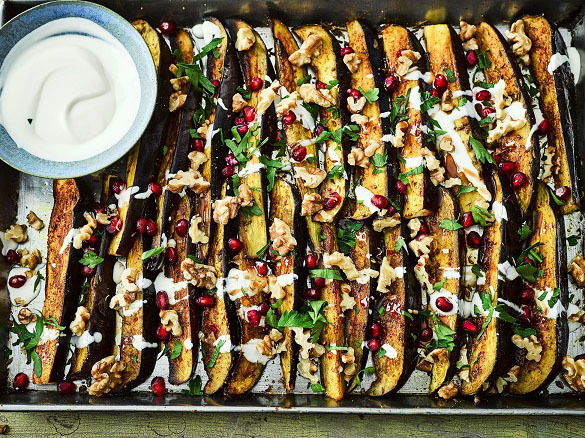 A treat for vegetarians! Bringing together warming spices, the creamy nuttiness of California walnuts, and powerful flavour of tahini, this mouth-watering dish perfectly showcases the flavours of aubergine and pomegranate. Perfect for a side or veggie main!
Method:
Preheat the oven to 200°C.
Mix all the spices together and put to one side. Brush the sliced aubergine with olive oil, place on a baking tray and sprinkle over the spices. Season with salt and pepper.
Place in the oven for 25-30 minutes, turning over halfway, until tinged golden brown around the edges.
Mix the yoghurt with the tahini adding a squeeze of lemon, then dilute with a splash of water to create a good drizzling consistency.
Drizzle the aubergines with the tahini yoghurt and pomegranate molasses. Sprinkle over the pomegranate seeds, chopped walnuts and flat leaf parsley to serve.