Sticky Toffee Apple Buns
Preparation Time:

5min

Cooking Time:

20min

Serves:

12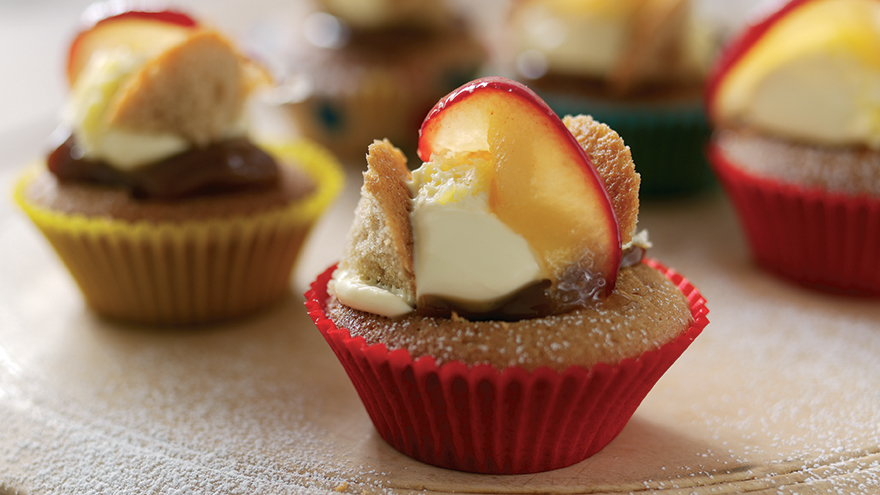 To celebrate National Afternoon Tea Day (April 21, 2017) we have a delicious, sweet recipe for you to enjoy.
Method:
Preheat the oven to 180°C, Fan Oven 160°C,Gas Mark 4. Place 12 paper bun cases into a bun tin.
Sift the flour and salt into a mixing bowl. Add the sugar, Trex, unbeaten eggs, milk and vanilla extract. Use a wooden spoon to beat the mixture together until smooth and creamy – this will only take 1-2min.
Spoon the mixture into the paper cases. Bake for 10-12min, until risen and golden. Cool in the tin for a few minutes, then transfer to a wire rack to cool completely.
Meanwhile, melt the butter in a frying pan and add the apple slices, cooking them for 3-4min until softened. Add the sugar and cook for another 1-2min, until caramelised. Leave until cold.
When the buns are completely cold, slice the tops from them and cut these in half. Share the toffee sauce between the buns, top with the clotted cream or whipped cream, then decorate with the apple slices. Replace the tops, then sift a little icing sugar over the buns.