Strudel of Roast Portobello Mushroom with Fondue of Beaufort Cheese
Preparation Time:

15min

Cooking Time:

30min

Serves:

4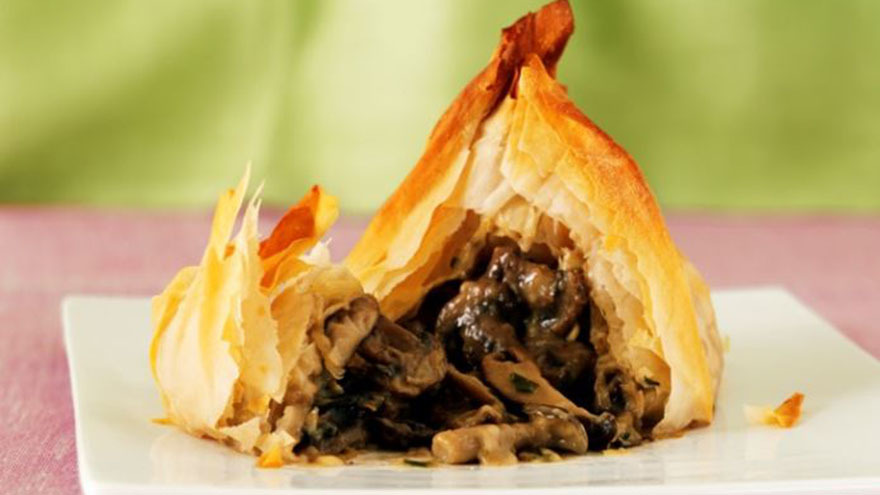 An ideal vegetarian main for Christmas day…
Method:
Preheat the oven to 200°C, Fan Oven 180°C, Gas Mark 6. Heat half the olive oil in a frying pan, add the Portobello mushrooms, season with salt and pepper and add one of the garlic cloves and thyme. Cook for about 45sec on each side then transfer to a baking tray.
Bake for 5min. Transfer to a plate – gill side down, along with the garlic and thyme, cover with cling film and allow to cool.
Reduce the oven to 190°C, Fan Oven 170°C, Gas Mark 5. Return the pan to the heat, heat the remaining oil, add the shallot and the rest of the garlic and sauté for 2min. Add the mixed mushrooms and sauté for about 2min before tipping into a colander – reserve the juices. Mix the herbs with the mushrooms and season to taste. Leave to cool.
Place the butter, flour, reserved liquid from the mushrooms and the stock in a pan and slowly bring to the boil, stirring with a balloon whisk until the mixture boils and thickens. Cook over a gentle heat for 2min. Remove from the heat, add half the cheese allowing it to melt in slowly. Stir in the sauté mushrooms and herbs and season to taste.
Unwrap the filo pastry, brush the top sheet with butter then place it on the work surface, repeat laying the second sheet at right angles to the first. Repeat with a third sheet so you have a stack of 3. Repeat to make 3 more stacks in the same way.
Place a Portobello mushroom in the centre of the pastry; pile the mushroom mixture on top along with the remaining cheese. Gather the corners of the pastry up around the mushroom to enclose the topping, seal with butter – you want to get a pyramid effect leaving the leaves as tall as you can. Drizzle over any remaining butter. Bake on a baking sheet for 15min or until the pastry is golden brown and crisp. Serve hot.
Cook's tip: This pie can be pre-cooked ahead of Christmas and then frozen.