Vegetarian-Friendly Egg Buddha Bowl With Cauli-rice and California Crusted Walnuts
Preparation Time:

45min

Cooking Time:

15min

Serves:

2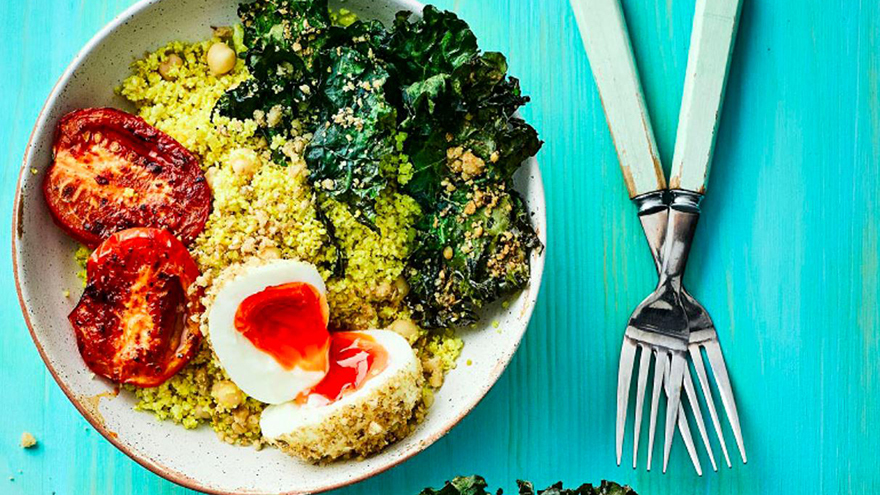 Looking for a low carb option for National Vegetarian Week ? We've got you covered! With spicy cauli-rice, warming harissa tomatoes, a walnut encrusted egg and crispy kale, this buddha bowl is packed with nutrients – and flavour!
Method:
For the Cauliflower:
Preheat the oven to 180°C.
Prepare the cauliflower by removing the outer green leaves and discarding. Break into florets, place in a food processor and whizz in batches until coarse.
Empty the cauli-rice into a mixing bowl, then add the olive oil, cumin, turmeric and salt and pepper and mix well.
For the Tomatoes:
Mix the harissa with the extra virgin olive oil. Cut the tomatoes in half and toss in the harissa oil, then place into a small roasting dish.
Next, toast the spices in a dry frying pan until fragrant. Place into a pestle and mortar with the walnuts and grind to medium/fine texture.
For the Kale:
Prepare the kale by removing any woody stems. Massage 2tsp of olive oil into the leaves, making sure they all get an even coating, then sprinkle with 2tsp of the walnut spice mixture.
To Assemble the Dish:
Tip the cauli-rice out onto two baking trays lined with parchment and roast in the oven for 12min.
Roast the tomatoes for 15min.
Lay the seasoned kale out on a flat tray lined with parchment and roast for 15-20min.
Boil the eggs for 5min (or a little longer if you like the yolk to be cooked through).
Mix the chickpeas into the cauli-rice and spoon into two large bowls, then top with the kale and roasted tomatoes.
Peel the eggs and roll into the walnut spice mix, then place on top to serve.