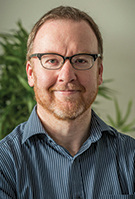 I have big shoes to fill this week – and not because I'm bad at choosing footwear! This is my first issue of My Weekly as editor after taking over from Sally Hampton who did such a fantastic job overseeing the magazine you enjoy every week. Now I am the lucky one to lead a talented team of writers, editors, designers and picture editors, and together we will work hard to produce the very best magazine for you. I'd love to know what you think of My Weekly so please feel free to email me at myweeklyeditor@dctmedia.co.uk
with your thoughts. Have a great week!
Stuart Johnstone, editor
My Weekly is on sale from March 20-26, available at supermarkets, newsagents and as a subscription.
Look what's inside…
This Week's Issue

We know lots of you love your soaps, so Jessie Wallace - aka Kat Slater, centre of an EastEnders bombshell - is our cover girl along with Mary Berry and Sue Johnstone, telling us about food and family dramas. Plus we have spectacular wrap recipes and tips on filling up healthily!

Check out our latest subscription deal

Great Outdoors

Not only will you find the best springtime walks around the UK and our regular Grand Day Out, but some great tips for gardening on a budget – plus a Real Life tale of a friendship forged while blitzing brambles! It's time to get some fresh air…
Picture: Alamy

Why is gardening good for you?

Fiction

What if the man you married can't face fatherhood? Lynne Hackles' short story explores this sensitive issue. Also this week, bestseller C. L. Taylor tells of a neighbour's revenge, a traumatised lawyer faces her fears and an old flame reappears. Picture: Rex/ Shutterstock

A brand new thriller reviewed

Cookery

Just wow – we bet you'll want to take your own photos of these brilliant wrap combos when you've cooked them up. That is, unless you simply can't wait to eat them! We'd love to see your pics – either on Facebook or emailed to the address on our Letters page.
Picture: Jonathan Short

Another lunch idea…

Problems

We all know that times are tough for young people trying to get a foot on the property ladder – but how far would you go to help out your offspring? Our agony aunt Helen Lederer advises a couple whose son has asked them to help him buy a house…
Picture: iStockphoto

Sign up for our newsletter