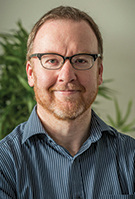 This week we have a royal wedding taking place, and in typical My Weekly style, we are looking beyond the event itself to help you celebrate Harry and Meghan's big day. We have stunning miniature dishes to serve to friends and family, fashion that will have you looking and feeling great on your own special occasion, and of course, we look back on the romance itself. We also have part one of an exclusive story from one of our favourite authors, Sue Moorcroft, which is cause for celebration alone!
Stuart Johnstone, Editor
My Weekly is on sale from May 15-22, available at supermarkets, newsagents and as a subscription.
Look what's inside…
This Week's Issue

Whether or not you'll be glued to the TV on Saturday to watch Harry and Meghan say "I do", we have a whole heap of wonderful treats for you to enjoy this week…

Check out our latest subscription deal

Time For A Chat

With wedding fever in the air, we in the office dug out some photos and stories from our own weddings to share with you – including Susan, our glamorous celebrity editor! Picture: Steven Brown

Sign up for our newsletter

Cookery

Simple yet stunning! Take your pick from seven gorgeous royal wedding-themed buffet recipes, perfect for any celebration. Picture: Jonathan Short

Another "royal" recipe...

Health

How's your food hygiene? Take our entertaining "Sniff Test" quiz – or use it as a wake-up call for a partner or student offspring! Picture: Alamy

Household hacks...

Looking Good

Which of this year's trends will suit you best? Find out with our lovely fashion selections, and tips from mature-style guru Tricia Cusden. Picture: JD Williams

And for your hair...