A Right Royal Drive…
---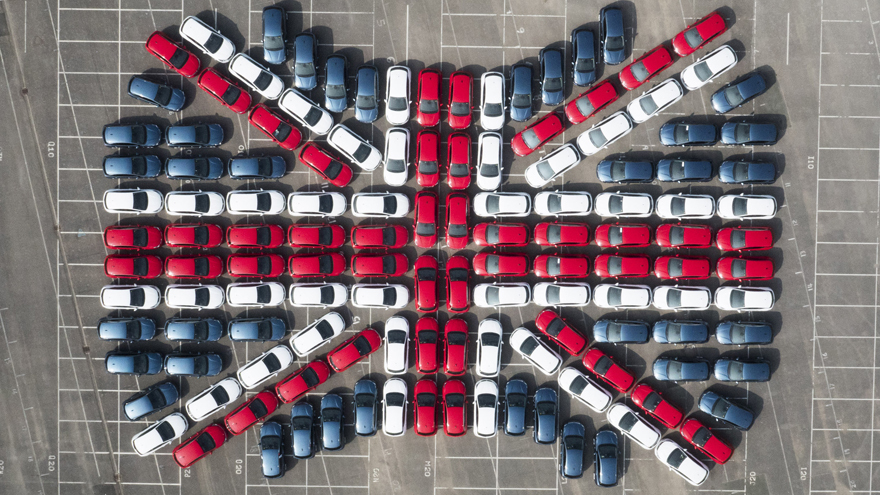 A tribute to the Queen Pic: Gokman Bliss ­ OBR Studios
In honour of our lovely Queen turning 90, it seemed only fitting that the lovely people at Vauxhall Motors share with you these fabulous images.
The British brand has paid tribute to Her Majesty's 90th with a patriotic Union Jack display made from 127 British-built Astras. How wonderful!
Did you know that the Queen has been a fan of the Vauxhall brand for over 50 years, owning various models including her "MYT 1" 1961 PA Cresta Friary Estate? They served the Royal fleet and contained a number of interesting features like fishing rod holders built into the roof and a gun rack. How unusual! And most importantly they were all in Balmoral Green, a bespoke deep green colour not normally supplied by Vauxhall.
And for those who love a giggle, to mark her 90th year, the seventh-generation Astra has also been modified for Her Majesty, boasting a variety of add-ons fit for the Queen, including a retractable regal red carpet and specially designed corgi booster seat. What fun!
And finally, isn't it funny what things don't go quite to plan… Definitely a case of mistaken identity!
Denis Chick, Director of Communications, Vauxhall Motors and Holder of the Royal Warrant for Vauxhall Motors said,
A few years back, a new Omega estate car for the Royal Family was being prepared by our sister company, Opel, in Germany.  It all seemed to be going to plan until the car arrived in Luton.  Sure it was sober and green on the outside – but the interior trim was a customised riot of gaudy colour.  A telephone call was hastily made to Germany asking them to explain the psychedelic seating and whether they knew this car was for the Queen. It transpired that the team at Opel were fitting the car for Queen the rock band and not Queen Elizabeth. The next day the car was duly dispatched back to Germany for a refit."