It's Grilling and Chilling Time!
---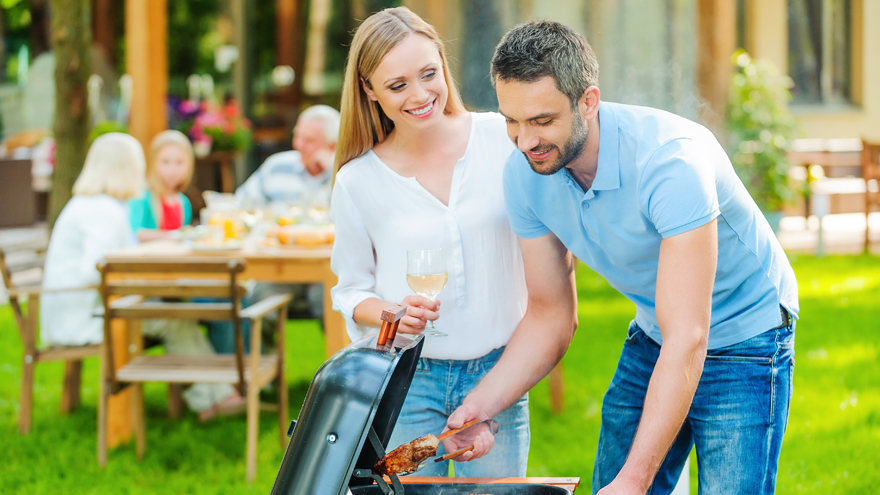 Pic: Rex/Shutterstock
Did you know that over half of the country (that's 31.5 million people!) will be barbecuing this weekend, serving up a total of 72 million sausages – which would reach from the UK to Brazil if lined up?!
As the UK sets to embark on a record-breaking sizzling weekend, Hellmann's have been conducting a summer-long search for grilling perfection and discovered some fab findings.
The "perfect" British BBQ has six guests, serves up three different meats, three side dishes and three condiments, and each guest would consume 1.9 burgers, 2.2 sausages, and 2.7 bread rolls. Do you and your family match up?
The research is accompanied by a scientific study conducted by Oxford University's Professor Charles Spence that uncovers what drives our national love of barbecuing.
Professor Spence's top 5 sizzling science tips for the perfect BBQ:
1. Play low-pitched music to bring out smoky BBQ flavours. Nina Simone's Feeling Good came out as the ultimate BBQ song!
2. Don't play Bieber as his high-pitched tune Baby didn't enhance any grilling flavours.
3. Use red plates to make your food taste spicier!
4. Eat with your hands as your brain subconsciously assesses food when you pick it up, making you enjoy it more.
5. Create contrast to trigger reward circuits in your brain – think, a colourful salad with meat or cool sauce on a hot burger.
So there you have it – the ideal science behind the best BBQ ever. Eating outside never tasted, or sounded, so delicious!
Are you holding a BBQ this weekend? Or maybe you're attending one? Let us know on Facebook or Twitter…
For more information on Hellmann's visit www.hellmanns.co.uk and check out their delicious burger recipes!
This chicken dish would be perfect on the barbie, too!

Also see your weekend has never looked so tasty…