Live Well, Eat Well, Feel Good!
---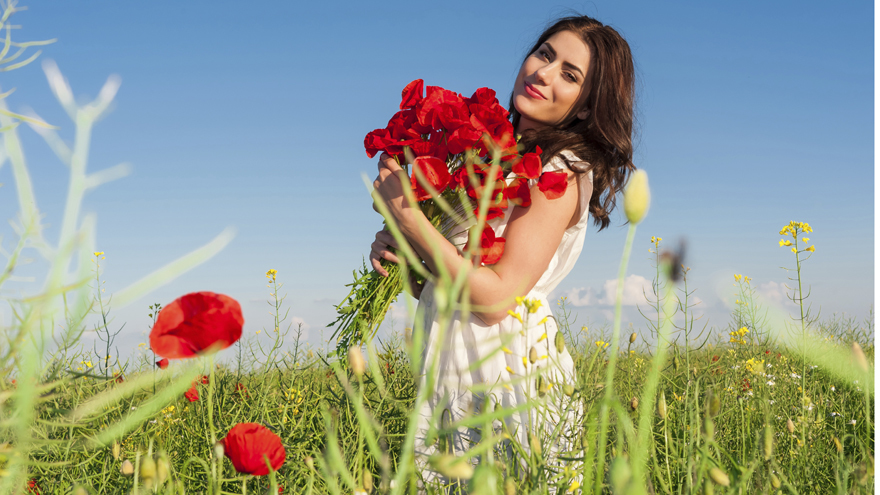 Pic: Istockphoto
I hope you enjoy our easy-going tips in this week's issue to help you shape up for summer, with ideas from the experts on everything from posture to pedicures! Nutritionist Sally Wisbey and personal trainer, Lucy Wyndham-Read have more beneficial advice for you…
Lift Your Mood
Nutritionist Sally Wisbey adds, "Going for a countryside walk, listening to the birds and admiring the flowers can be a great way to lift your mood. Even better if the sun is out as this will help top up your Vitamin D levels, important for mood and brain health. Listening to guided meditations are also a great way to boost positivity and reduce stress, along with mindfulness colouring.
Here are Sally's top foods that may help you perform throughout the day and sleep soundly at night.
Have a good Breakfast!
What you eat for breakfast can determine how you feel throughout the day.  Your body needs complex carbohydrates and protein for energy so go for either porridge topped with flaked nuts and seeds, or poached eggs and smoked salmon on wholegrain toast.  Both of these contain slow releasing sugars, helping to keep energy levels stable and avoid a sugar rush.
Opt for Complex Carbs
Sweet potatoes are high in complex carbohydrates providing a good, stable energy source.  Try these mashed, baked in their jackets or cut into strips, drizzled with olive oil and roasted for 30 minutes as an alternative to chips.
Protein Plus
Eggs are a great food to have as part of a meal or hard boiled as a snack, as they are a good source of  protein and essential fatty acids.
Boost Energy
Salmon is a source of omega 3 fatty acids and proteins and is also rich in B vitamins, which contributes to normal energy yielding metabolism.
Yes, You Can Eat Between Meals…
Eating between meals can help maintain blood sugar levels so snack on a handful of nuts and seeds such as pumpkin and sunflower seeds.  These contain a source of magnesium, which plays a role in energy yielding metabolism and cell division.
Drink, Drink, Drink!
Dehydration can leave you feeling drained and fatigued which can result in being over tired and making it difficult to sleep. Ensure you keep your fluid levels up by drinking at least 1.5 litres of water throughout the day.  Herbal teas count towards your fluid intake but stay away from caffeine and sugary drinks as these can dehydrate you further.
Natural Remedy
If you occasionally struggle to get to sleep and you are looking for a natural healthcare option Nelsons® Noctura® is a homeopathic medicinal product to aid sleep and for the temporary relief of sleep disturbances (£5.80 Holland & Barrett, www.nelsonspharmacy.com). Always read the label.
Easy Ways To Work Out
Exercise and fitness has an equally big part to play in keeping us feeling youthful, but if you've no time to go to the gym, there are easy ways to keep fit and tone up!
Personal trainer for Nelsons® arnicare® arnica Cooling Gel, Lucy Wyndham-Read, has put together these tips for building up health and fitness and overall wellbeing, all while continuing the smooth running of your day job.
Ice Ice Baby
Posture is one of the biggest areas affected by sitting for long hours at a desk, as we often have the tendency to hunch while we type. A quick way of transforming from hunched to swan like is to apply "Lucy's ice cube trick". On a post-it note, simply write the word "ice cube" and stick it on the corner of your computer. Each time you glance at it, imagine someone has dropped an ice cube down your back. You'll instantly pull back your shoulders and lift up your chest, giving you perfect posture.
20 Minute Rule
Try to get up from your desk every 20 minutes. When we sit down for longer periods, it is thought to slow the metabolism which affects the body's ability to regulate blood sugar, blood pressure and break down body fat.
Be A Breakfast Girl
It's easy to skip breakfast when we are rushing around in the mornings, trying to get ready and out of the door. By missing the first meal of the day it just means that come 11am you'll want biscuits and snacks and be prepared to do anything for them. You can help to prevent this from happening by having a healthy and sustainable breakfast, such as overnight soaked oats which you can grab and go and eat on your commute or when you get to your desk. Place a handful of oats topped with either oat milk, coconut milk, almond or semi-skimmed into a mason jar or tupperware dish with a lid. Ensure they are completely covered and add a sprinkling of cinnamon for flavour. Finally leave in the fridge overnight and, hey presto, breakfast is ready for the morning.
Tone Those Thighs
The following three workouts are perfect for the office. Not only will they tone and sculpt your thighs, but will also help your body to burn calories while you're sitting at your desk without anyone knowing. Here are the exercises to follow:
Be An Office Flamingo
You don't have to stand on one leg for this exercise but do just stand up on both feet whenever you can. If you're on a conference call, push that chair back and stand upright which will help to engage more of your muscles.
Drink Water
Motivate everyone in the office to drink up by challenging your colleagues to eight glasses of water a day. This will help you to feel more alert and energised during your working hours.
Sneaky Two Minute March
Here is a quick two minute workout that you can squeeze in without a soul knowing while you're at work.  Simply sit with good posture and place your feet hip width distance apart. Now start marching your feet up and down (quietly) for two minutes. This will not only give the legs a quick workout but you will also be marching off a fair few calories at the same time.
Specially formulated Nelsons® arnicare® arnica Cooling Gel is ideal for massaging into tired muscles to revitalise them after a workout. It is non-greasy and non sticky combining the natural benefits of arnica with the refreshing sensation of grapefruit oil and menthol to cool and soothe the skin. Nelsons® arnicare® Arnica Cooling Gel is priced at £5.40 for 30g and is available from Holland & Barrett, Superdrug, Boots and Amazon.  Visit www.arnicare.co.uk for more information. 
Small health changes for big health payoffs…