Exploring The Swiss Alps By Train
---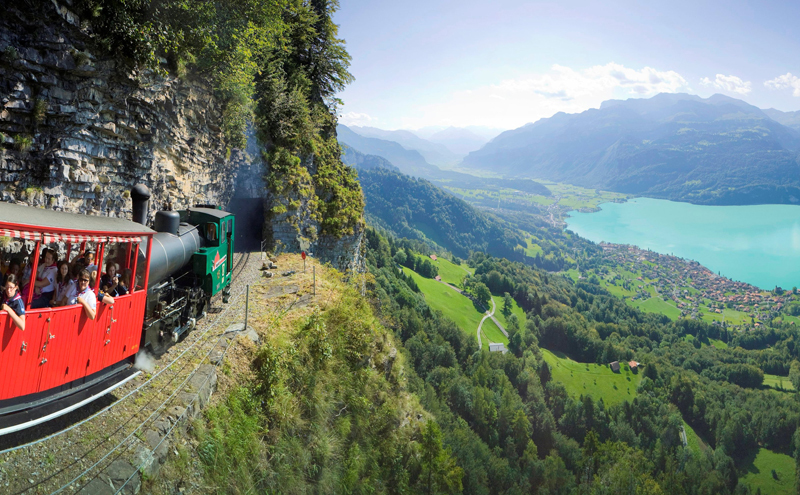 Brienz-Rothorn Railway
This summer, I was lucky enough to be invited by Great Rail Journeys to join them on a trip to the Bernese Oberland. I always wanted to explore the Swiss Alps. Heidi was my childhood heroine and I spent my teenage years reading the Chalet School Books – all 50-odd of them!
Another fictional hero of mine also has a connection with Switzerland and the Swiss Alps. He may not have travelled by Great Rail, but Sherlock Holmes and his sidekick, Dr Watson, crossed Europe to Switzerland and the little town of Meiringen in Conan Doyle's short story The Final Problem.
There, at the Reichenbach Falls, Holmes wrestled with his Nemesis, Moriarty. Both men fell to a watery grave. Or did they?
By popular demand, Shelock Holmes was resurrected. His popularity continues to this day, as evinced by the Sherlock Holmes Museum in Meiringen.
There you can see artefacts and memorabilia relating to Conan Doyle and his fictional detective. Favourite of mine was a whole room set, showing Sherlock Holmes's sitting-room at 22B Baker Street. It is meticulously reproduced. You could almost feel you were in smoggy nineteenth century London.
Full Steam Ahead
Of course when you're journeying with Great Rail, the only way to travel is by train, especially in Switzerland where funiculars, steam and electric trains are the Kings and Queens of travel. A funicular took us to the top of the Reichenbach Falls, where we had great fun with a life-size model of Sherlock Holmes. As you can see, Sheila, who was representing Great Rail, joined in the spirit of the occasion.
A must for steam train enthusiasts is the Brienz Rothorn Railway. As well taking you on journey up the Alp from the little town of Brienz to the tip of Rothorn – where you have magnificent views of the mountains that ring Lake Brienz and Lake Thun, you can visit the hub of activity in the station yard, learning the history of the railway. The steam train has been running since 1891.
The Top Of Europe!
The highlight (literally) of my Great Rail experience in the Swiss Alps was a train trip to the top of Jungfrau. Starting from Interlaken, the route to Jungfraujoch, Europe's highest railway station takes you through the heart of the mountain to a glorious experience of panoramic views, snowy scenery and the chance to try ski-ing and sledging, right at the top of Europe. Attractions include an ice palace of magnificent sculptures and a Lindt chocolate shop! Mmmm.
Fancy It?
The Great Rail Journeys Swiss tour is available on a rail-only basis, 10-days from £1,945pp departing from and returning to London St Pancras via Eurostar. Price includes rail travel, accommodation at the 4* Parkhotel Du Sauvage, meals as per the itinerary and excursions to the Reichenbach Falls, Jungfraujoch and the summit of Rothorn. Visit www.greatrail.com, tel 01904 527180.
GRJ also offers a 7-day escorted group holiday Jungfrau Express Fly:Rail from £1,695pp.
Prefer to visit under your own steam? GRJ can tailor-make holidays for those inspired to visit Switzerland on an individual basis.
Visit Jungfrau Region Tourism and Interlaken Tourism for more about the Bernese region.
Read more like this
Moira takes a trip to the Leipzip region of Germany.
Read more about Karen's Swiss trip in My Weekly, issue dated September 10, on sale September 6.