10 Natural Ways To Deal With Pain
---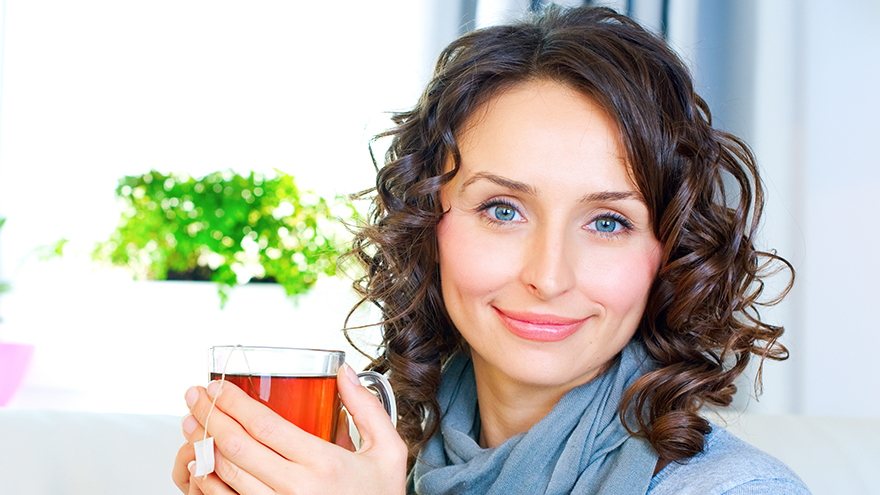 Pic: Rex/Shutterstock
Pain is one of the most common reasons people visit their GP and it's reported that the NHS spends over £440 million per year prescribing different types of pain relief medication.  For some people, prescribed medication really is the only option but is there anything we can do to support our bodies with natural, everyday pain relief?
It seems, medical doctors are increasingly turning to natural pain relief alternatives and treatments such as acupuncture, yoga, and even hypnosis are now being looked at to help their patients feel better.
Below are some natural ways to support your body help deal with pain.
Try and keep moving
Sometimes the last thing we want to do when every part of our body hurts is doing any sort of physical exercise but research has shown physical activity can actually help ease the pain.  Some sort of moderate exercise to maintain function is vital, even just something as simple as walking for half an hour a day can make a difference. Exercise such as yoga has shown some promising results; a study published in the Journal of Spine showed that after two months, of twice weekly practice, people suffering from lower back pain reported a 42% reduction of pain and a 46% reduction of depressive symptoms.
Eat Well
Rob Hobson, Healthspan Head of Nutrition says, "Instead of reaching for the painkillers, try looking for natural alternatives in your kitchen cupboards or exploring supplements such as turmeric that may help to ease your pain naturally by tackling inflammation." Foods renowned for their anti-inflammatory properties such as tomatoes, green leafy vegetables, nuts such as almonds and walnut plus increasing the amount of  fatty fish we eat such as  salmon and mackerel should all be incorporated into the diet to help reduce inflammation which is a major cause of pain.
Enjoy a cuppa
Nat Hawes, author of book and web site www.naturescures.co.uk, suggests trying nettle leaves. Try a cup of nettle tea instead of caffeinated drinks, as this is one of the most potent herbal home remedies for arthritis and helps clear pain-creating uric acid.
Try hot and cold
If you are looking for quick, immediate relief then try a hot and cold approach such as a heat pad, a heated rice pad or a hot water bottle then try an ice pack or cold-water compress.  After this try massaging with a gels such as A. Vogel Arnica Gel,  (50ml £6.75, www.avogel.co.uk). Apply to painful areas to counter inflammatory pain quickly.
Natural herbal support
Alison Cullen from A.Vogel suggests using Devil's Claw to take the edge off daily pain and keep painkiller use down. A. Vogel Devil's Claw Tincture or tablets Tincture is £9.75 for 50ml.
Enjoy a good soak
For any sort of muscle or joint pain try a relaxing bath with Epsom salts. High in magnesium and sulfates, they are easily absorbed through the skin to provide quick relief and reduce inflammation.  Pop in a few drops of lavender essential oil to help if near bedtime.
What's the fuss about turmeric?
Rob Hobson, Healthspan Head of Nutrition says, "There are powerful anti-inflammatory properties in curcumin, which is the active ingredient in turmeric. Most of the studies on turmeric have been carried out using very strong extracts. You'd have to eat an awful lot of curries to get that much curcumin into your system!  He continues,  "The problem is that curcumin isn't naturally water-soluble, so the body struggles to absorb it. To truly gain the benefits of curcumin you need to take a supplement that is bioavailable."  Try Healthspan's NEW Opti-Turmeric 500mg which has been developed specially and is 185 times better absorbed and 7 times faster-acting than standard powdered turmeric, plus it has added vitamin C to support cartilage formation and immune health.
Add a little spice to your life
We've talked about turmeric but garlic, ginger, cinnamon and cayenne all have powerful anti-inflammatory properties that can support the body and are easily accessible today.
Try different types of help
Alison Cullen also advises,
If acute pain is a regular occurrence, ask an experienced cranial osteopath to show you pressure points that you can use to reduce the level of pain."
Other types of help are massage therapy, which has proven to boost levels of endorphins and serotonins, which are known as the body's natural painkillers and regulators. Also Acupuncture has shown some promising results with a study published in Nature Neuroscience online which showed that the careful placement of needles in specific acupuncture points affects the activity of adenosine, an amino acid that becomes active in the skin after an injury to ease pain."
Joint a support group
Talking to other people with chronic pain will make you feel less isolated and more in control. Many communities have chronic pain support groups.  Ask your GP or check out online to see what you can find.