Revealed: The secrets to the perfect shopping trip
---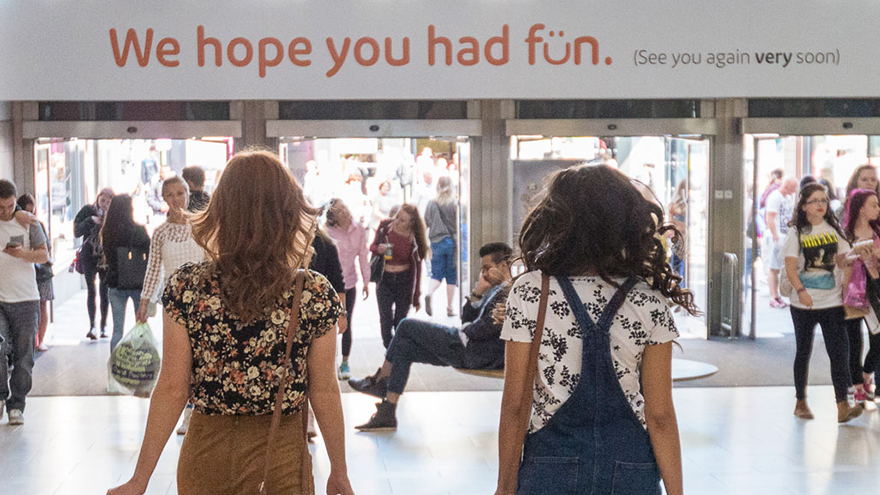 intu and MBNA survey reveals the ingredients for the perfect shopping day out
A three-hour trip around the shops – starting at 10.28am on a Saturday morning – is perfect for the nation's shoppers… but they're eager to make their visit an "experience" it seems, according to a recent survey by intu and MBNA.
To understand what makes the perfect shopping trip, a study was commissioned by the shopping centre owner intu and credit card experts MBNA to support the launch of one of the market's newest retail credit cards – the intu credit card. Shoppers across the UK were quizzed on their preferred shopping habits, with over 2,000 evaluated.
The ideal trip to the shops lasts three hours, with a total of five items purchased and no more than seven minutes queuing. The total cost of the day, which includes a refuel break for coffee and cake, comes in at £118.
Most people would prefer to be accompanied by their partner, and half said they would make the day out extra special by going for a meal together. Meanwhile, a third will take their chosen shopping partners for a drink, 21 per cent will head to the cinema, and 1 in 10 will take part in a family-friendly activity such as bowling.
Roger Binks, customer experience director at intu, which owns 15 intu branded shopping centres across the UK including intu Trafford Centre, intu Lakeside and intu Metrocentre, said,
Everyone's expectations of what makes for a great shopping trip have changed a lot over the last few years, but this research shows that the majority of us will still leave the house in return for a great day out, a chance to try out items and earn valuable rewards that they can't get online.
"That's why we've created the intu credit card with MBNA to reward our shoppers with great benefits, offers and discounts on food and drink they can't get anywhere else."
The study also confirmed the importance of technology and social media as part the overall shopping experience. Shoppers aged between 18 and 44 update social media on average five times during their trip. On top of that, they will send at least one text and one picture to get advice from friends and family before making a purchase. Two in five will also use their mobile to compare prices between shops, and a quarter will go on to buy an item on their smart phone whilst out shopping.
One of the UK's leading consumer finance experts, TV presenter and founder of MoneyMagpie.com Jasmine Birtles said,
For many, shopping is not just a job that needs doing but a hobby. People will go on a shopping trip as a fun way to spend a Saturday or a day off work rather than simply because they need to buy something.
"Shopping is one of the UK's favourite leisure activities, but shoppers are getting savvier and more demanding as purchasing online now offers them all sorts of attractive retail options. Discounts, loyalty points, freebies and other incentives are all now part of what the British shopper expects when they go out to spend their money.
"They're also looking for speed and convenience with their transactions so that they can spend more time with the fun stuff like trying on clothes and eating in cafés. A contactless credit card with shopping rewards neatly combines the two, so it's likely to be very popular with shopping devotees."

 Top 20 things needed to make the perfect modern-day shopping trip:
A location where I can shop, eat and socialise in one place
Being able to socialise with my friends or family
Being able to find my way around easily
Being able to use whatever payment method I wish (contactless, Apple Pay, etc.)
Being rewarded for my spending with discounts and offers at the place I'm shopping
Being rewarded when I spend a certain amount
Free parking
Ending up with several bags of goodies
Finding something I have wanted for ages in the sale
Finding somewhere new that I will return to on a future shopping trip
Discovering I fit into something a size smaller than I usually wear
Getting to the till to buy something and realising it is cheaper than I thought
Grabbing a bargain
Having simple ways to pay to avoid the queues
Loving the first thing I try on
Making an unplanned purchase
My favourite music being played in the shops
Not paying full price for anything
Returning to a tried and tested shopping destination
Treating myself to something