Why You Need To Love Garlic
---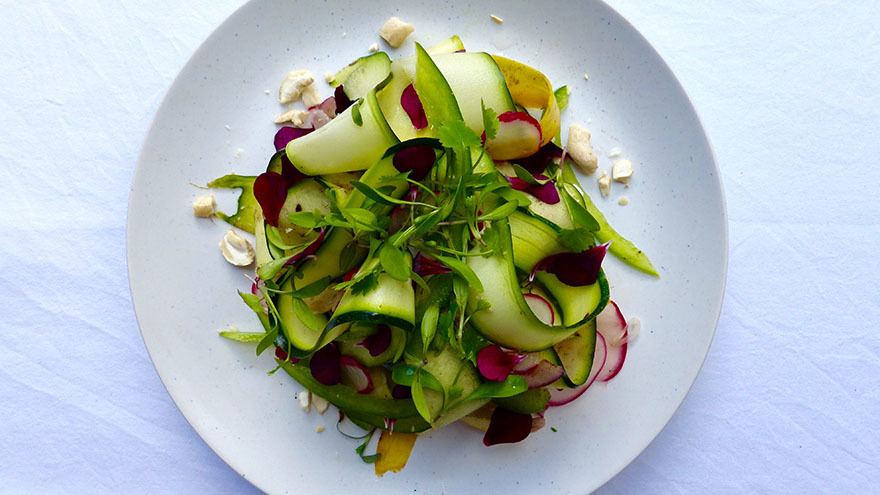 Raw vegetable salad with black garlic dressing
By Rob Hobson, Healthspan Nutritionist
Garlic is a species in the onion family Allium, along with shallots, leeks and chives. All 300 kinds of garlic grown worldwide contain sulphur compounds that give them a pungent smell and taste.  They include red, white, aged black and wild garlic.
The history of garlic spans over 7000 years. It is mentioned in some of the earliest scriptures including Egyptian, Biblical and Indian cultures.  Throughout history, garlic has been used for everything from general wellbeing through to performance enhancing, with many references to good heart health.
How to cook with garlic
Different varieties of garlic suit certain types of cooking. The classic, pearly white garlic is very pungent and works best in savoury recipes, often with onions. When roasted it develops a lovely sweet flavour. It also works well rubbed onto bruschetta topped with tomatoes and fresh basil leaves.
Black garlic is very on-trend. Aged over 30 days to ferment, the cloves are soft and chewy with a smoky, savoury-sweet taste similar to molasses, balsamic and prunes.  This garlic works well in dressings, sauces and marinades but has also been used in sweet recipes such as brownies and ice-cream by creative food manufacturers on the Isle of Wight, where a lot of British garlic is produced.
Wild garlic, only available during April and May, has a very mild flavour.  You can use the leaves in salads or wilted into risottos and omelettes. They are also delicious when wilted along with spinach.  You can also use the little white flowerheads in salad, stuff a roast chicken with them, or crush them into a pesto sauce with some basil and olive oil.
How can garlic improve your health?
Most garlic varieties are a source of vitamin C, B6, calcium, phosphorus, potassium, copper, selenium and manganese. White garlic contains an active ingredient called allicin, a plant compound with antioxidant properties. It has been shown to be antiviral and antibacterial.
One of the best ways to get the benefits of white garlic is to eat it raw.  When garlic is crushed or chopped it produces allicin, which causes the pungent smell (this is only released once the garlic is crushed or chopped).
Research has found some interesting benefits linked with garlic. While including fresh garlic in your diet undoubtedly boosts your health, to achieve the therapeutic dose used in studies, often a supplement is needed such as Healthspan's new Black Aged 2,000mg, 90 tablets for £12.95
5 key benefits of garlic for health
High blood pressure. A key risk factor for heart disease and the leading cause of stroke. Studies show that 200mg garlic powder taken three times daily reduced blood pressure.
Heart disease protection. Studies show black garlic supplements reduce build-up of some types of plaque in the arteries of people with metabolic syndrome. It's been shown that this type of garlic slowed the build-up of total plaque by 80% and showed regression, which suggests potential use of the supplement for people at particular risk of heart disease.
Cholesterol reduction. White garlic supplements may also help lower cholesterol levels, useful for people who want to try a more natural way to tackle the condition. Black garlic seems to improve cholesterol balance by increasing the liver production of HDL (good) cholesterol, which protects against hardening of the arteries.
Immunity. Lab studies show that black garlic extracts may help boost immunity by increasing the activity of circulating white blood cells, a key part of our immune system. These extracts also increase the growth and activity of immune cells, which may improve their targeting of abnormal body cells.
Even dental health! One study has shown the potential for garlic extract in the health of your gums to slow disease causing bacteria in the mouth, which may help to fight serious gum disease. This is very interesting as it can also affect other areas of your body such as heart health (systemic disease can damage heart valves).
Now try Rob's raw vegetable salad with black garlic dressing!