Overindulged At Christmas? Then Head To The Woods…
---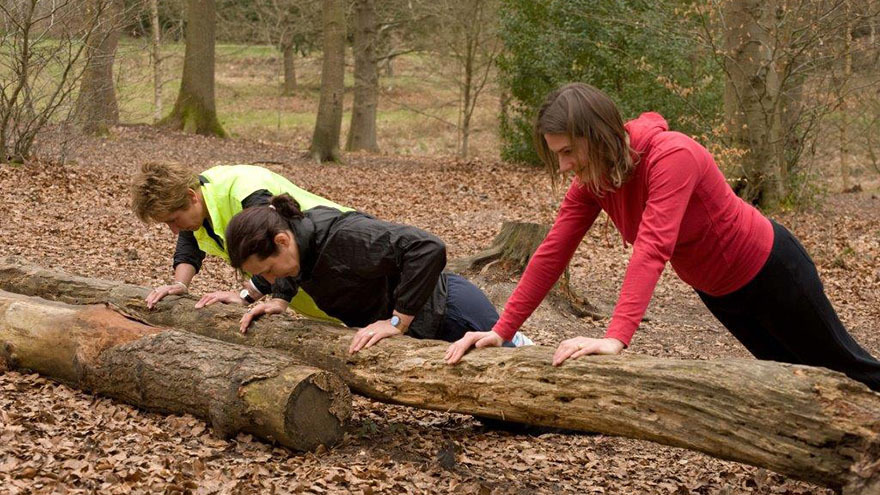 Use the environment as an outdoor gym
Forestry Commission England is helping visitors to the forest to burn off excess festive calories this New Year by matching some of its most popular walking, running and cycling trails to the calorie counts of favourite Christmas treats.
Even if you don't live in England, there will be woodlands in your local area where you could head. A leisurely 1.5 mile walk around a forest or woodland could burn off the 270 calories in a mince pie. Or for those feeling more active, the calories in a Christmas pudding could fuel an hour on a forest cycle trail.
With over 1,500 miles of varied trails, Forestry Commission England provides a chance to escape busy, stuffy gyms and to get fit where you can be inspired by stunning natural surroundings.
New Year, New You!
Each year around seven million people will make a New Year's resolution to improve an aspect of their health, with fitness commonly being a top priority and with half the population in England living within six miles of a Forestry Commission site, woods and forests offer great opportunities to kick start these resolutions.
Heading to woods and forests can also help you save pounds as you lose them. One year's Discovery Pass membership of your local Forestry Commission England site costs around the same as one month's gym membership.
To help get New Year's resolutions off to a positive start, Forestry Commission England has compiled a selection of calorie burning walks, cycles and runs across the country – and for a bit of fun they've worked out which Christmas foods visitors will burn off on their visits.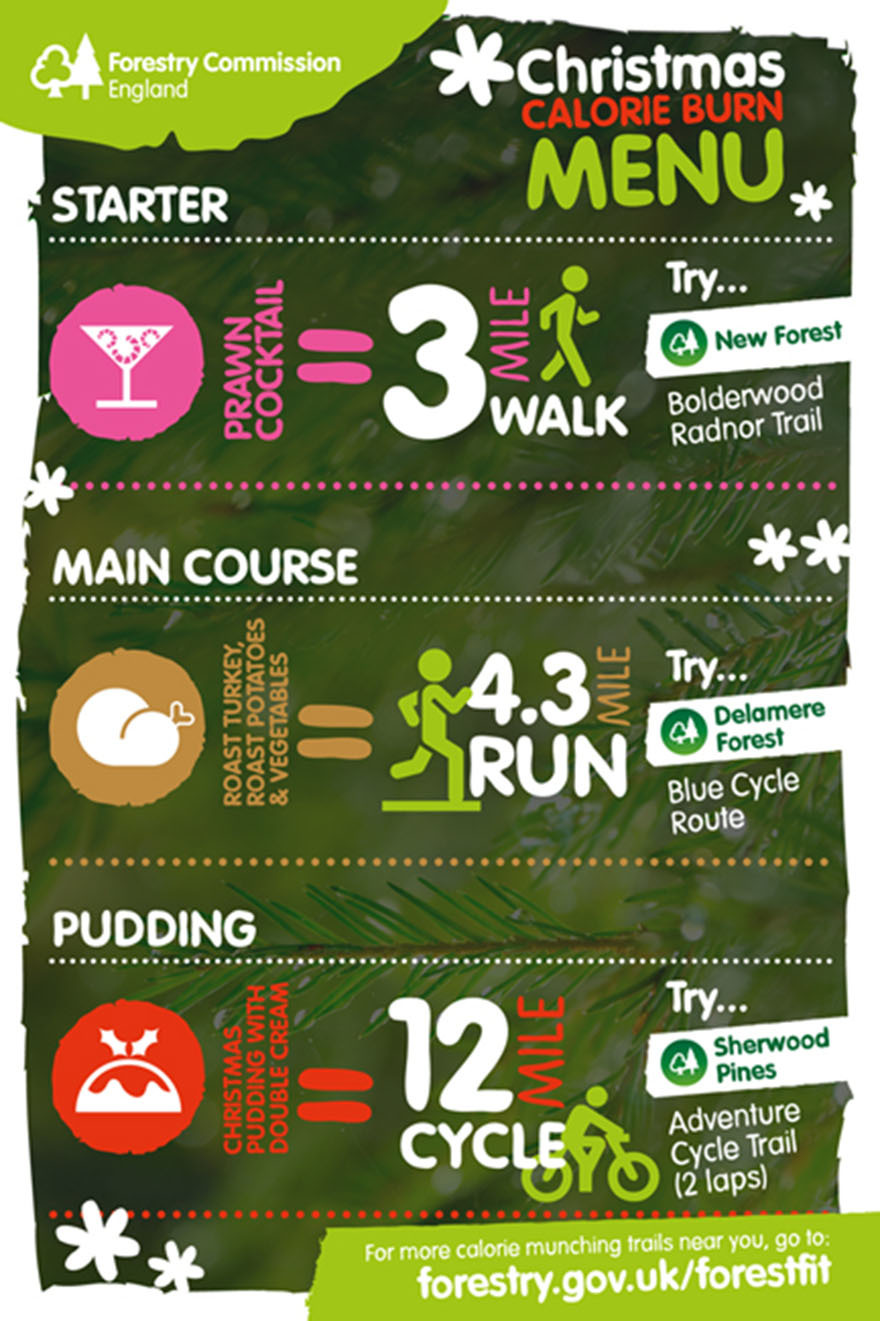 Walk Off Those Treats…
Something sweet…
A candy cane: walk 1 mile (all walks based on 3mph speed)
Suggested trail: Route to Health sculpture trail at Cannock Chase Forest, Staffordshire
Why? A perfect trail to help get you started. The trail offers a gentle walk complete with unique art pieces. The works of art are all themed around health issues and are designed to generate interest in exercise, relaxation, mental health and a healthy heart. www.forestry.gov.uk/cannockforest
Two fondant chocolates: walk 1.5 miles
Suggested trail: Seasonal trail at Westonbirt, The National Arboretum, Gloucestershire
Why? A beautiful route sculpted by the winter season. Burn Christmas calories whist taking in the winter highlights of this fabulous collection of 15,000 trees and shrubs. www.forestry.gov.uk/westonbirt
Christmas favourites…
A prawn cocktail starter: walk 3 miles
Suggested trail: Bolderwood Radnor Trail in the New Forest, Hampshire
Why? A fantastic trail that explores both modern and ancient woodland. Follow the trail right to the end to reach a viewing platform where you can often see fallow deer. www.forestry.gov.uk/newforest
A slice of Christmas ham served with roasted parsnips: walk 3.5 miles
Suggested trail: Seat How Trail at Whinlatter Forest, Cumbria
Why? As England's only true mountain forest, Whinlatter takes calorie burning to a whole new level – with glorious views to reward you at the end of your walk. Seat How Trail takes you up to 500 metres above sea level with great views over the Lake District lakes and fells. www.forestry.gov.uk/whinlatter
All the trimmings…
A slice of nut roast covered in gravy, with vegetables: walk 5 miles
Suggested trail: Dreadwater Walking Trail at Kielder Water and Forest Park, Northumberland
Why? This uphill climb not only burns those calories but is well worth the spectacular panoramic views. On a clear day you can see all the way from Kielder to the Pentland Hills near Edinburgh and even over to the North Sea Coast. www.forestry.gov.uk/kielder
Run Or Cycle For Even Greater Benefits…
Something sweet…
Two pieces of Turkish delight: run 1 mile (all runs based on 5mph speed)
Suggested trail: Oak Walk at Abbot's Wood, East Sussex
Why? The Oak route is a short and gentle jog through Abbot's Wood's oak trees; a great run for beginners. Nest boxes have been erected along the trail – look out for the forest birds using these on your visit. www.forestry.gov.uk/abbotswood
A small gingerbread cookie: run 2 miles
Suggested trail: Red Route at Great Wood, Somerset
Why? A great beginner's route offering gradual gradients through Great Wood's wonderful cathedral-like Douglas fir. From the red route there is plenty of scope to lengthen your run as you improve using the network of forest roads. www.forestry.gov.uk/greatwood
A slice of Christmas cake: cycle 8 miles (all cycling based on 12-14mph speed)
Suggested trail: Green Cycle Route at Dalby Forestry, Yorkshire
Why? A lovely trail on the high plateau around Adderstone, with mixed terrain of forest roads, grass tracks, with a few short climbs and descents. www.forestry.gov.uk/dalbyforest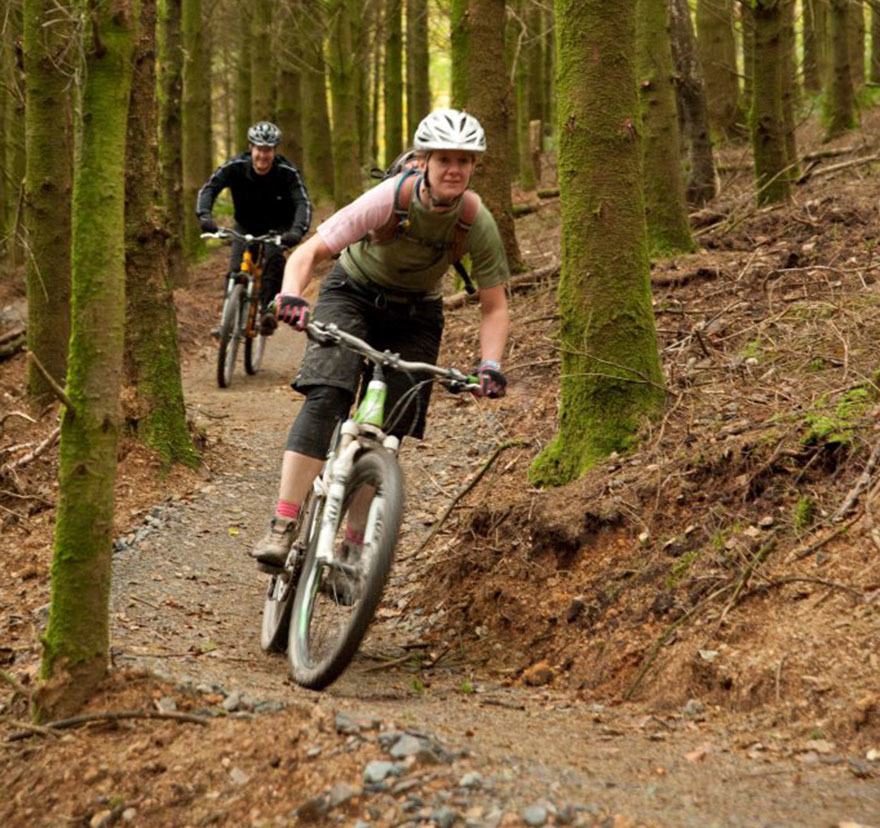 Christmas favourites…
A slice of roast turkey served with a couple of roast potatoes and vegetables: run 4.3 miles
Suggested trail: Blue Cycle Route at Delamere Forest, Cheshire
Why? A challenging route due to its undulating landscape. Why not stop off along the way and perform press ups or tricep dips using the natural terrain? www.forestry.gov.uk/delamere
Cheese served with crackers and grapes: run 1 mile plus toning exercises
Suggested trail: Fitness Trail at Wendover Woods, Buckinghamshire
Why? This circular trail, set along unsurfaced/ cross country style route, contains 10 pieces of fitness equipment designed to improve all over body fitness. Each piece of equipment has guidelines on what to do and the number of repetitions required to achieve set goals. www.forestry.gov.uk/wendoverwoods
Large handful of festive glazed mixed nuts: cycle 10 miles
Suggested trail: Poacher Trail at Thetford Forest, Suffolk
Why? A moderate trail for more experienced cyclists, offering variable surfaces along the route. Great for increasing confidence in off-road cycling skills. www.forestry.gov.uk/thetfordforestpark
All the trimmings…
Roast goose served with pigs in blankets, and Brussels sprouts covered in gravy, followed by a slice of Christmas cake and a spoonful of brandy butter: run 10.5 miles
Suggested trail: Hawkshead Moor Trail, Grizedale Forest, Cumbria
Why? Best for running or cycling – a great calorie burner with plenty of ups and downs to challenge you. In the heart of the Lake District, this waymarked trail on forest roads climbs up to give you fantastic views across to the Langdale Fells and Helvellyn. www.forestry.gov.uk/grizedale
Christmas pudding served with double cream: cycle 12 miles
Suggested trail: Two laps of the Adventure Cycle Trail at Sherwood Pines, Nottinghamshire
Why? A fantastic trail that allows you to explore a variety of tree types and habitats: you may also spot some of the elusive deer that call Sherwood Forest their home. www.forestry.gov.uk/sherwoodpines
Glazed Boxing Day ham and mustard sauce with braised red cabbage, leftover roast potatoes and vegetables: cycle 20-26 miles
Suggested trail: Lakeside Way Trail, Kielder Water and Forest Park, Northumberland
Why? The 26 mile Lakeside Way multi-user path offers visitors to Kielder Water & Forest Park a unique experience, giving access to the most scenic parts of Kielder Water's shore and the opportunity to get up close to some of the area's abundant wildlife. www.forestry.gov.uk/kielder
More Info
The Forestry Commission is the government department responsible in England for protecting, expanding and promoting the sustainable management of woods and forests and increasing their value to society and the environment. Further information can be found at www.forestry.gov.uk/england.
Check out further Lifestyle features…