We Talk To Cathy Bramley, Author Of White Lies & Wishes
---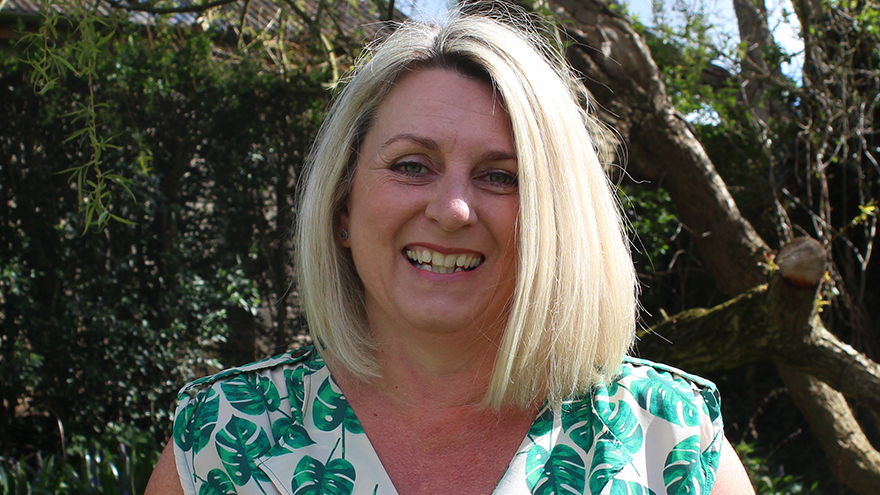 Author Cathy Bramley
White Lies & Wishes
by Cathy Bramley
Corgi PB, £7.99
Interview and book review by Karen Byrom
Brought together by the funeral of a common friend, three women vow to each other to "seize the day" and fulfil their dreams, in Cathy's latest book, White Lies & Wishes. Businesswoman Jo will conquer her fear of heights, new mum and accountant Sarah will become a partner at work and over-eating housewife Carrie will lose enough weight to dare-to-bare in a bikini. Are these wishes masking true desires and will budding friendship be enough to break down the barriers that hold them back? Warm and funny – White Lies & Wishes is a celebration of the power of friendship.
Fiction Editor Karen chats to Cathy Bramley about her recent rise from self-published writer to bestselling author…
When did you decide you'd like to be a writer?
I love books and I've been an avid reader all my life. We didn't have a car when I was little and I remember lugging a heavy bag of books back from the library each week, desperate to get home and dig in! But although I couldn't imagine not reading, writing my own book didn't occur to me until 2012! We had recently moved into our village and as I took our new puppy on her first proper walk, I noticed that the phone box didn't contain a phone at all, but shelves of books – it had been converted into a book exchange! I popped my head in and instantly spotted Meet Me At The Cupcake Café by Jenny Colgan.
Over the next few days, I devoured it and afterwards, I couldn't stop thinking about the warm, feel-good emotions it had stirred up in me. I began to think: what if I wrote a book; what if I could create those same wonderful feelings for readers? And so I gave it a go.
Cathy, you've gone from self-published author to bestseller of books published by major publisher Transworld. Can you tell us how that happened?
My first book, Conditional Love, took me eighteen months to write, rewrite and edit. I attended fiction workshops and seminars and online courses until, finally, it was as ready as it would ever be. While I was teaching myself how to write, I also learned as much as I could about the traditional publishing and self-publishing industries. I discovered how competitive it was, how difficult it was to be noticed in traditional publishing and how quick and easy it was to self-publish your own novel on Amazon. I am a massive fan of "quick and easy"!
My day job has always been in PR and marketing so while I didn't know if my book would make readers happy, I felt confident that I could promote it well enough myself. I organised a book blog tour and sent copies to reviewers, I ran competitions on Facebook and Twitter and held my own launch party. I couldn't afford a big glitzy "do" so I decided to hold the world's smallest ever book launch – and where better than the village phone box where it all began!
I contacted the lady who lived next door to it and she allowed me to put up a marquee on her lawn, I arranged for the mayor to come and cut a ribbon, we put up bunting, baked cakes and of course, replaced every book in the phone box with a copy of Conditional Love! I even contacted Guinness World Records to see if I could get an entry into the famous book for the smallest launch ever. They didn't come but the local newspaper did and I was interviewed by BBC Radio Nottingham!
All this activity didn't go unnoticed, by Christmas my book was almost at the top of the Kindle charts and caught the eye of an editor at Transworld, one of the UK's biggest publishers. And in early January of 2014 I was offered a contract to write a new book, this turned out as Ivy Lane and when it was published as a paperback in 2015, it was the top-selling women's fiction title by a debut author. My writing career has been unexpected, fast and extremely exciting and I feel very lucky – I've got the best job in the world!
How did you choose your genre?
I think it chose me! My first idea for a novel was a bit serious and dark about bones found in a garden. It wasn't long before jokes began to creep in and I soon realised that my natural writing voice is light-hearted and happy. I don't think I'll ever be able to write a Girl On The Train sort of book!
Your new novel, White Lies & Wishes, begins with a funeral – what sparked that idea?
The idea for White Lies & Wishes came to me after attending the funeral of a family member. Funerals always make me more determined to make the most of every day, to turn dreams into reality and appreciate every moment. I began to think about what would happen if three strangers met at a funeral and had the "Carpe Diem" conversation? Would they act on it, or would they simply go back to their normal lives and forget all about it? This book tells that story.
The central characters, Jo, Sarah and Carrie are so real and empathetic. Did you base them on real people?
No, I never base my characters on real people. In this case, I needed three very different women who would not normally befriend each other. However, I must admit there are tiny aspects of each of the three women that I recognise in myself.
Do you have to do lots of research for your books?
Yes lots! I'm lucky that in my marketing career I've been "behind the scenes" in a lot of businesses. For example, Jo Gold in White Lies & Wishes has a footwear company and I know a lot about shoes.
The medical aspects require the most accurate research and I'm fortunate in that I know a couple of nurses and a GP. I'll never forget the morning that I sent my nurse friend a text asking if she knew much about anaphylactic shock as I was about to write a scene which included it. She texted back immediately advising to put the patient into the recovery position and call an ambulance. I thanked her and carried on writing. Ten minutes later, she arrived puffing and panting at my door to come to my assistance thinking that it was a real emergency! She has never forgiven me for that and now makes me start texts with BOOK RESEARCH!
What would you do if you weren't a writer?
I can't imagine doing anything else now, but I've had some weird and wonderful jobs in the past! My best job ever was at an American-themed restaurant in Birmingham where I worked front of house dressed as Scarlet O'Hara, complete with red satin dress and hooped skirt – I felt like a princess!
The worst one was working the night shift at a tinsel factory in the heat of summer. I was on the ribbon rosette production line, overseeing a huge spool of ribbon which churned out a rosette every few seconds. My machine kept breaking, spewing yards and yards of ribbon everywhere like the worst cassette tape incident you could possibly imagine. After I'd rewound the ribbon, I had to don safety goggles and gloves and solder the prongs of the machine back together – all in the middle of the night. I only lasted a week!
You can find out more about Cathy and her books on her website.
More Like This: