Stroke survivors share stories to remind us to Act FAST
---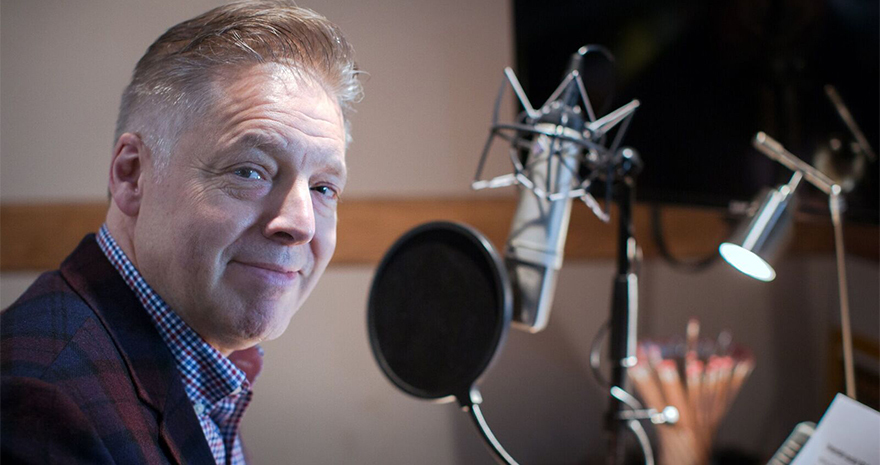 DJ Mike Goodier has recovered well from his stroke
Radio DJ and stroke survivor Mark Goodier, along with TV presenter Anna Richardson, whose father had a stroke, tell their stories in two new awareness-raising Act FAST films.
Family, friends and strangers are urged to call 999 as soon as they notice any single one of the three key signs of a stroke: Face, Arms, Speech.
Shocking statistics – and how to improve them
New statistics reveal that more than 100,000 strokes happen in the UK every year.
More than 40,000 people a year die from a stroke – and of the survivors, almost two-thirds leave hospital with a disability.
The new Act FAST films encourage everyone – strangers in the street, family members or the person themselves – not to ignore the key symptoms, and to call 999 immediately if they notice even one of them.
Getting appropriate treatment can reduce the amount of brain damage and ensure a better chance of making a good recovery.
As part of the national Act FAST campaign, Public Health England, supported by the Stroke Association, has released a series of moving films. They aim to help raise awareness of the vital role we can all play when we see someone having a stroke.
Famous faces, survivors, a psychologist and healthcare professionals describe the common signs of stroke. They highlight why people need to think and Act FAST and call 999 if they notice any single one of the three key signs: Face, Arms, Speech.
Speed makes the difference
One film tells the story of two very different stroke survivors. Carolyn recovered well, but Steve has been left with life-changing disabilities. The difference was down to how quickly 999 was called.
Radio DJ Mark Goodier, who had a stroke last November, tells how he lost the feeling in one side of his face. His family recognised the signs and called 999 immediately. Because of their rapid reaction, he was treated quickly.
Three months later, Mark is recovering well and has just returned to work. He wants to highlight the vital role anyone can play in helping to save lives or preventing severe disability.
Presenter and journalist Anna Richardson shares the story of her father, who had a stroke a few years ago. He was unable to make the call himself but was able to contact a neighbour, who immediately recognised the symptoms and called 999. Thanks to his neighbour's fast response Anna's father recovered quickly and avoided permanent disability.
Why doesn't everyone react immediately?
Psychologist Dr Lasana Harris has identified concerns and fears that stop some people acting quickly in an emergency. She found that people may worry that they do not have the person's permission to interfere. Dr Harris stresses that a stroke is a medical emergency and people need to act fast regardless.
She comments, "We always look to make sense of a situation. Even if someone appears to be having a stroke we may worry about causing offence or mutual embarrassment. If no one else acts, then we ourselves may not see it as an emergency.
"However, the imagined consequences of action are minor compared to the consequences of inaction when someone is having a stroke – so act first and worry later."
Think FAST:
Face – has their face fallen on one side? Can they smile?
Arms – can they raise both arms and keep them there?
Speech – is their speech slurred?
Time – to call 999 if you see any single one of these signs.
Mark Goodier explained, "When I had my stroke last year, my wife recognised it straight away and called 999. She acted incredibly quickly. She didn't wait to worry about it or wonder. She knew she had to act fast. I consider myself fortunate because she did the right thing, at the right time.
"I'm still coming to terms with what's happened, but I'm a very positive person and I'm gradually building up the exercise again. Now I'm back at work, and things are slowly becoming normal again. It's going to take time, but my story could have been very different if she hadn't made the call when she did."
Saved by a quick-thinking friend
Anna Richardson, journalist and TV presenter, commented, "My dad's friend noticed immediately that he was having a stroke. She called 999 straight away, and for that reason she saved my dad's life. It certainly made the difference in his rehabilitation.
"I'd urge everyone to be aware of the symptoms and, more importantly, to act as soon as they see any of the signs in someone. The faster you act, the better their chances of a good recovery."
Juliet Bouverie, chief executive of the Stroke Association said, "We know people recognise the signs of stroke but they aren't taking the right action at the right time. A stroke is a brain attack, and acting fast makes a huge difference.
"You are more likely to survive – and make a better recovery – if you call 999 on spotting any one of the symptoms. The quicker you act, the more of the person you save."
Additional symptoms of stroke and mini stroke
Sudden loss of vision, or blurred vision, in one or both eyes
Sudden weakness or numbness on one side of the body
Memory loss or confusion that develops quickly
Dizziness, unsteadiness or a sudden fall, especially with any of the other symptoms
A stroke is a brain attack that happens when the blood supply to the brain is cut off, caused by a clot or bleeding in the brain.
There are around 100,000 strokes in the UK every year and it is the leading cause of severe adult disability. More than 1.2 million people in the UK are living with the effects of stroke.
A mini stroke is also known as a transient ischaemic attack (TIA).  It is caused by a temporary disruption in the blood supply to part of the brain.
More about The Stroke Association
Stroke Association is a charity that believes in life after stroke. Together we can conquer stroke.
We work directly with survivors and their families and carers, with health and social care professionals and with scientists and researchers.
We campaign to improve stroke care, and support people to make the best recovery they can. The charity funds research to develop new treatments and ways of preventing stroke.
The Stroke Helpline (0303 303 3100) provides information and support on stroke. More information  here.
More health news from My Weekly…