Create A Gorgeous Garden Balcony
---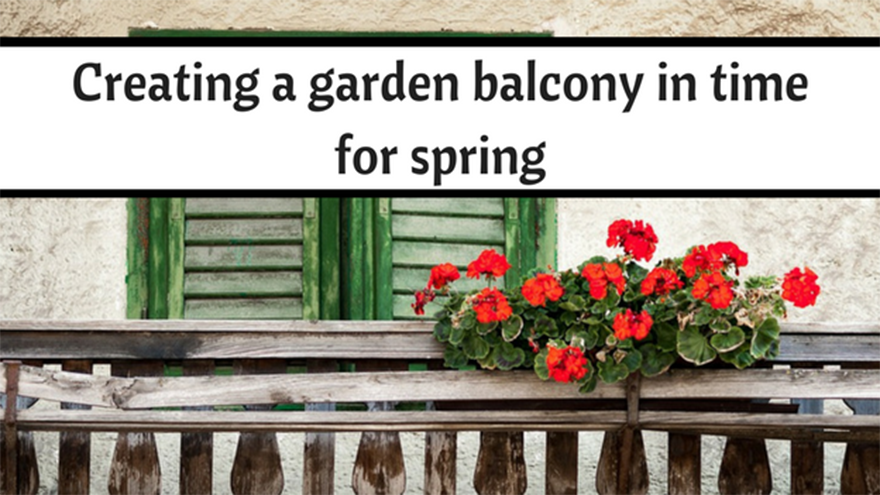 So you're a city dweller with green thumbs, an aching desire to create your own Eden and one problem – you don't have a sprawling garden or fertile allotment to get creative with. What you do have, however, is a small balcony that's home to an old mop and some rusty weathered chairs.
Great garden spaces don't need to be acres big. Nor do they need to have a lawn, flower border, and a pond. Great gardens can be made regardless of the space you have, even if it's just a balcony.
Here, Mainland Aggregates, offer four tips on getting started on a balcony garden just in time for spring.

How much sun does it get?
Before heading straight out to the local garden centre you need to consider how much sun your balcony actually gets. If your balcony enjoys the sun for most of the day, it's going to impact the plants you buy and vice versa. Below we've got you started with a few plants to buy for sunny balconies and a few that'll thrive in shadier conditions.
Sunny: Petunias, Callistemon, Cherry Tomatoes, Strawberries, Lavender
Shady:  Astilbe, Ferns, Bleeding Hears, Trilium

The space available
Your balcony probably doesn't offer much in the way of space, so consider carefully how you're going to utilise the space you do have. Take some time to plot out your balcony considering the types of plants you'd like to use and the furniture you would like the space to feature. Consider using the balcony walls and if possible, hanging baskets to maximise the space that you have available.
Keep plants hydrated
If your balcony is higher up a building and in a windy area, your plants will need watering more often. When we arrive in summer you may even want to water once per day.

Containers & Soils
You may be inclined to purchase whichever containers match the style of you balcony, but remember that the material they're made of and how well they drain is important, too. Select pots with drainage holes to protect against root rot and over-watering. Be sure to use a saucer underneath the plot to prevent water running down off your balcony and onto your downstairs neighbours drying clothes, too.
For soil, note that an all-purpose mix should do the trick for most plants. If you're looking to grow some speciality greens though, you may need a different mix. Your best bet is to discuss your plans with a member of staff at the local garden centre.
For more gardening advice . . .