Sitting Pretty: A Coffee Break Tale from our Archives
---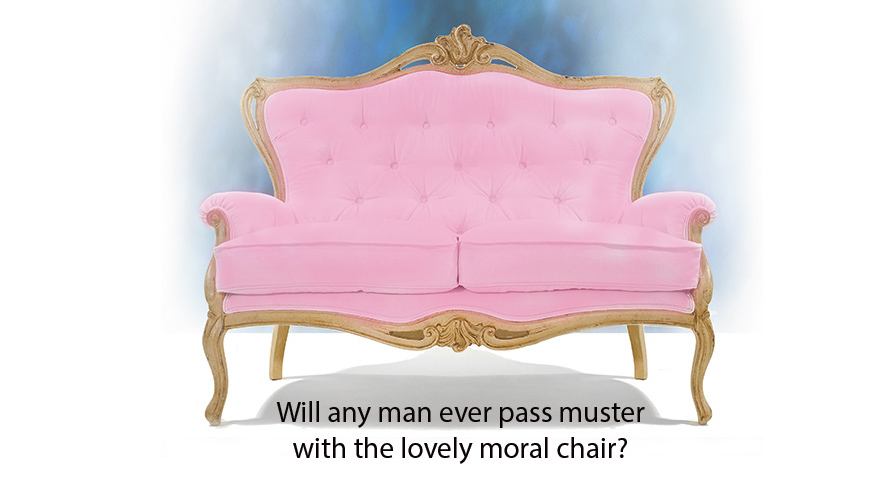 Sitting Pretty
BY STELLA WHITELAW
Coffee Break Tale
My moral chair keeps me on the straight and narrow. It has saved my virtue many times. How many chairs can boast of that?
It's carved oak, with carnation-pink velvet cushions. I fell for it the moment I saw it in a second-hand shop. It had come from a straight-laced Edwardian home. No carrying-on in that family.
All my savings went on this chair. It was perfect for my bedsit. I could sit sideways on it, draping my legs over the thinly upholstered arm. Cushions would be needed, though. The wood underneath could cut off circulation.
I rushed to work in a travel agency each morning, dashed home each evening after a shop at a late-night supermarket. My life was solitary, apart from all those starry-eyed couples booking romantic holidays in the Maldives.
My moral chair was my romantic island. Books and magazines took me to far-off places with the ideal man.
I'd never met an ideal man. Men had come into my life; some wanted to stay, but none could equate my moral chair with getting cosy.
Ken, an estate agent, liked my cooking but when he tried to eat chicken curry from a plate on his knee, sitting on my moral chair, half of it slid onto the floor.
He shifted his considerable weight around as I cleared up. Fortunately I had cooked enough to feed an army.
"This damned chair," he muttered. "Couldn't you have bought a decent sofa?"
"Never mind," I consoled him. "I'll sit on the floor; you have some cheesecake."
Ken got up to go. "I'm not eating here again till you get a big sofa," he said.
 He was putting crisps into his mouth as fast as feeding a slot machine
Colin, a colleague, was as handsome as any hero in my sex-and-shopping novels. Unfortunately he was too tall for my moral chair. He did not know where to put his legs. He sat sideways, draping them over the wooden arm rest.
"Sorry there's no food," I said. I was not making that mistake again.
"Don't worry," said Colin. "We'll survive on this bottle of Italian red and these jumbo bags of crisps I've brought."
Have you ever tried to pour wine while squashed on the edge of a sofa completely filled by a very tall man? I didn't want to spill any on the velvet. He was putting crisps into his mouth as fast as feeding a slot machine.
We watched rugby on the television. I didn't understand the game but fell off as Colin shouted instructions to the players. It was better than being fumbled.
I thought mistakenly that Colin might have romantic inclinations when the match finished, but no, he switched onto late night cricket beamed from Australia.
"Damned uncomfortable chair," he said, shifting his pins and needles.
It was all those crumbs, not my chair. The game finished unexpectedly early.
Then he was all over me in the chair – three pairs of hands, floppy hair in my eyes. The chair was having none of it. The back got straighter, the seat harder. I slid onto the floor, brushing off crumbs.
"Night, night, Colin," I said.
"Your sofa is useless," he grumbled.
"I like its puritan lines," I returned.
 That's the best sleep I've had for weeks"
Ewan was altogether different. He was a fireman and worked complicated shifts. We sometimes met on the stairs; he lived in the same block. One day he looked particularly gaunt and exhausted and in need of some TLC. His heating had broken down.
"Come over to mine. My flat is warm," I offered. "I could make you some sandwiches and you could just doze in front of the telly?"
"That would be bliss," he said gratefully. "I'll leave my boots outside."
I threw a blanket over the pussy-willow cushions. Ewan unbuttoned his bulky uniform and fell onto the sofa. "Wonderful," he murmured, rolling himself into a ball and falling asleep.
Soup was hot in mugs when he awoke. I'd made chicken sandwiches and gallons of coffee.
"That's the best sleep I've had for weeks," he said. "Your sofa is a dream."
My moral chair liked the sound of that. It liked to be appreciated. Somehow we fitted side by side, talking non-stop.
The next time Ewan came to see me, he brought a new toaster. That's a man with imagination.
My chair liked him. It made room for both of us.
More stories you can read now