Famous Faces Are Supporting Wetnose Day for Animals – And You Can, Too!
---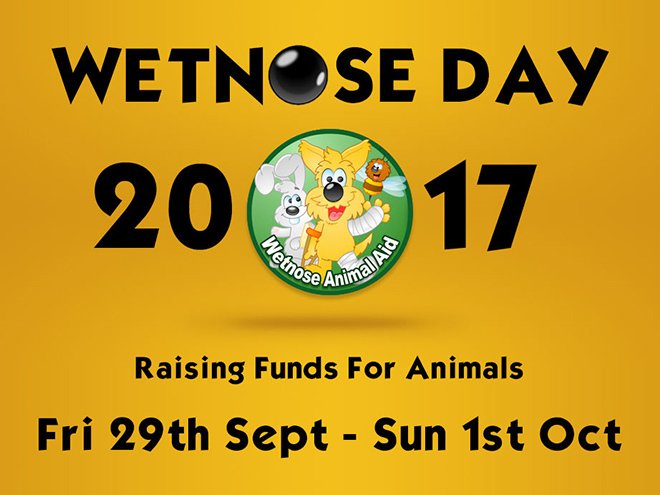 Paul McCartney, Tom Hardy, Joanna Lumley, Brian May and Paul O'Grady and just some of the celebrities happy to "Pose With A Nose" for Wetnose Day, taking place across the UK on Sepember 29-October 1, in aid of animal welfare…
Wetnose Day aims to encourage schools, workplaces, vets, groomers, dog clubs, riding schools, in fact everyone to pose with their nose and raise over £100,000 for dedicated rescue centres nationwide and the animals they care for.
Established in 2000 by founders Andrea and Gavin Gamby-Boulger, Wetnose is playing a vital role in highlighting animal welfare. Andrea said:
 I was delighted to hear Sir Paul McCartney wanted to support Wetnose Day and pose with his nose! Over the last few years Wetnose has been delighted to have fabulous endorsements and support from leading celebrity and animal campaigners including Paul O'Grady, Amanda Holden, Brian May and many, many more. This has enabled us to raise thousands of pounds for small and medium sized animal sanctuaries, ensuring food costs were covered and veterinary treatment went ahead for animals in desperate need."
"Society in general has, for a number of years, been under severe financial stress, which in turn has seen animal welfare suffer as some people may no longer be able to afford to look after their pets. Wetnose plays its part in highlighting animal welfare in the UK and providing vital help and financial support for small animal welfare groups who are at the forefront of animal rescue and care in the UK," explained Andrea.
"Just think what a difference Wetnose Day could make to rescue centres across the UK, paying vets bills, buying several months of animal feed or helping with repairs to rescue centres across the UK.  The knowledge and skills these animal rescue teams have is phenomenal.  NOW, more than ever, is the time to help all animals in need."
How You Can Help
Fundraisers across the country are now lined up to bungee jump, host sponsored dog walks, hold cake sales and wear the legendary Wetnoses to raise much needed funds for this wonderful UK organisation. For more information on how you can get involved or how you can get hold of our famous Wetnose, simply visit www.wetnoseanimalaid.com.
 I think this Wetnose Day event is a terrific idea and long overdue, you know what I think of animals and this would go a long way to helping many smaller centres who need more support, yes count me in!" Paul O'Grady
More charity news from My Weekly…