Winner of the First Jo Cox Poetry Prize Announced
---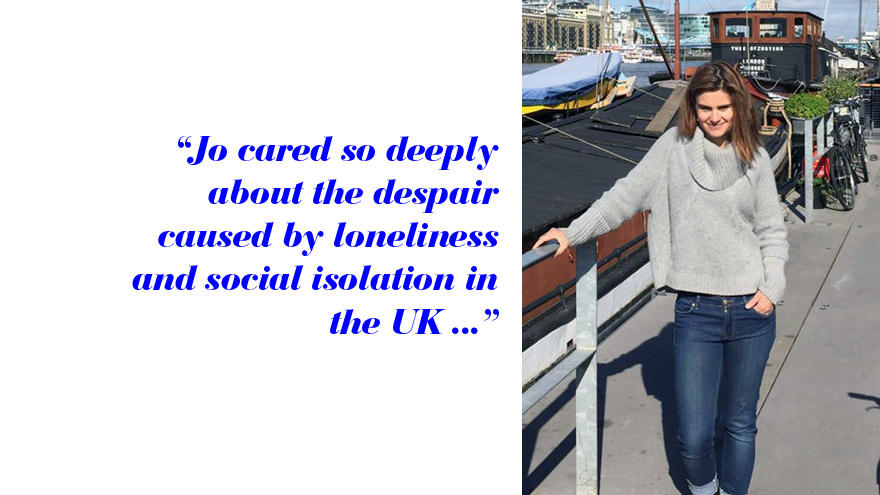 For  all carers out there, and for anyone experiencing loneliness, we're proud to share Carers UK's first Jo Cox Poetry Prize winning poem.
The winner of Carers UK's first Jo Cox Poetry Prize has been announced today, following a month-long focus on the loneliness experienced by unpaid carers led by Carers UK as part of the Jo Cox Commission on Loneliness.
The award for poems exploring loneliness was launched in honour of the former Batley and Spen MP's work tackling isolation through conversations across communities.
Carers and former carers were invited to contribute poems for the special award. The poems were picked by award-winning poet Cheryl Moskowitz.
The Winner 
Winner Catherine Graham looked after her mother for 10 years, until her death at 90.  Her poem reflects the loneliness of both carer and the cared for – but love shines through, too.
"I cannot tell you how proud and humbled I am to win the Jo Cox Poetry Prize after all Jo Cox has done to support the lonely in society," Catherine says.
"It sounds a cliché, but this poem wrote itself. It's word for word what we used to do, as my mother loved to sing.
"The poem also speaks to a wider truth about loneliness: That you don't have to be alone to feel lonely. Little things, those times when your mother doesn't smile back at you, can make you feel so alone, so isolated."
"As a carer, you don't have to be alone to feel lonely.  I would tell other carers feeling overwhelmed to write a few lines of poetry, tear it up if you choose, to process things too difficult to say.
"In my own experience, poetry has rescued me."
Catherine's poem will be included in Carers UK's creative writing anthology, set to be released on 24 November and sponsored by Specsavers Healthcall. The book will include winning entries from the competition, available to pre-order here . All proceeds will help to fund the charity's work supporting those caring for ill, older, or disabled loved ones.
The Washing Machine by Catherine Graham
She dislikes the sound of the washing machine
so I sing as it starts to spin, willing it to stop
before she calls for me from the bathroom.
She used to love hanging the washing out,
proud to peg 'the whitest sheets in the street'
and watch them as they billowed on the line.
Sometimes, they'd be bone dry but she'd
leave them out, on show to Mrs. Ridley.
I remember how Mrs. Ridley and my mother
would stand, arms folded, like bookends
in headscarves and slippers exchanging the latest
chinwag.
I remember the pleasure Mam took
in folding the bedclothes with me,
how she'd do that little dance towards me until
our fingers met; her fingers gentle and plump.
'Where are you?' she shouts from the bathroom,
'I've sat here two hours!' It's been two minutes.
I hurry along the passage, still singing 'our' song.
Keeping her face to the wall, Mam joins in:
'My my my, Delilah! Why why why, Delilah?'
We sing our hearts out, each of us as lonely as the other.