Waiting Till Midnight | A short story for New Year
---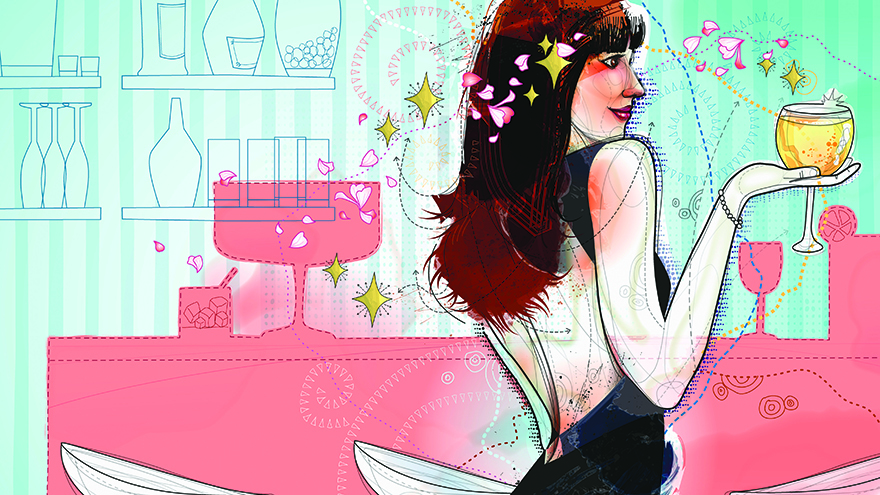 By Stella Whitelaw
Shelley didn't want to go to this party. She wanted to stay at home with a bottle of Cava and watch the fireworks on television. The New Year sales were a nightmare and she'd been rushed off her feet. Her household department was the busiest, and she never wanted to see another towel again.
"But you must come," begged her younger sister Lucy. "It's the new family down the road. It would be rude not to accept their invitation."
"You can go. You're a party creature."
"It would do you good to get away from all those boring tea cloths. Why don't you ask to be moved to something more exciting?"
"I like it," said Shelley. "Especially first thing in the morning with all those neat piles, perfectly folded, matching sets of sheets and pillowcases…"
"And by the end of the day?" Lucy already knew the answer.
"Chaos. Everything tossed all over the place, piles rummaged through, items on the floor. Some customers still fighting over the same bargain."
"I'll accept for both of us," said Lucy. "I'll tell them to hide the tea towels."
This party is not my idea
No-one was expected to arrive until after nine o'clock. Shelley had time for a soak in the bath and to wash her hair. The store was air-conditioned even in winter, and it ruined her hair.
A tall, rumpled young man opened the door. He was in a grubby boiler suit, his hair a mess. "Don't expect me to join in," he groaned. "This party is not my idea. I want to sleep for a week."
"You do look tired," said Shelley. "Where have you been all day?"
"Several hundred feet below Tottenham Court Road Underground. We're excavating the new tunnel."
His reply shocked Shelley. His work was a million miles away from selling neatly folded pristine towels. No wonder he was in no mood for a party.
Lucy had raced ahead into the party room. Their hostess was serving punch and there were plates of savoury snacks.  Shelley caught the smell of hot punch, cinnamon and cloves.
"You should go to bed," Shelley told her reluctant host. "There's no need to stay up. It'll still be the New Year tomorrow, after all."
I see you've met my grumpy son
"I see you've met my grumpy elder son," said Kate Edwards, giving Shelley a cup of punch. "They've been working extra hard on a tricky bit of tunnelling. Eye of the needle or something."
"He looks worn out," Shelley said.
"I'll take up something later. Now come and meet everyone, Shelley."
Shelley was glad to see that Lucy was getting on well with Tony, the younger son. She felt responsible for her sister now there was only the two of them left in the family. She did the social round and then slid into a corner seat and closed her eyes, nursing her cup. She could hear crowds singing on the television. It was fifteen minutes to midnight.
"I want to take this up to Jamie," said his mother. She was carrying a jug of punch and glasses. "But I can't leave my guests. Could you take it up for me?"
"Of course," said Shelley.
"Thanks. Second room on the right."
Big Ben was chiming downstairs
Shelley took the tray up the stairs and knocked on the door. There was a sort of grunt. Jamie's room was in darkness and she could just make out the body on the bed. He'd had a shower and there were crumpled towels on the floor.
She put the tray on the bedside table and folded the towels perfectly.
"So you're a folder," Jamie observed, switching on a light.
"And you're a digger," Shelley replied, putting the towels into a neat pile.
"Why aren't you at the party?"
"It's not quite midnight," she said. Big Ben was chiming downstairs and they could hear the crowds counting.
He got out of bed and switched on his tablet. "We can watch the fireworks on this." Jamie poured punch into two glasses. "Happy New Year, Shelley."
"Happy New Year, Jamie."
Not quite the beginning of a special friendship… but Shelley had a feeling that folding towels was not going to be so much of a priority any more.
Happy New Year to you all!
Read more great stories in My Weekly every week
More free stories online