The Big Walk Is Back!
---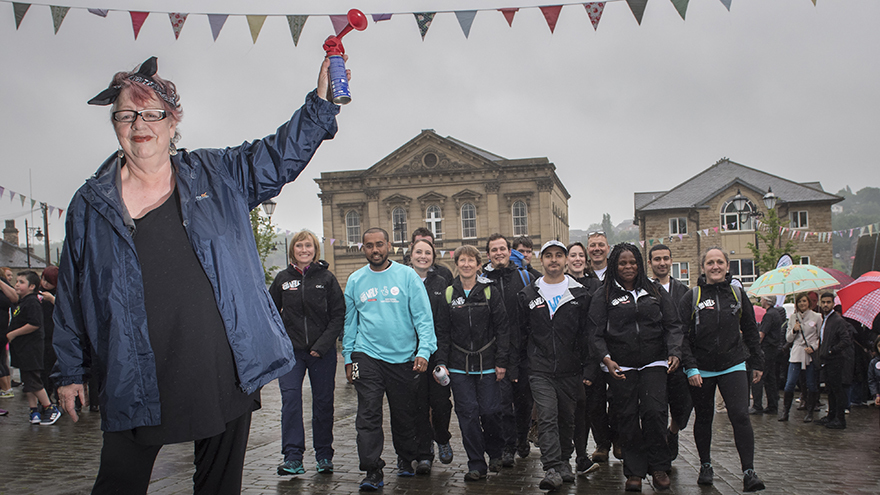 Jo Brand urges everyone to step up to find the UK's next big community walkers!
The hunt is on for four adventurous strollers up for the challenge of a lifetime – walking more than 250 miles over 21 days across the UK from Morecambe in Lancashire back to their homes.
Along the way the intrepid wanderers will be visiting and celebrating community projects, helping to shine a light on the extraordinary things that ordinary people are doing in their own neighbourhoods.
Comedian and presenter Jo Brand, no stranger to a walking challenge herself, presided over the starting ceremony last year. She says,
 I was delighted to be invited to launch The Big Walk. The atmosphere was amazing. Despite the weather gods raining down on us, we were live on The One Show and the walkers couldn't wait to kick off.  Last year there were so many negative things going on in the world, it was nice for three weeks to be able to shine a light on the incredibly determined walkers and the diverse communities all over the UK coming together to welcome them passing through. I urge anyone to consider stepping up for the challenge this year… if nothing else it's the perfect excuse to eat cake all day as you potter along!"
Olivia Cosgrove was one of last year's walkers and she was delighted to complete her challenge from Leeds to Belfast.
 I had never done anything like The Big Walk before and the whole experience of connecting with people, celebrating what they are doing in their communities, really blew me away. People were genuinely glad to see us and talk about what their projects were up to. A lot of people I met are dealing with hard issues in their community every day – loneliness, mental health, poverty, prejudice. But every single community stop was invigorating and I came away energised.  We often took the picturesque routes rather than the fastest route so I was incredibly privileged to see parts of the country I never would have otherwise seen, all thanks to The Big Walk."
The Big Walk, an idea from the Eden Project delivered together with the National Lottery, kicks off in mid-May. Four walkers will head from the geographical heart of the UK – Morecambe – to their respective homes in each of the four UK nations. Finishing simultaneously on Sunday June 3, the walkers will all make it back in time to join The Big Lunch, the biggest community led celebration in the UK.
Ready to go the extra mile?
If you live in Kent, Dundee, Swansea or Northern Ireland and are interested in taking part in The Big Walk, you need to be over 18, physically fit enough to walk up to 20 miles a day for 21 days and show genuine interest in community projects. For more information and to register your interest, go to www.thebig-walk.com.