A 10 For Len!
---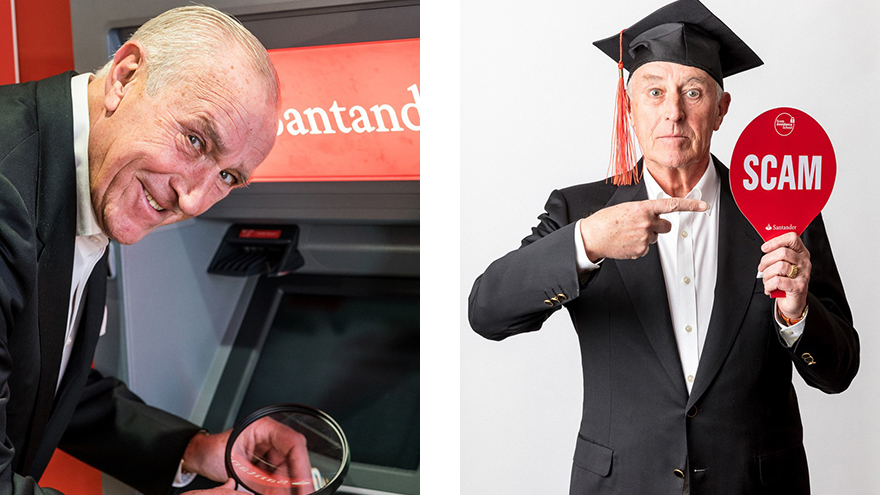 Former Strictly Judge Len Goodman, 73, becomes the first graduate of the Scam Avoidance School (SAS) – a new nationwide initiative by Santander for the over 60s 
All 806 Santander branches will be signing up pupils and delivering lessons to thousands of Over 60s (O60s) from 19 – 23 March
Research shows 82% of over 60s want more to be done to help them avoid scammers – Age UK stats suggest that 53% (five million people) aged 65+ have been targeted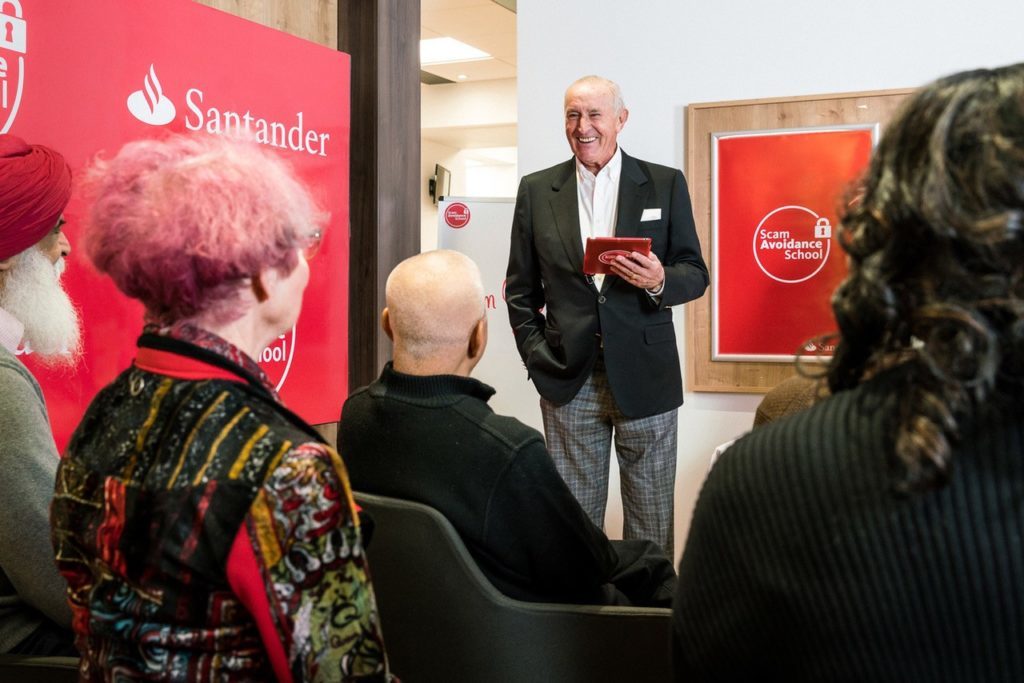 TV presenter, professional ballroom dancer and Strictly Come Dancing's former head judge, Len Goodman, 73, has added a new string to his bow today by enlisting with the SAS (that's the Scam Avoidance School). Created by Santander, the SAS is a free class being offered to over 60s all over the UK to help them avoid being taken in by scammers. And how did the Scam Avoidance School's first student do?  A perfect ten for Len, naturally, who waltzed his way through a syllabus of phishing, vishing, smishing and cash point cons.
The Scam Avoidance School is a nationwide initiative by Santander and has been developed in partnership with fraud expert Dr Paul Seager, psychology lecturer at the University of Central Lancashire.
The creation of the Scam Avoidance School follows research by Age UK highlighting how older people are one of the most at-risk groups for being scammed – and that upwards of five million over 65s have been targeted by scammers.
Additional research by Santander has revealed that the overwhelming majority of older people (82%) believe more needs to be done to help their age group learn about scams and avoid having their money and identities stolen.
Aside from wanting to do all he can to help other over 60s wise up to the tricks employed by scammers, Len Goodman was first to sign up to the SAS given his personal experience of fraud when his daughter-in-law lost around £16,000.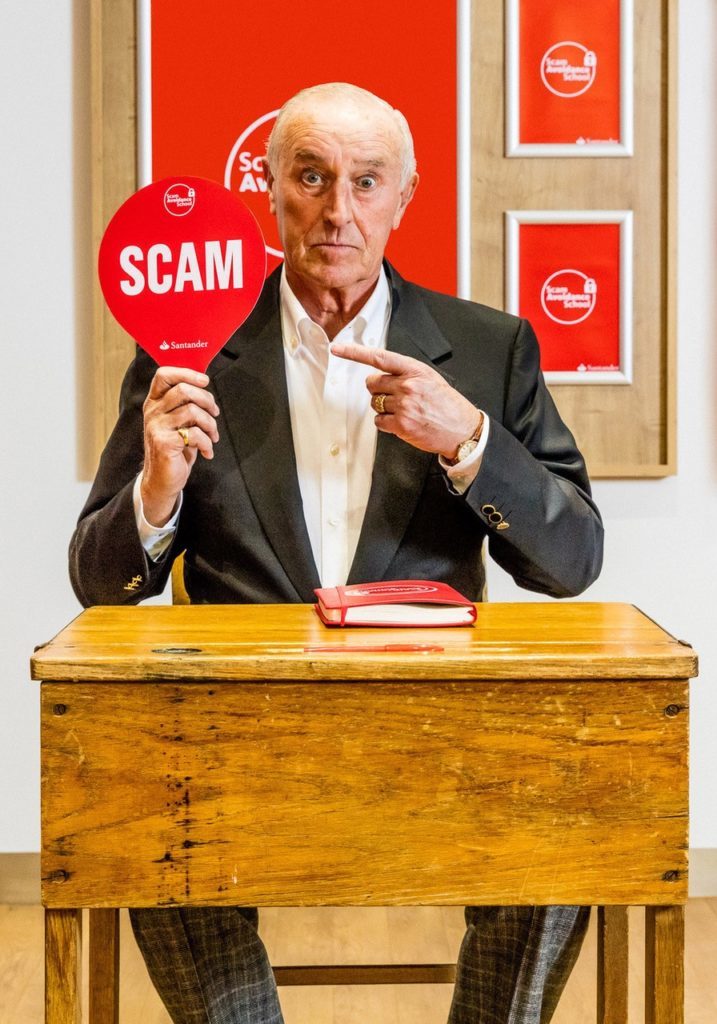 Len Goodman, SAS alumnus, said: "It seems like scammers are everywhere today, using all kinds of sneaky tricks to scam us over 60s – whether it's with emails, cold calls or even at the cash machine. But enough is enough. People of my age – we've got to have our wits about us, be more aware and more alert to scams so we can quickstep our way around the dangers and keep our bank accounts safe. The Scam Avoidance School was a real eye-opener for me: I learned a lot about how to avoid scams and I want to pass on this knowledge to as many people as I can."
After sailing through the Scam Avoidance School, Len Goodman stepped back in front of the camera to pass on some of what he learned to the nation. His series of 'Len's Learns' can be viewed here: https://vimeo.com/258957407
'Len's Learns' for avoiding cha-cha-chancers
On email scams (phishing): 
If you've had an email asking for your PIN, password or to move your money around? That's got scam written all over it. A real bank or company wouldn't ask you to do that. Steer well clear.
Never, ever, ever give out personal or financial details unless it's to use a service you're sure is real and that you've signed up to personally!
Never click on a link or download anything in a dodgy email. It might let scammers infect your computer or take it over!
On telephone scams (vishing):
No one official will ever ask you to draw out money for them – if they do, tell the bank about it right away.
If they make things seem urgent, try to rush you, and don't let you chat to other family members, don't trust 'em!
Trust your noggin – if they're trying to get your personal details, talking you in to giving them remote access to their computer, asking you to make payments or if something just smells vishy, put the phone down, and report the call.
On cash point fraud: 
If the card slot looks too big, it could be a card skimmer.
Keyboard mushy or clickety? A red flag for a fake keypad.
Finally – always cover your PIN when you type it in!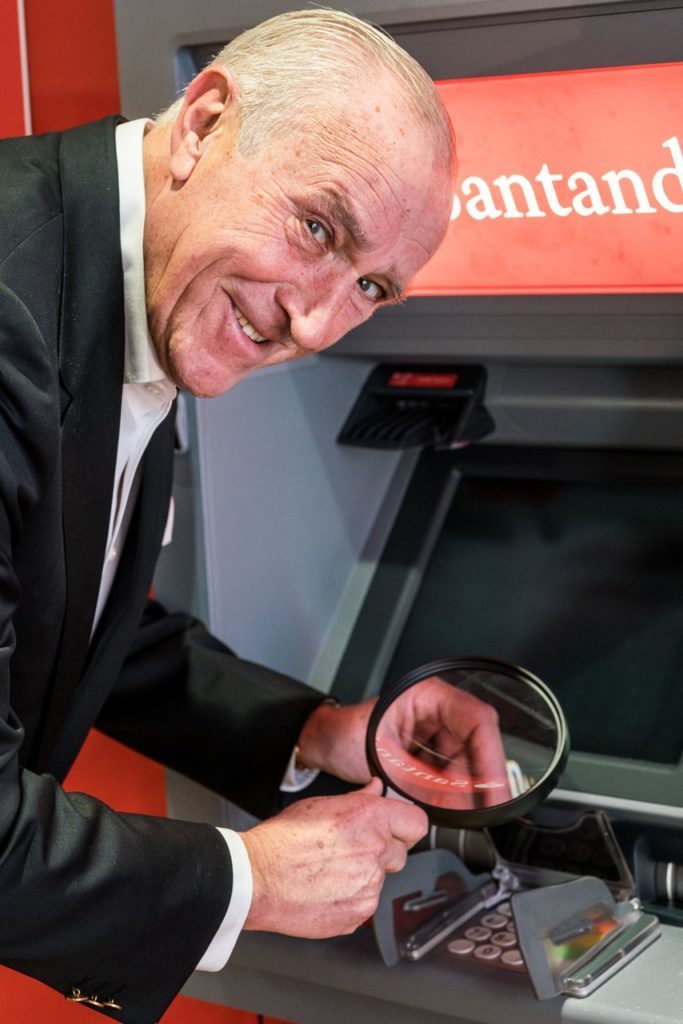 Chris Ainsley, Head of Fraud Strategy at Santander UK, commented: "We recognise that more needs to be done to help vulnerable age groups avoid becoming victims of fraudsters and scammers. Being scammed not only affects your finances, but can also leave deep emotional scars. However, with a little bit of scam-avoidance knowledge older people can feel empowered to secure their savings and stop scammers in their tracks.
"To demonstrate just how important this issue is to us we're delivering scam avoidance training across all our branches – potentially helping thousands of older people avoid being scammed. In turn we hope they will pass on what they have learned to many thousands of others, whatever their age."
Fast facts from Santander's research with over 60s
Two thirds (64%) of the O60s are worried about the threat of fraud and scams.
One in five O60s believe they have been approached over 10 times by scammers in the last year.
The average lost by O60s to scammers who had fallen victim was £401. Previous research from Santander revealed that older victims of scams will, on average, lose more than double that of younger age groups.
While 95% of O60s own a mobile phone and 96% have a computer, around one in five avoid online banking for fear of being targeted by scammers.
65% believe they are more likely to get targeted by fraudsters than a younger tech savvier generation.
For those who have become a victim of scams, around one in three (31%) didn't report it because they didn't know who to report it to.
Being told to act urgently (13%), offered a reward to sign up (8%), or being convinced verbally that the communication was genuine (10%) were ways the scammers duped those researched.
Those in the North East are most likely to have been targeted in the last year with 25% reporting they had been approached 10 or more times while those in the East Midlands are most worried about being targeted.