6 Amazing Desert Animal Facts! Karen's Kalahari Adventures
---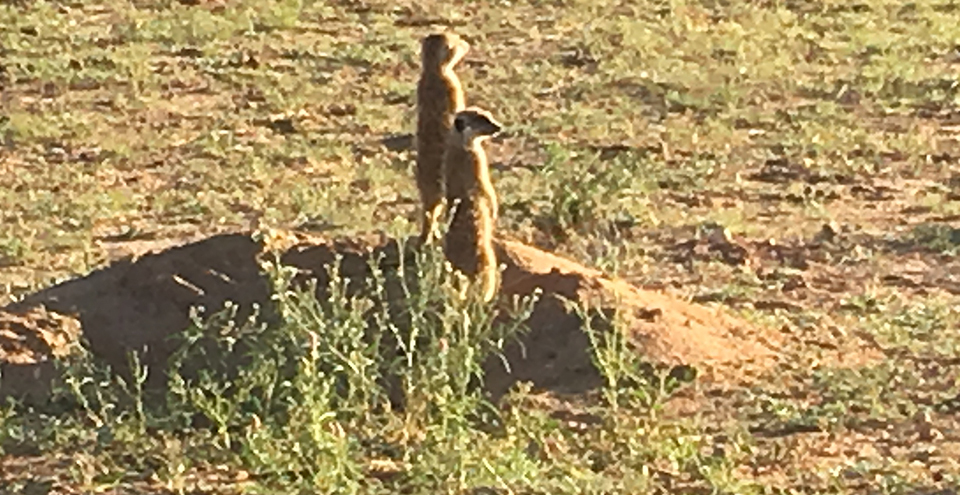 Lions bite, cheetahs race and wildebeest stampede, right? We all know that. But my recent visit to the Kalahari desert on safari turned up some interesting animal facts that were certainly new to me!
1 LIONS GIVE YOU A SECOND CHANCE
Venture out alone on to the Kalahari sands in the early morning and the chances are you'll come across a lion. The advice is not to run. Instead, stand very still while the lion rushes you – once it sees you are no threat and establishes its own authority it will stop around 100 yards away. But start walking towards it, and it will rush again – and this time there will be no stopping it!
2 MEERKATS AIN'T SO CUDDLY
Don't expect a warm welcome at meerkat manor. These cute little creatures are highly territorial and will even turn on one of their own without provocation, breaking their victims' legs so that they can't dig for food. Some people try to keep them as pets – find out why that's not a good idea  from Professor Anna Rasa, world expert on mongoose and meerkat behaviour, who runs a meerkat rescue centre in the Kalahari.
3 KORI BUSTARDS ARE DAMN BIG BIRDS!
Kori bustards can weigh up to 40 lbs and are the heaviest flying birds in the world. Spot them in flocks by the river bed and you'll think you've wandered on to the set of Jurassic Park –  from a distance, these desert giants look for all the world like dinosaurs.
4 STEENBOK MATE FOR LIFE
Once these lovely little antelope choose a mate, they stick by them through thick and thin. When one dies (or more likely, is eaten by a lion) the other stays single until they are reunited once more in that great desert in the sky.
5 WEAVER BIRDS LAY OUT WELCOME MATS
The sociable weaver bird more than lives up to its name! Not only do these little birds live communally in nests so large that they eventually bring down the trees they are built on, they let out "rooms" to pygmy falcons. All they ask in return is that the pygmy falcons protects their eggs by keeping away all other predators.
6 LEOPARDS ARE  HARD TO SPOT!
Leopards are notoriously difficult to spot in the desert – they keep so well out of sight that even some of our native Khomeni San guides have never seen one. They only know they have been around by the evidence of their tracks or recent kills.  Though there was apparently one hanging around the !Xaos Lodge swimming pool at night, I wasn't lucky enough to see it this time. What a great excuse to return to the Kalahari!
Want to know more? Visit South Africa Tourism's  Wildlife Safari page and discover all the delights of the desert
Read more about Karen's Kalahari adventures here