My Weekly Special | Look Younger and Feel Great!
---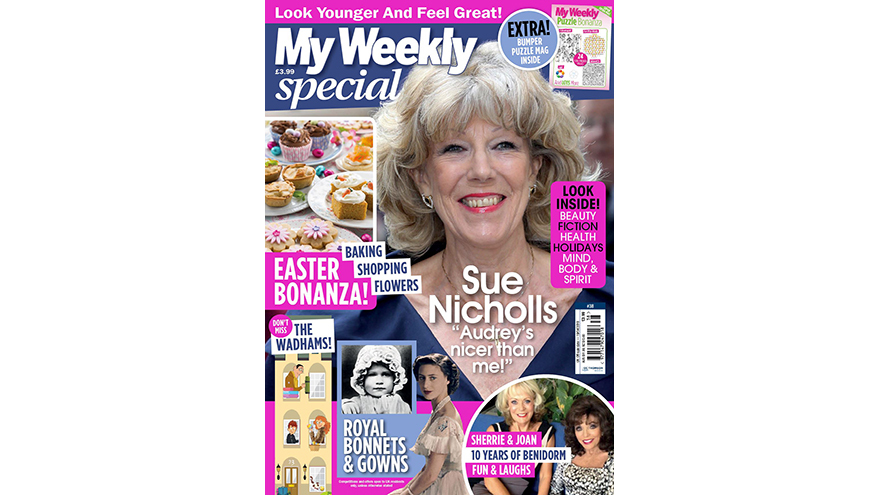 Dear Spring, where have you been? We have missed you so much, and hope you are here to stay! We have lots of treats for you this month – lovely baking for an Easter spread – you'll love the cupcakes. Plus super pages of shopping suggestions so you can really look the part. It could be you're feeling a bit jaded after all that snow, so we have some excellent beauty tips for you. And if you're feeling a little bit stiff and creaky after being frozen during a long, long winter, then do have a go at our Let's Get Bendy suggestions. You'll be touching your toes like nobody's business!
There's also a distinct feeling of babies and weddings in the air, so don't miss our nostalgic pages of royals young and old. I'm sure you'll remember all those lovely spring weddings.
Plus, we have money advice, super suggestions for getting away once summer does come, and a truly memorable visit to our cookery archives. Remember those Easter bonnets? Well there's one for you to make that looks scrumptious.
Please linger awhile, winter has been so cruel, and we're so happy to see your sunny face!
Maggie Swinburne, Editor
Our cover star Sue Nicholls…
The woman behind Coronation Street's Audrey is full of surprises – and has some exciting storylines coming up. Meet her inside the pages of the Special…
 Audrey is much nicer than me. I'm horribly bad-tempered at the news!"
Read the full interview on page 4 of the Special.
Click here to find your nearest stockist or click here for a great subscription deal.