Our Handy Guide To Matching Up Food & Wine
---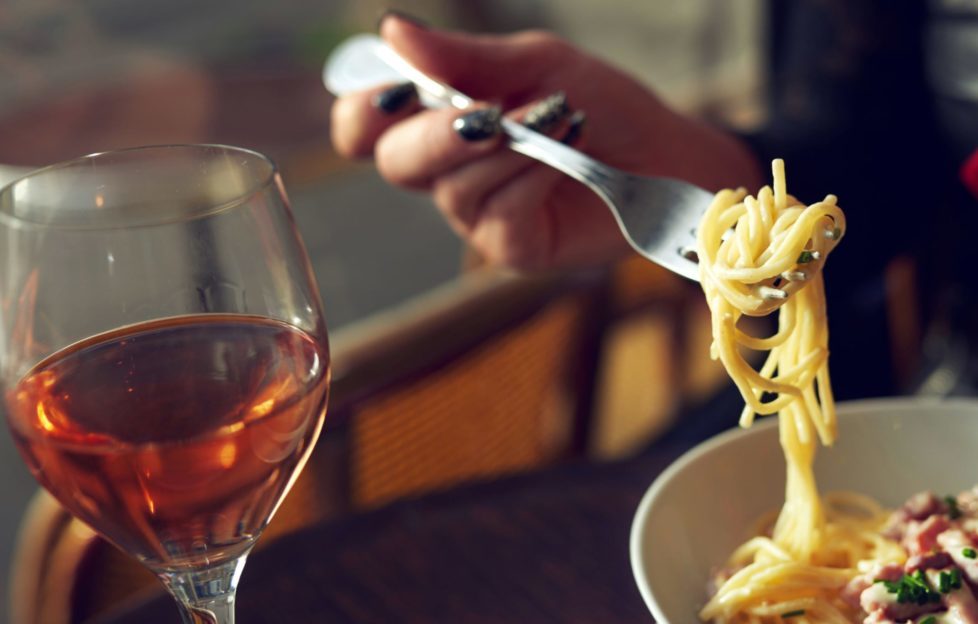 Pic: Rex/Shutterstock
When it comes to pairing wine with food, it can be somewhat overwhelming as each flavour can affect the end result. A well paired wine can make for a memorable meal (as can a badly paired one!), so where do you start?
Today the world of wine is open with so many options to choose from, long gone is the hard and fast rule that red is for red meat and white is for white meat. It does apply somewhat but with so many choices you can now pair a delicate piece of white fish with a light red and equally pair an oaked chardonnay with red meat.
The key point when pairing wine with food is what is the overall flavour of your meal going to be? You may be having chicken but how are you cooking it, will there be a glaze or a sauce? It is all the extras that you are adding in that lead you to your perfect pairing.
Is the dish heavy or light, meaty, spicy? When you are cooking you are thinking of what will work together to make a delicious meal, the same thought process is used to pair a wine that will be balanced. Try to match the weight of the dish with the weight (body) of the wine, types of sweetness or tartness.
Don't Forget:
Light dishes with light wines
Heavier dishes with heavy wines
Fatty and sweet dishes with high acid wines
Balance is key
Spicy food usually pairs well with very fruity aromatic off dry wines, as spice can be a dominating factor, which most wines cannot compete with, this is where your gewürztraminer, pinot blanc and vibrant whites and roses can work so well.
When it comes to your Sunday roast, you can consider reds and full bodied roses even if it is chicken or turkey. Most of us will have gravy and roast potatoes with the meat which bring some weighty flavours and body to the meal. If going with a white meat consider fuller white wines, heavy roses even a medium bodied red.
For fish, two key factors come into play is it meaty (monkfish) and will there be a sauce? White fish in a cream sauce tends to pair well with a clean crisp white wine wheres in the case of a meaty fish a fruity rose can pair beautifully.