Seven Steps to Fake Tanning at Home
---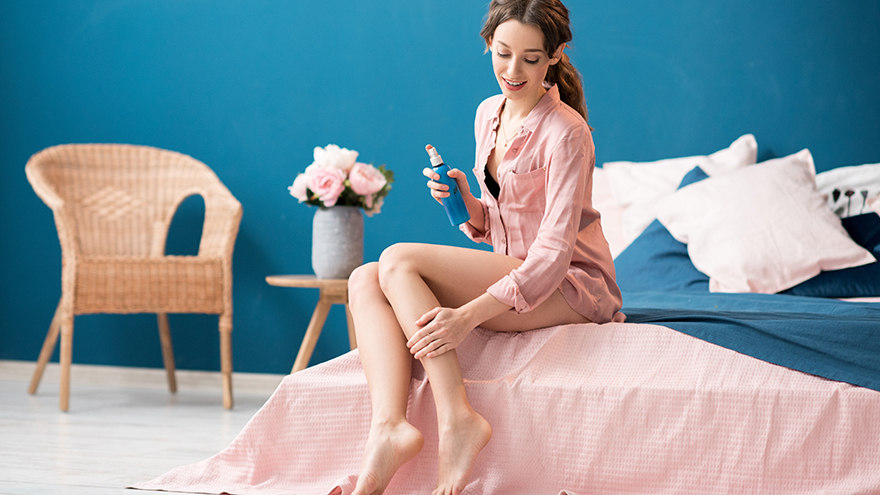 pic istock photo
It's time to swap tights for fake tan, but getting the application correct so that it looks natural can be tricky! Beauty expert Joanne Dodds at Hairtrade.com says,
"We've all been there – we think we've followed the instructions on the bottle of tan to a 'T', and we go to bed excited to wake up and unleash the bronzed goddess within us only to find we've actually just created a muddy, blotchy mess.
"Then there's the hassle of trying to scrub it all off to start again and taking several layers of skin off in the process – and don't even get us started on the mess it leaves all over our bed sheets and clothes. But don't worry, as this can all be avoided.
This step-by-step guide covers everything we think you need to know in order to sport an enviable, natural looking tan on the lead up to the hotter months.
Hair removal
Hair removal – whether you're shaving, waxing or using a removal cream – should be done at least 24 hours prior to tanning. If not, the fake tan is likely to stick into the pores and hair follicles that loosen when you remove hair, creating unattractive dark dots across your skin.
Exfoliate
This is the most imperative step to flawless fake tan that many beginners tend to skip over, but if you don't exfoliate you'll likely be left with patchy, uneven tan that's hard to wash off.
For a super smooth base, you should exfoliate the areas to which you'll be applying the self-tan with a nourishing body scrub, in order to remove all the dead skin cells.
Moisturise
Apply a good body moisturiser to all the dry areas of your body such as knees and elbow and let it sink in at least 30 minutes before applying your tan.
Use a tanning mitt
You should use a good quality tanning mitt to avoid nasty smears and patchiness in your tan, and those unsightly orange palms you often see on people that skip this step and forget to wash their hands properly.
Don't rush
If you're using a gradual tanner, it's best to apply tan in the evening and let it develop overnight. This will give it a good amount of time to fully develop (most tans need at least 4-6 hours). You should also make sure that your fake tan is fully dry before dressing, and stick to something that's loose and dark, so it doesn't rub against your skin or show any marks. You can also try brushing a light layer of talc-free baby powder all over to stop the tanner from transferring on to your clothes.
Technique
For fool-proof application, it's best to start from the bottom up and apply methodically so you don't miss any patches. Apply to your skin using light, sweeping, vertical movements and follow this technique with gentle circular motions to work the tan fully into the skin. Don't skimp on the product either – if you don't use enough, this can cause the tan to stretch which can result in breaks and streaks in the finished result.
Maintain
Once you're looking bronzed and beautiful, you're going to want to keep it long-lasting and when it does start to fade, you'll want it to fade evenly. The best way to do this is to keep gently exfoliating and moisturising every 1 or 2 days. This will also keep your skin in tip top condition in case you want to top up your tan again in a few days. If, along the way, blotches do appear, try rubbing half a lemon on the problem area for a couple of minutes, before lightly buffing with a damp towel.
For more expert beauty advice, see Simple Anti-Ageing Skincare Tips