I Spy With My Little Eye | A Delightful Coffee Break Tale from our Archives
---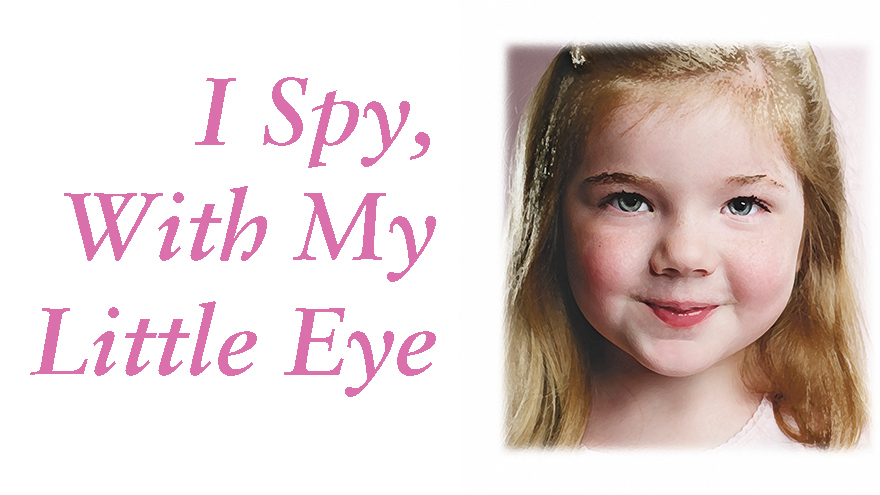 Written By Amanda Brittany
My relationship with little Emily was moving into an exciting new phase…
As we travelled to my house in Blackberry Way, I glanced in my rear view mirror.
Emily sat on the back seat in her pink tracksuit, her pink suitcase by her side.
"Are you alright?" I asked, noticing her eyes dancing as she looked out at the scenery.
"Yes, I'm OK, Alice," she said with a smile.
It was to be her first overnight stay with us since we'd met her two years before, although Jim and I had taken her out for days many times.
She'd particularly loved the animal sanctuary and the lambs at the farm, and I'd lost count of the times she'd come for dinner. How I loved to see her tuck into my shepherd's pie as if she'd not eaten for a week.
Emily was our daughter-in-law's child from her first marriage, and I'd fallen in love with the little girl – and the old teddy she carried everywhere – the moment I set eyes on her. Since that day, she had always called us Jim and Alice.
Well, I suppose however much we considered her our little granddaughter, she wasn't – not really. In fact, she had four real grandparents who adored every breath she took, and she loved them back in equal measure. It would have been wrong to think we would ever match up.
It didn't matter. We were just glad to be part of Emily's world; every moment we spent with her was a blessing.
Her eyes sparkled
Her eyes were suddenly on me.
"Can we play I Spy, please?" she asked, with a gap-toothed smile.
I hadn't played I Spy for many a long year – not since our son was young – but it was like riding a bike. You never forgot.
"Of course," I said, speeding up as we met the dual carriageway.
"I'll start," she said, pushing her blonde hair from her face. "I spy with my little eye something beginning with S." Her mouth stretched into a thin line of suppressed excitement, and her sparkling eyes told me I'd never guess what she'd thought of, however I tried.
"Oh my word," I said. "Sausages?"
"Sausages?" She giggled. "Where?"
"In that butcher's shop we passed."
She giggled again. "Nope."
You've got stripy socks?
I slowed the car and stopped at a red light. "Now let me think. S. S for Suitcase?"
"Nope."
"Signs?"
"Signs?"
"Road signs?" I said, pointing to a "no entry" symbol.
"Nope."
"Stripy socks."
"Where?"
"On my feet."
She laughed. "You've got stripy socks?"
"Yes. I love stripy socks."
"Me too," she said happily.
"So is it stripy socks?"
"Nope," she said, shaking her head.
"Sheep? In that field." I pointed.
"They're cows, Alice."
"Oh dear. I give up, then."
"You're not very good at this, are you?"
"No, not really. It's been a very long time since I played it." I laughed, pulling away as the lights turned green. "So what's the answer, Emily?"
"Sort-of Gran!" She clapped her hands, clearly delighted. "I've decided that's what I'm going to call you from now on – if that's OK. Because you are my gran – sort of."
I felt a lump in my throat.
"OK."
"And Jim can be my Sort-of Grandad. Do you think he'll like his new name?"
"I think he'll love it," I said, pulling up outside our house and dragging on the handbrake, happy tears filling my eyes.
Emily made me feel young again
Once out of the car, I gripped Emily's small hand as we walked towards my front door, her little suitcase rumbling over the cobbles as she pulled it along. I couldn't wait for an evening filled with games and Disney films – apart from anything else, being around Emily made me feel young again.
"I spy with my little eye, something beginning with L," I said with a smile.
She paused, her eyes looking into mine. "Lovely weekend," she said.
"Yes," I said, putting my key in the door. "That's exactly right."
"Do you know what, Alice?" she said, stepping into the hallway and giving me a sideways hug. "You're the best Sort-of Gran, ever."
Don't miss the great stories in My Weekly, on sale Tuesdays, priced just £1.20
More free online stories