Sensational San Francisco
---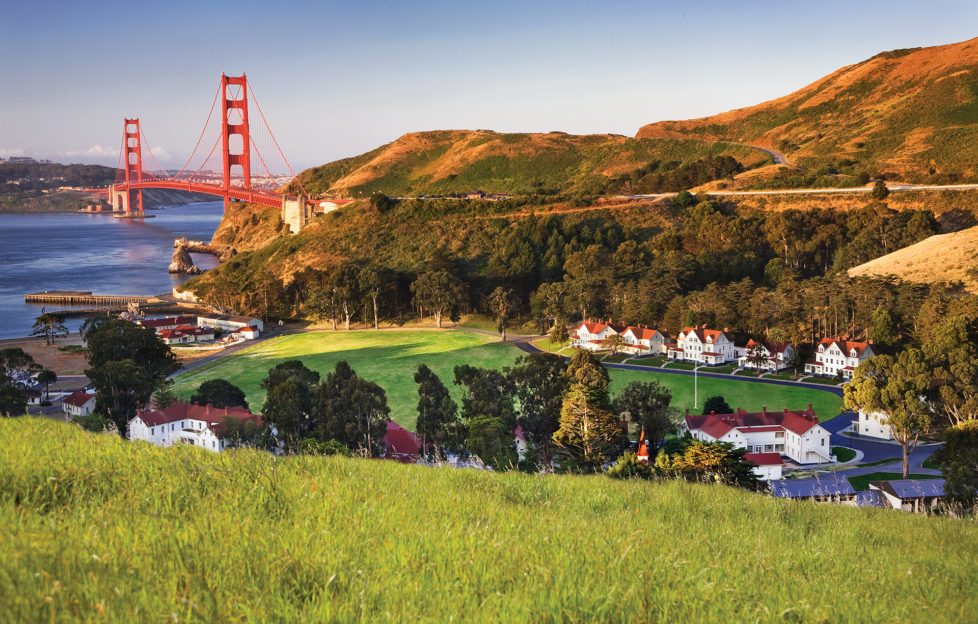 The view from Cavallo Point Lodge Hotel
The perfect location for a city break, we reveal the hotspots you won't want to miss!
Situated on a peninsular separating San Francisco Bay from the Pacific Ocean, San Francisco is among the most diverse places in the US; an eclectic city filled with people from every background possessing a rich history, thriving culture and amazing diversity.
As well as offering world-class attractions and bucket list experiences, San Francisco has much to offer those wishing to dive deeper by exploring the city's interesting neighbourhoods and cultural scene.
Top 10 sights and experiences in San Francisco
1.Hiking in the Presidio: The Presidio is a former military post and now National Park site and recreational paradise with over 24 miles of trails, 25 miles of bikeways, and 10 scenic overlooks and vistas. The Presidio offers breathtaking views of the Golden Gate Bridge, beautiful trails and architectural treasures.
2.Cycling across the Golden Gate Bridge: No trip to the Bay area is complete until you have visited the Golden Gate Bridge, the 1.7 mile suspension bridge connecting San Francisco Bay and the Marin headlands and offering views of the city skyline. Blazing Saddles offer a cycling route along the bridge and down to the seaside towns of Sausalito and Tiburon, with a return by ferry.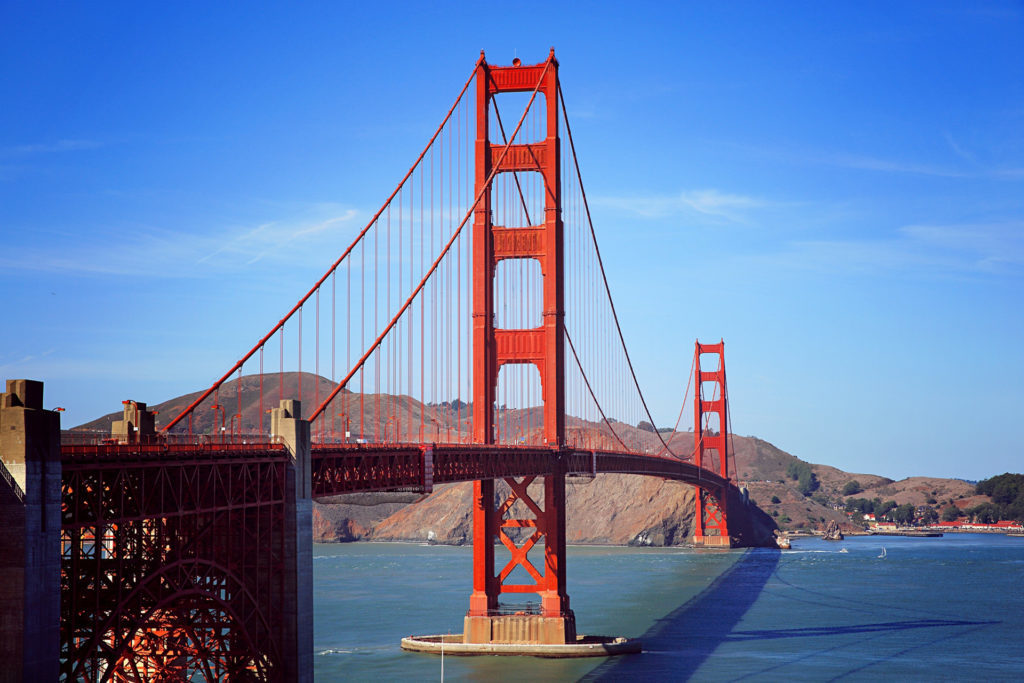 3.Explore Haight-Ashbury: The Summer of Love in 1967 saw the hippies of the Haight-Ashbury district converging to create the epicentre of the counterculture movement, with 100,000 people flocking to the Haight. The area was the centre of 60s psychedelia and still retains its hippie counterculture credentials, with Victorian houses, bookshops, and funky clothing shops. Wild SF offer the "Free Love" walking tour around Haight-Ashbury, where guitar-toting tour guide, Wild Wes, explains the famed psychedelic district that rocked 1960's America into a Technicolor wonderland. Wes shares tales and songs of Janis Joplin, the Grateful Dead, and how the Summer of Love changed San Francisco.
4.Wander around Chinatown: Explore the largest Chinatown outside of Asia in San Francisco. Enter Chinatown through the "Dragon's Gate" to explore 24 blocks of the hustle and bustle of this alternative neighbourhood, complete with exotic shops, traditional food markets, temples, small museums and ornate landmarks. Visitors can buy herbal remedies, enjoy samples at a tea bar or order a dim sum lunch.
5.Visit a local brewery: San Francisco's beer scene is thriving, with more than 120 breweries in the greater Bay area, and over 30 of them can be found in San Francisco. A classic San Francisco brewery, visitors can make a reservation for a tour at Anchor Brewing, which includes a brief look into the history of the company and a walk through three floors, followed with a visit to Anchor Public Taps just across the street where they can sample the Anchor Steam Beer. Alternatively, located just two blocks away from AT&T Park, 21st Amendment Brewery serves freshly prepared pub favourites whilst pouring their own handcrafted award-winning beers on eight rotating taps.
6.Explore the murals in the Mission District: A must-visit neighbourhood, the Mission District is the centre of Latin culture in San Francisco, where families and workers from Mexico and South and Central America create the distinctive character. Eclectic music venues and old-school taquerias make up this hipster district, which is decorated with vibrant murals.
7.San Francisco Museum of Modern Art (SFMOMA): Located in the SoMa neighbourhood, SFMOMA holds an internationally recognised collection of modern and contemporary art, and was the first museum on the West Coast devoted solely to 20th century art. The current collection includes over 33,000 works of painting, sculpture, photography, architecture, design and media arts. SFMOMA also recently underwent expansion, bringing three times more gallery space than before.
8.Visit one of the city's beaches: San Francisco is known for many world-class attractions around the city, but the incredible beaches are often overlooked by travellers. San Francisco's beaches offer scenic views as well as plenty of opportunities for hiking, kite-flying, surfing, relaxing and more. One of the lesser-known and visited beaches in San Francisco, Lands End, is a hidden gem secluded behind the dramatic cliffs of Lincoln Park. Visitors can access the beach via a steep trail and beautiful hikes surrounding the beach make it a must-see attraction.
9.Shopping on Fillmore Street: Fillmore Street is a hip shopping district, where you can find many boutique one-of-a-kind shops, as well as more popular shops such as Ralph Lauren and Rag & Bone. The street has many outdoor cafés and restaurants, to sit and take in the cultural area.
10.San Francisco Giants at AT&T Park: Take in a game during baseball season, running from February to October. AT&T Park – located right on the water's edge in the SoMa neighbourhood – is home to the San Francisco Giants Baseball Franchise.
Food and drink hotspots
Ferry Building Marketplace
A transportation hub during California's Gold Rush, the ferry building was the main entry point for visitors into San Francisco. After the building of the two iconic bridges into the city, the building closed as it was no longer needed; however in 2003 it reopened as the Ferry Building Marketplace. Visitors can enjoy a vibrant gathering of local farmers, artisan producers and independently owned and operated food businesses, and on weekends, the Farmer's Market that surrounds the building.
China Live
Situated in the heart of San Francisco's Chinatown, China Live offers an interactive culinary and cultural experience whilst delivering an in-depth exploration of Greater Chinese gastronomy. Visitors can enjoy exquisite Chinese ingredients, whilst being educated on the rich history and influence of these ingredients and recipes.
El Techo
Located in the heart of the Mission District atop sister restaurant Lolinda, El Techo serves Latin American street food and cocktails in an unparalleled rooftop location with expansive city views. Seats at the alfresco El Techo are highly coveted and visitors line up early to score a spot at this popular restaurant.
Greens
Led by nationally acclaimed chef and author, Annie Somerville, Greens Restaurant has become one of the most celebrated restaurants in the world offering an endlessly inventive, ever-changing menu of meatless cuisine packed with flavour. Annie is a pioneer in working directly with local and organic farmers, selecting fresh seasonal produce to bring to her restaurant. Located in the historic Fort Mason Center, Greens overlooks the San Francisco Marina, offering sweeping views of the Golden Gate Bridge and Marin Headlands.
Tonga Room and Hurricane Bar
Located at the iconic Fairmont Hotel, the Tonga Room and Hurricane Bar is a tiki-themed lounge offering a theatrical atmosphere, including live entertainment, dancing around the "lagoon" which was the former hotel pool and special-effects thunder and lightning. Visitors can enjoy Polynesian-fusion cuisine and tiki-inspired cocktails.
Cityscape Bar & Lounge
Located on the 46th floor of Hilton San Francisco Union Square, Cityscape Bar & Lounge boasts unobstructed 360-degree views of the city skyline. From here, visitors can perch beside the glass panelled walls and see some of San Francisco's most famed structures, including the Transamerica Pyramid, Alcatraz Island and the Golden Gate Bridge, whilst sampling a great selection of cocktails and California wine.
Where to stay
Hotel Zelos
Located in the historic Pacific Building in San Francisco's SoMa District, Hotel Zelos is just steps away from Union Square and the perfect spot to begin an adventure in the city. The hotel's award-winning craft-cocktail enclave, Dirty Habit, offers a seasonally inspired small-plate and drink menu on the outdoor patio and houses the city's largest selection of small-batch whiskey. Rooms available from £133 per night.
Hotel VIA
The nearest hotel to AT&T Park, Hotel VIA offers an urban loft aesthetic reflecting the fashion-forward style of the neighbourhood. Each of the rooms provides guests with minimalist furniture, and the rooftop deck offers spectacular views of the bay, where refreshments and snacks can be purchased. Rooms available from £191 per night.
Orchard Garden Hotel
A tranquil hotel in downtown San Francisco, The Orchard Garden Hotel blends luxury with state-of-the-art, eco-friendly design. As San Francisco's first ever LEED certified hotel, and the fourth ever in the US, The Orchard Garden Hotel is dedicated to healthy, sustainable hospitality, committed to maintaining environmentally friendly and non-toxic environments in the hotel. Rooms available from £160 per night.
Regis San Francisco
Located in the heart of the SoMa district, the St. Regis San Francisco is a five star luxury hotel, for those looking for a stylish stay whilst in the city. The hotel is housed inside the Williams Building, a 20th century landmark combining magnificent architecture with modern refinement. Inside the hotel, guests are welcomed to unwind in the luxurious Remede Spa, with an indoor salt-water infinity pool, relaxation lounges, whirlpools and massage facilities. Rooms available from £294 per night.
Cavallo Point Lodge
Situated at the foot of the iconic Golden Gate Bridge, overlooking the San Francisco Bay, Cavallo Point Lodge offers an experience like no other. Whether staying in their Historic Lodging in Fort Baker, the original officers' residence in the former U.S. Army post, or the eco-friendly Contemporary Lodging built to the highest standards of green architecture, guests are offered one of the most spectacular views from the Golden Gate National Recreation Area, perfect for an intimate escape or fun-filled getaway. Rooms available from £315 per night.
How to get there
Norwegian: London Gatwick to Oakland from £290 per person return. Flights can be booked at norwegian.com.
Icelandair: London Heathrow to San Francisco from £406.46 per person return via Iceland including all taxes, fees and charges (price is based on travelling in September 2018). Flights can be booked at www.icelandair.co.uk – passengers are able to stopover in Iceland on their way to San Francisco at no additional air fare.
For more travel info contact www.sftravel.com