Susie Visits The RHS Chelsea Flower Show
---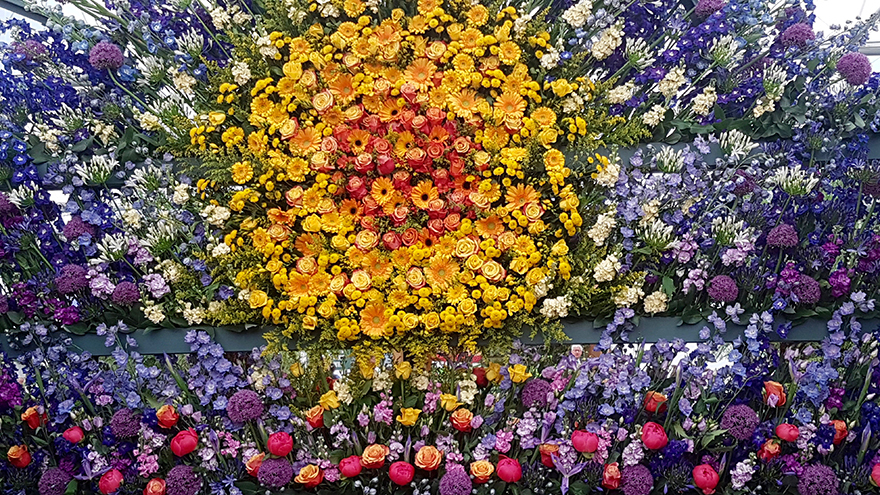 By Susie White, My Weekly Gardening Columnist
The sun shone, the sky was a cloudless blue and the gardens were at their best. It was Press Day at the RHS Chelsea Flower Show 2018 and as glorious as ever. Press Day is the day before the Show is open to the public, the day when the world's journalists and photographers and celebrities mingle and the judges make their decisions as designers and exhibitors wait to hear how they have done. And with one of the most difficult growing seasons ever, what they achieved was quite incredible.
This year had the highest ever proportion of women designers; they designed 12 out of the 26 gardens. I loved Sarah Price's beautiful painterly The M&G Garden with its Mediterranean pink earth coloured walls and delicate wild looking planting. Jo Thompson's The Wedgwood Garden was designed specifically for a woman with flowing lines, harmonious planting and a winding stream bordered by sumptuous irises.
Some designers were here for the first time – Tom Massey with The Lemon Tree Trust Garden, a garden inspired by a community of Syrian refugees living in Domiz Camp in Northern Iraq. It shows the power of gardening to bring solace, dignity and comfort to those who have been forced to flee their homes and scratch out a new life living in a refugee camp. I found the story told through the garden very moving.
Another arid garden was the Trailfinders South African Wine Estate Garden with a charming white painted Cape Dutch homestead. A terracotta-tiled terrace led down steps into a formal, romantic garden, then through a gate to a vineyard. Beyond the vineyard was a representation of the wild and beautiful fynbos landscape. Here I could even smell the blackened charred stems of the recently burnt landscape, through which new life was emerging in the form of bright orange flowers.
Welcome to Yorkshire was the name of a garden that I think will be a favourite with many visitors. Inspired by the Yorkshire dales, it had a stone bothy by a woodland edge, buttercup meadow, hawthorn tree (with a lovely detail of a bit of sheep's wool caught in a lower branch), a cottage garden, winding beck and a beautiful drystone wall. But it was Chris Beardshaw's Morgan Stanley Garden for the NSPCC that won not only Gold but also Best in Show. Ranging from acid-loving plants (and a couple of fabulous rhododendron specimens in full flower) to a warm-toned cedar-wood pavilion and a calm reflective canal, it was perfectly balanced.
Inside the Great Pavilion the displays were fabulous and demonstrated the art of growers to produce plants whatever the weather and the season. Explosions of tropical flowers, luxurious tree ferns, daffodils and hyacinths, cacti and succulents, the range was breathtaking. And there are colourful or dramatic ways of drawing attention to each. I watched a delightful display from a group of young Indian classical dancers from Kings Lynn publicising the Iron Garden range of garden gazebos. Other gardens featured musicians, dancers or opera singers. There was even a husky dog and a Shetland pony!
I watched Monty Don filming and there were so many famous faces: Joanna Lumley, Ben Fogle, Anneka Rice, David Walliams and Bill Bailey to name just a few. I asked Carol Kirkwood if I could have a selfie and she was delightful. When I thanked her, she said "it was an absolute pleasure". And I was so pleased to meet up with Chelsea Pensioner Marjorie Cole who I see every year and who featured in last week's My Weekly.
Each year I come away with plenty of ideas, inspiration and photographs of flowers, many of which will find they way into my regular column for My Weekly. I put lots of photos on Twitter if you'd like to look at them at @cottagegardener and on my new Instagram feed @cottagegardenerpics. I welcome comments and feedback!
Make sure you catch up with Susie and what's new in her garden each week in My Weekly!