New Ways With Pre-Loved Clothes
---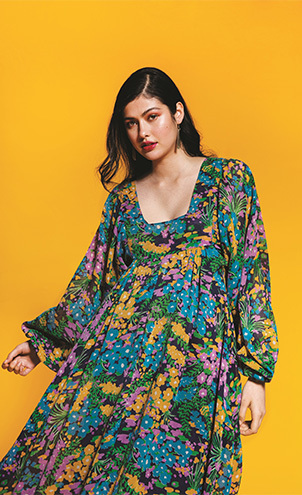 pic Barnardo's
Barnardo's launches new summer trend book supported by London College of Fashion, UAL
Barnardo's children's charity has teamed up with the London College of Fashion to show off the countless unique looks you can create from pre-loved clothes in the charity's new 'One of a Kind' summer trend book.
Summer Trends
The book, which showcases a variety of colourful and exciting seasonal looks, celebrates being an individual and takes inspiration from those who don't dress to fit the mould but use fashion to express their uniqueness.
'One of a Kind' was initially launched in Spring 2017 to highlight the potential of pre-loved items in Barnardo's stores and show some of the amazing styles which can be put together using clothes and accessorises donated to the charity.
Get Quirky for 2018
The Summer 2018 edition continues to evolve and now features both men and women in a bid to inspire sustainable, ethical and economical fashion lovers everywhere to consider charity shops as a viable shopping destination.
The collaboration with MA students from the prestigious London College of Fashion uses models from Atlantis and Profile agencies to reveal the quirky looks created from Barnardo's items. The book will be available in Barnardo's 700+ stores across the UK from Saturday, June 9th following a launch party at the charity's Brixton store.
Fashion Revolution
Barnardo's has also teamed up with global fashion movement, Fashion Revolution to educate shoppers about the damaging effects textiles have on the environment and fashion industry, whilst promoting pre-loved fashion as an alternative and refreshing way to purchasing new garments.
A recent event saw Fashion Revolution hold an Open Studio at Barnardo's Brixton store, where guests could learn about how to upcycle and customise pre-loved clothes to breathe new life into the garment and extend its use.
Why Shopping Pre-loved Matters
Extending the life of clothing by a further nine months would reduce carbon, waste and water footprints by around 20-30%*, so by shopping pre-loved you are helping the environment as well as helping to change the lives of the UK's most vulnerable children and young people.
Helping Young People
Barnardo's Chief Executive Javed Khan said:
"Shopping at Barnardo's helps us achieve our goal to reach and support even more vulnerable children, young people, parents and carers across the UK. We have 700 plus shops across the UK, each of them raising funds that go towards our vital services. We hope our new trend book will continue to inspire and encourage people to visit their local Barnardo's shop."
Shopping At Barnardo's
Director of Retail at Barnardo's, Roy Clark said:
"We are constantly looking at ways to highlight the amazing stock available in our stores across the UK. Shopping at Barnardo's is not only ethically and environmentally savvy, but it allows people to be their unique selves without compromising on quality or value. The Summer 2018 'One of a Kind' Look Book is packed with inspiring ideas about how to get the most out of pre-loved clothes from Barnardo's stores."
Copies of the Summer 2018 'One of Kind' trend book will be available in your local Barnardo's store from Saturday, 9th June. Find your local branch at www.barnardos.org.uk/shop