Best Picnic Spots 2018
---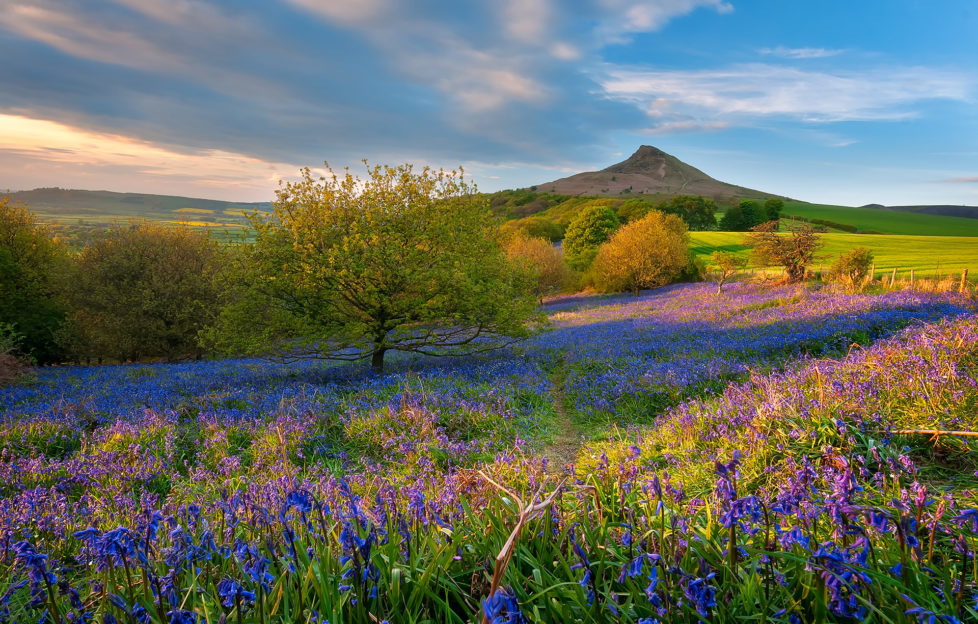 Roseberry Topping Pic: Istockphoto
National Picnic Week takes place from June 15-24, so what better time to enjoy some alfresco dining!
Finding just the right spot to lay your picnic rug if not always easy, so National Picnic Week has picked their winners for 2018, selecting locations around the UK noted for their outstanding natural beauty and historical significance. You can also check out the locations on Facebook, Twitter or on National Picnic Week's official video.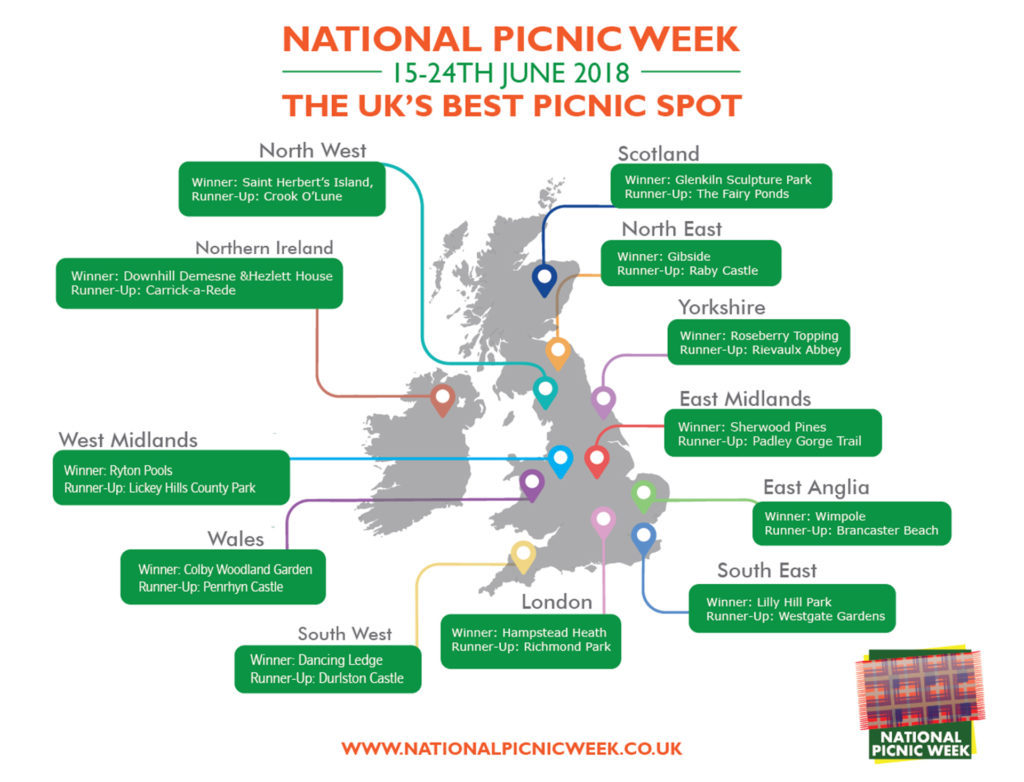 Adam Cox, founder of National Picnic Week says,
 We've had the hottest May on record so there's already been more picnics so far this year than we normally have. With a hot summer predicted we're expecting more picnics in 2018 than ever before. To make the most of your picnic we're encouraging the nation to have spontaneous picnics. It's so quick to grab a blanket and a selection of foods and just enjoy eating outdoors. It doesn't have to be a well-planned activity, you can even have a quick picnic in your lunchbreak. The UK has some fantastic picnic spots and a picnic can turn a day out into memories that last forever."
National Picnic Week's Winners, by region, are:
Scotland:
Winner: Glenkiln Sculpture Park
Once comprising six sculptures, the moorland setting around Glenkiln Reservoir is still a scenic wonder. Located just over seven miles west of Dumfries, Glenkiln was home to six sculptures but in 2013 it was reported that one of the sculptures, Standing Figure, had been stolen and so most of the remaining sculptures were removed for security. The only one still standing in its original spot is Glenkiln Cross.
Runner-up: The Fairy Ponds
Found at the foot of the Black Cuillin mountains, The Fairy Ponds require a brisk walk, but the pay-off is well worth it. A 40-minute walk from top to bottom, visitors can wonder at the crystal blue water of the river Brittle as they tuck into their well-deserved lunch.
Nothern Ireland:
Winner: Downhill Demesne & Hezlett House
Choose this location for the ultimate serene picnic. Explore beautiful gardens that lead you to the 17th century thatched cottage which, as one of the oldest standing buildings in Northern Ireland, is steeped in history.
Runner-up: Carrick-a-Rede
With beautiful rocky paths that line windswept grasslands, Carrick-a-Rede is the runner up for Northern Ireland. Surrounded by ancient caverns and crystal green water, the only way to get on the island is to cross a bridge that's certainly not for the faint-hearted.
Wales:
Winner: Colby Woodland Garden
Here you'll be spoilt for choice with both The Walled Garden and The Woodland Garden to explore. Colby Woodland Garden wins National Picnic Week's vote for Wales' number one picnicking area because of its natural playground for kids. Littered with fallen trees, stepping stones and rope swings, it's the ultimate day out for children.
Runner-up: Penrhyn Castle
Huge grounds, a princess-like 19th century castle, and an abundance of different wildlife and horticulture, Penrhyn Castle is certainly a spectacular sight. In addition to all this there's a dog walking trail, so that all the family can join in the adventure. Enjoy your picnic in the Elysian Fields, where you can marvel at the magnificent coastal and mountain views.
North West:
Winner: Saint Herbert's Island
Of the four islands that make up Derwent Water, Saint Herbert's is the largest covering between four and five acres. Named after the saint who reportedly brought Christianity to the area in the 7th century, the island is still a destination for religious pilgrimages.
Runner-Up: Crook O'Lune
JMW Turner firmly planted Crook O'Lune into history when he put brush to canvas with his landscape from 1821. The banks of the winding Lune river play host to a multitude of scenic spots ideal of picnicking.
North East:
Winner: Gibside
This estate in the Derwent Valley is run by the National Trust. The centrepiece is the neo-classical chapel and the sprawling 600 acres are a hotspot for wildlife spotting.
Runner up: Raby Castle
This 14th century castle is one the best-preserved examples of medieval architecture this country has to offer, with highlights including the High Force Waterfall and the Woodland Play Area.
West Midlands:
Winner: Ryton Pools
With 100 acres of winding paths, ancient woodland and natural pools, Ryton has all you need for a day out with the family. Enjoy your picnic watching the ducks, then explore the rich natural habitats or take an audio guide to discover what makes this place so special.
Runner-up: Lickey Hills County Park
Around 10 miles west of Birmingham, Lickey Hills covers 524 acres of heathland, woodland and grasslands. There's an adventure park for the kids, a sculpture walk and lots more to keep you busy all day.
East Midlands:
Winner: Sherwood Pines
Sherwood Pines acts not just as a great natural area of beauty, but also a venue for outdoor events and is the largest public forest in the East Midlands with over 3,300 acres.
Runner-up: Padley Gorge Trail
This two-hour walk is more rewarding than challenging as it snakes through Padley Gorge, offering a plethora of scenic spots to stop for a bite to eat.
Yorkshire:
Winner: Roseberry Topping
Roseberry Topping is for the avid walkers who find solace in the great outdoors. This wonderous hill stands at a staggering 1,049 feet making it the second highest hill on the North York Moors after Urra Moor. After reaching the summit complete your route by walking through Newton Wood.
Runner-up: Rievaulx Abbey
Explore the abbey ruins which were inhabited in approximately 1130 and marvel at its medieval artefacts in the museum. The picturesque ruins can't help but ignite your imagination – grab a map from the visitor centre and walk in the footsteps of a monk.
South West:
Winner: Dancing Ledge
The Jurassic Coast is a hot spot for natural beauty, but the Dancing Ledge may just be the jewel in the crown. Just a few miles west of Swanage, Dancing Ledge may require a bit of adventure to reach, but when you get there you'll understand just why so many do.
Runner-Up: Durlston Castle
Expect scenic walks, one of a kind views and the historic Great Globe.
South East:
Winner: Lilly Hill Park
This Green Flag awarded 23-hectare public open space, Lily Hill Park features an Edwardian water garden, England's longest picnic bench and a story-telling throne, making it a truly unique space.
Runner-Up: Westgate Gardens
When visiting Canterbury, there is plenty of history to take in. One place you cannot afford to miss is Westgate Gardens boasting relaxing areas, peaceful walks and woodland areas – and endless possibilities for picnics!
London:
Winner: Hampstead Heath
Hampstead heath is a popular spot for Londoners to frequent all year, especially in the summer months. Make your way up to Parliament Hill viewpoint to take in the breath-taking vista of London's skyline nestled between leafy green trees. If you fancy a more active day out, The Men's and Ladies' Ponds are open all year round for some freshwater swimming – bracing!
Runner-Up: Richmond Park
Who would have thought the largest park in London has so many hidden treasures? Richmond Park has over 600 red and fallow deer that roam freely within much of the park. Why not set up your picnic blanket beside one of the 30 ponds on offer?
East Anglia:
Winner: Sheringham Park
An abundance of wildlife makes Sheringham Park an amazing place for a picnic in the sun. Watch the birds and the butterflies from the park's towers and take in the views of the coast and steam train lines that still serve the local area.
Runner-Up: Holywells Park
This park is an all-time favourite. Brimming with history, you can enjoy a picnic on land that goes back as far as the Stone Age. With Bronze Age axes and Roman coins being excavated in the grounds, why not enjoy some food for thought along with your picnic?
Where would you go to see the best UK wildlife? Find out here…