Moroccan Lamb Meatballs
---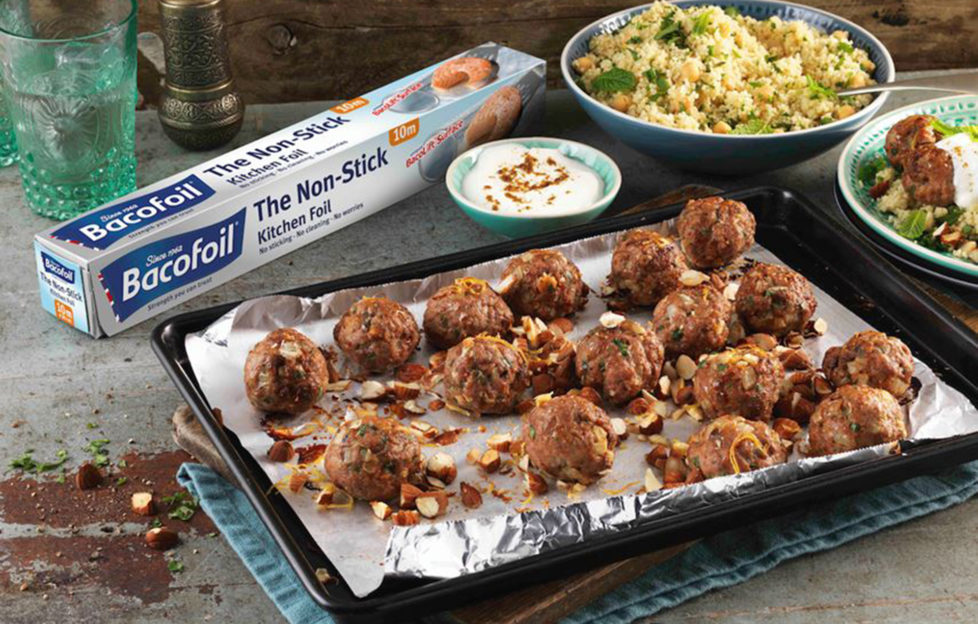 Credit: Bacofoil® The Non-Stick Kitchen Foil
Serve with fragrant couscous and yogurt for a Middle Eastern dish that will spice up your family dinner
Serves: 4
Preparation time: 20min prep, plus resting
Cooking time: 40min
To make the meatballs, sauté the onion very gently in a teaspoonful of oil over a low heat for 5min until very soft but not brown. Add the garlic and cook for another minute. Tip into a large mixing bowl and add the crumbs, harissa spices/paste and parsley and mix, then add the lamb mince and milk. Mix well with clean hands to make sure everything is really well combined. Leave to stand for 15min in the fridge.
Meanwhile, mix a little lemon zest into the yogurt and transfer to a small serving bowl. Drizzle over a little olive oil and add a pinch of cumin. Keep in the fridge until ready to serve.
When you're ready to cook, preheat the oven to 190ºC, Fan Oven 170ºC, Gas Mark 5. Line a large shallow baking tray with Bacofoil® The Non-Stick Kitchen Foil (this will ensure the meatballs don't stick). Form the mixture into approximately 16 balls and place onto the foil.
Cook in the oven for 15min, then add the lemon zest and chopped almonds and bake for another 15min or until cooked through.
Meanwhile, prepare the couscous. Measure the couscous into a small mug or large cup then tip into a large heatproof serving bowl. Measure the boiling stock into the same mug or cup and pour over the couscous. Add the chickpeas, stir and cover with a plate for 5-7min. Squeeze over a little lemon juice and add the herbs then fluff with a fork.
Serve the meatballs with the cous cous and yogurt.