Whodunnit?
---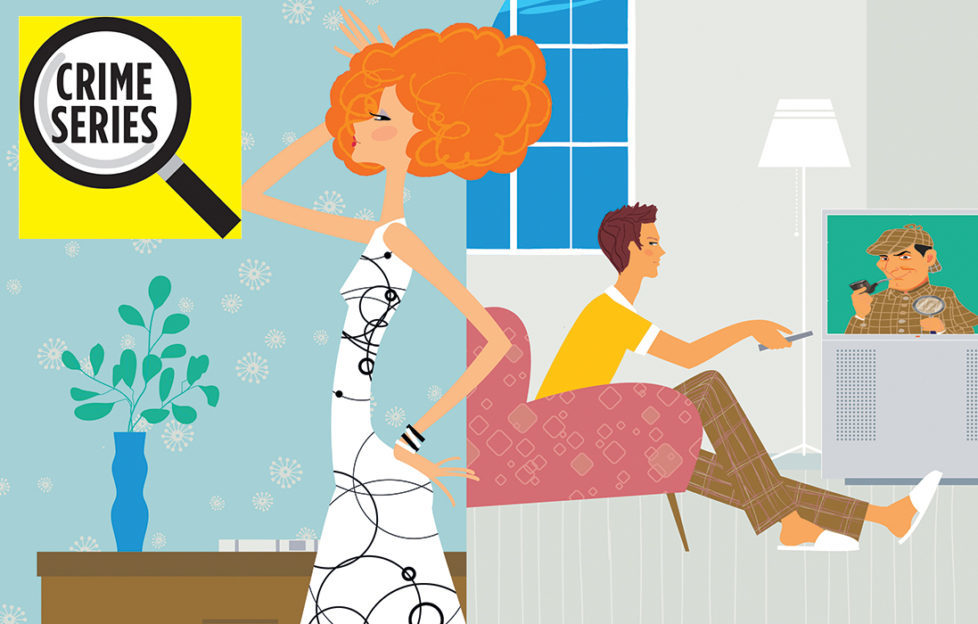 Pic: Rex/Shutterstock, Rikki O'neill
WRITTEN BY SHARON BEE
It was a pity Philip's new obsession was so pointless…
"The thing is," Philip began, "did she fall, did she jump, or was she pushed? Either way, she's been decapitated."
Yvonne cast her eyes up to the ceiling as she brought in the bursting Bags for Life. She and her husband Philip had returned from grocery shopping, where he'd discovered the victim in the kitchen.
Ever since he'd been made redundant four months ago, Philip had become completely absorbed with crime fiction. His hobby had developed into an all-consuming obsession. He was forever at the library, scooping up detective stories. Yvonne was denied the chance to watch any of her favourite TV programmes too, because Philip was taken up with watching endless repeats of Midsomer Murders, Inspector Morse and the like.
It wasn't how she'd pictured them embracing this enforced stage in their lives. A housewife at Philip's insistence, rather than through her own choice, Yvonne thought they would spend more time together – day trips out, for instance, until Philip found a new job.
"She fell," she answered. "The breeze knocked her off the windowsill, and she smashed on the floor. You'd left the window open."
"Ah."
She blinked back tears as she scooped up the dustpan and brush
The female figurine had been a wedding present. This was a second marriage, a second chance at happiness… well, she mused, they say love is blind, and I was certainly blind to Philip's faults.
He glanced at the clock. "I'm going to watch Sherlock on catch up. Call me when the meal's ready."
As she swept up the pieces of the broken ornament, she wondered if her marriage too, was damaged beyond repair. She bucked up, switched focus and busied herself unpacking the groceries.
Philip shouldn't have left the kitchen window open at all, she thought.
Despite his enthusiasm for crime, he hadn't taken any interest in the burglaries that had recently taken place in their street. Batches of jewellery, cash and bank cards had been stolen. Understandably, the neighbours were tense and nervous.
Philip wouldn't admit he'd made a mistake…
Yvonne wouldn't say anything further to him about the open window. He wouldn't be prepared to admit he'd made a mistake, let alone apologise for it.
She pondered. Perhaps he was missing his job. His senior sales position had been fast-paced, highly pressured and very demanding.
Yet Philip had thrived in this dog-eat-dog environment. He'd often arrived home in a high-spirited mood. He'd relished beating his colleagues' targets and achieving his goals. She knew he was deeply disappointed when he was made unexpectedly redundant.
Out of nowhere, a sharp, jolting pain shot through her jaw. Toothache.
She sighed. The day had got worse. A dentist's visit was hardly something to look forward to.
A handsome officer stood on her doorstep
A few days later, Yvonne answered a ring at the door to find a handsome police officer on the doorstep.
"Hello there. I'm PC Alan Bower, the officer for this area. With these recent burglaries, I've been asked to advise residents about home security."
"Can I see your ID?"
"Of course." He gave her his warrant card and photo ID.
After a quick examination, it looked as if all was in order.
"Please – come in."
He was around her own age, with deep blue eyes, a cheeky grin and dark wavy hair. Her heart fluttered.
Luckily, Philip was at the library.
"I see you've got a chain on the door. Good. You've got a strong lock here too. I can tick those off my list."
"Would you like a cup of tea?" she asked him impulsively.
"Wonderful. How can I resist?"
They spent a good hour chatting. Yvonne sensed he found her attractive too. A pang of disappointment pricked when Alan eventually rose to his feet.
"I'll leave you these leaflets. Here's my card as well."
As he handed them to her, their hands brushed, and a jolt of fizz buzzed between them
He lingered in the hall… she held her breath. Was he going to kiss her?
Yet her jaw throbbed once again. She smiled wryly. What a time to get toothache!
They bid farewell. Yvonne took a tablet for the pain and finally made an appointment to see the dentist.
Twenty minutes later, Philip arrived home. Without even a "Hello, I'm back" he promptly shut himself away in the living room.
There was a strange man wandering about…
One sunny afternoon, when Philip was out, Yvonne was pegging out the washing in the garden when a sudden movement by the cherry blossom tree caught her line of vision.
Hmm. Was it next door's cat?
She gaped in amazement when it turned out to be something quite different.
There was a strange man wandering about, dressed in black. Despite the warm weather, he wore a balaclava, thick gloves and heavy boots. Where had he come from? And what was he doing here?
Her pulse quickened. This must surely be the burglar!
Yvonne didn't feel frightened, because on his visit, Alan had given her lots of common-sense advice. She kept her eyes firmly on the intruder.
It looked like he hadn't counted on her presence, because he didn't quite know how to react.
Yvonne stood still as he crept around the flower beds. Then he beetled to the neighbour's fence and began to clamber over. However, he struggled and panted, a groan escaping him as his legs flailed ineffectually.
She gulped back giggles and thought quickly. She needed to stop him getting away! Her gaze darted around the garden – and inspiration struck. She grabbed a coil of spare washing line, approached the man and wrapped it tightly around his legs. He tried to kick her away, yet Yvonne held on tight, and the burglar fell to the ground.
Tying a secure knot in the plastic line, she then promptly sat on him. But before she whipped out her mobile, Yvonne decided to peel off his balaclava.
Her heart sank like a stone when the identity of the burglar was revealed…
"Please," he begged her. "Don't call the police!"
Yvonne didn't listen. The burglar had struck cold, raw fear into the hearts of local people. Resolutely she dialled 999.
"Your husband told us he craved excitement," Alan explained after Philip had been arrested. "He must have picked up the crime bug from all those books and TV dramas."
"Why target me, though? His own wife?" It was beyond understanding.
"He was under the impression that you'd be at the dentist's today."
Ah – she nodded. Of course.
"He didn't know that the dentist had rung me earlier to offer me a different appointment, as they were busy dealing with an emergency."
"He told us that he planned to steal his own cash and store it in the shed," Alan went on.
"Throwing the scent off himself, I suppose," she muttered. "So what about his ridiculous clothes?"
"He put on those dark clothes over his normal attire. Except for the boots, which he says he was wearing already."
"I didn't recognise the boots. He must have kept them hidden," she mused.
Officers had found Philip's secret stash of jewellery, cash and bank cards in the shed too, sealed in an old biscuit tin.
He had confessed and had been formally charged with several counts of burglary. He was granted bail and was staying at his mother's.
It appeared that her husband had actively enjoyed creating an atmosphere of anxiety and unease. All because he wanted to live life on the edge! Yvonne was sickened.
It was this overwhelming emotion that finally killed her affection for him.
She decided to take action
After a week or so, Yvonne decided to take action.
She decided to put her excellent housekeeping skills to use. Somewhere where they'd be fully appreciated.
After buying Dame magazine, she soon found what she was looking for in the Situations Vacant section.
Three months later, Philip received a suspended sentence.
He was ordered to carry out a six-month stint of community service, cleaning graffiti off walls and picking up litter from the streets.
Over time, Yvonne carefully worked out the clues. She studied, analysed, and deducted…
For her, after years of enforced unemployment, there was only one answer to a rewarding life. A live-in job as a housekeeper and cook to an elderly, grateful gent out in the country… but not all that far away – so that DC Alan Bower could still visit!
Don't miss these other stories in our Crime Series… the next one will appear online on Thursday!