Do You Know The 12 Signs Of Breast Cancer?
---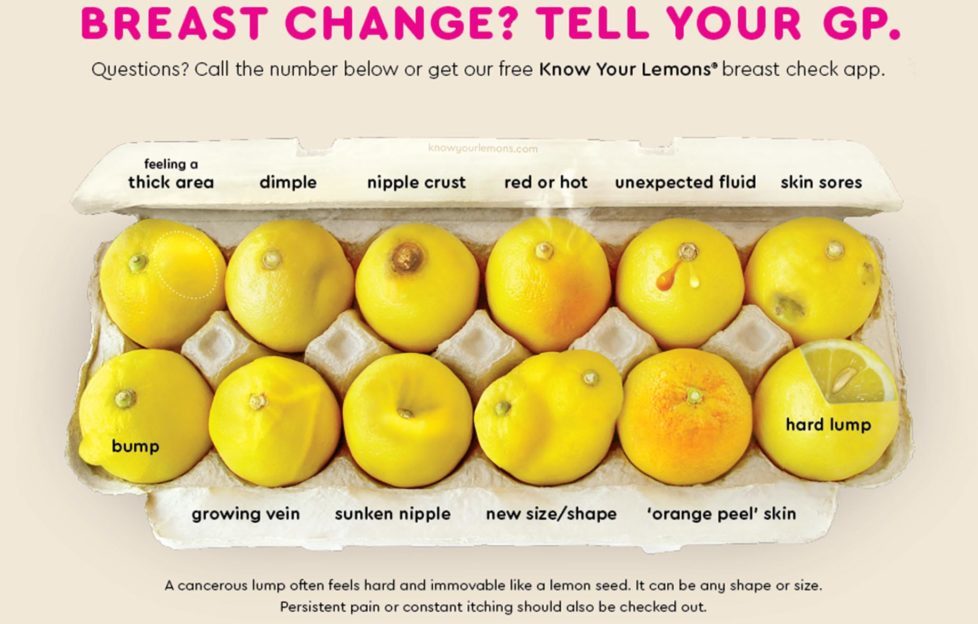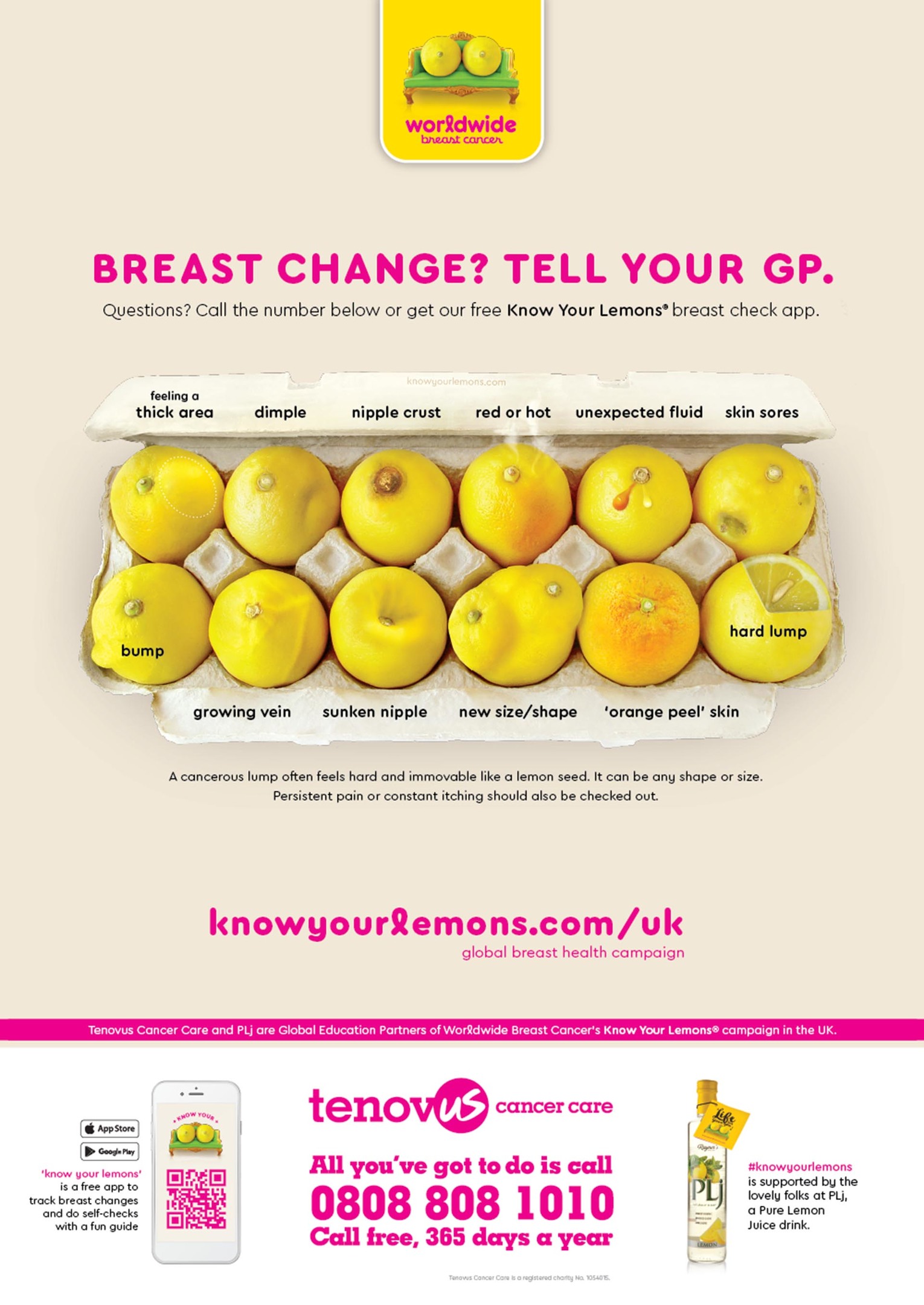 Would you know how to spot breast cancer? In Breast Cancer Awareness Month, we're backing a campaign to create awareness about the 12 signs of breast cancer through a striking image of lemons in an egg box, each representing a different possible symptom. The campaign is a partnership between Worldwide Breast Cancer's 'Know your Lemons' initiative, the iconic sugar-free pure lemon juice brand PLj and Cardiff based charity Tenovus Cancer Care. The illustration is being carried in a free awareness booklet on the necks of over 100,000 bottles of PLj lemon juice in supermarkets and health food shops up and down the country and is being featured on Plj funded posters in GP surgeries UK-wide. The posters also carry the Tenovus Cancer Care Helpline number. An initial print run is being displayed from today in surgeries in Wales and the UK as well as Tenovus charity shops and further sales of PLj throughout the month of October will enable the printing and circulation of more so that the campaign can become as widespread as possible.
At the launch, Health Secretary Vaughn Gething met Dawn Wilson, 36, a 'Know Your Lemons UK' ambassador to discuss the campaign from a personal perspective. Dawn was diagnosed with breast cancer in 2014 but experienced delays because a lump on her breast was wrongly diagnosed as a cyst by her GP. Her cancer initially went into remission but returned last year and she now been given a terminal diagnosis. Since then she has been working tirelessly to spread the message.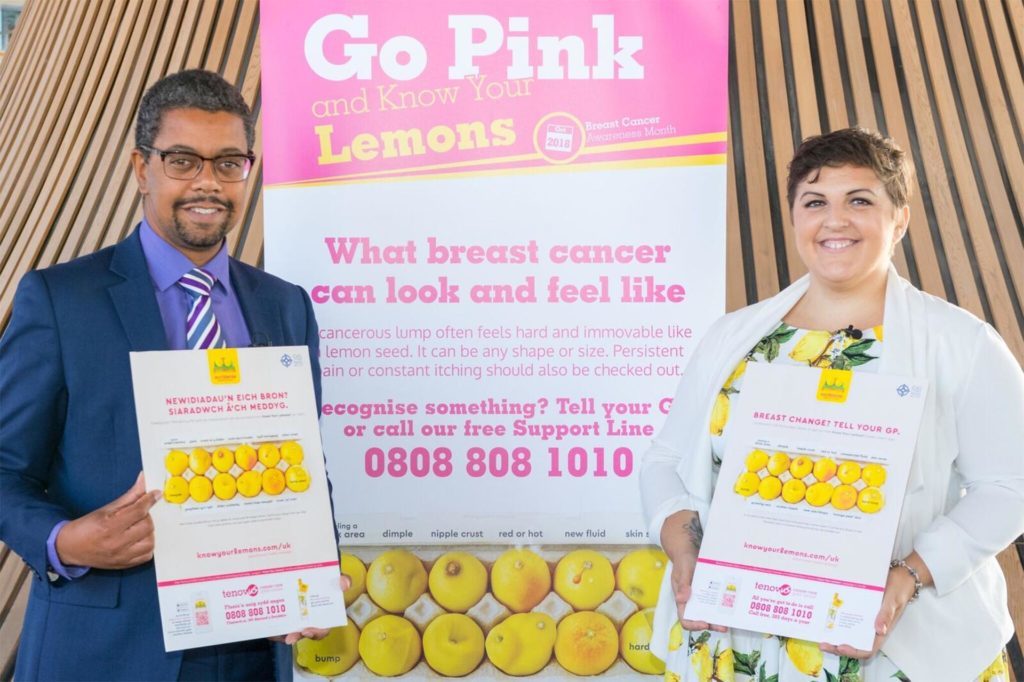 Health Secretary Vaughan Gething said: "I am pleased to offer my support to the campaign; I know how hard Dawn has worked to raise awareness of the symptoms of breast cancer. Whilst we are seeing significant improvements in cancer survival here in Wales you can never be complacent and I want to see continued progress. We know outcomes are better for earlier diagnosed cancers; the treatment is also less intensive for the person affected. Early detection is at the forefront of our approach that's why the 'Know Your Lemons' campaign is so very important."
Rhian Edwards, Director of Research and Support at Tenovus Cancer Care commented: "Breast cancer is the most common cancer in the UK and kills around 11,400 people every year, with one in eight women diagnosed with breast cancer at some point in their lives. We know early detection greatly increases a patient's chances of survival and the Know Your Lemons image is a simple but highly effective way of improving people's knowledge about the signs and symptoms of cancer."
Worldwide Breast Cancer is the US based not-for-profit charity behind the Know Your Lemons campaign set up by Dr Corrine Beaumont in 2014 after she lost family members to breast cancer and discovered there was no simple, easy-to-understand material available about the symptoms of the disease. She developed the campaign as part of her doctoral studies in the UK. Dr Beaumont said: "Our mission is ambitious: to educate every woman and man in the world about breast cancer symptoms. Until we have a cure, the best chance for survival is early detection and education is key in making that happen. We are thrilled that this campaign has been endorsed by the Welsh NHS and will be educating so many people in the UK."
Cliff Moss, MD for PLj said: "We're honoured that PLj, a healthy, heritage lemon juice brand, is partnering with two such amazing charities, in creating awareness of the signs of Breast Cancer, a campaign which literally saves lives."