Princess Eugenie – Flowers For A Modern Princess
---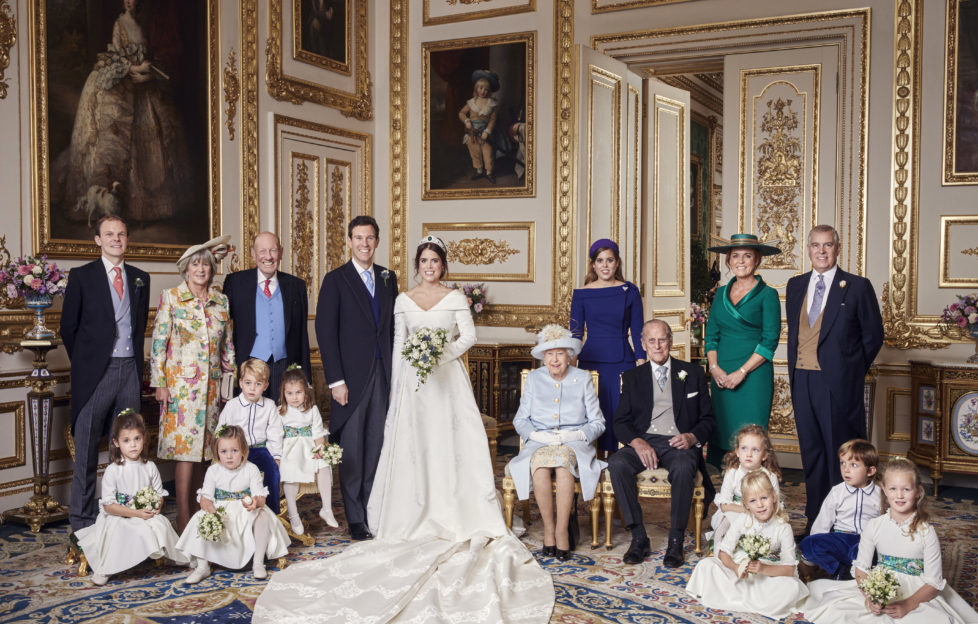 Picture: CameraPress
Congratulations to Princess Eugenie, every inch the modern Princess. Before her nuptials, we asked Posy & Posy to predict the flowers she might choose on her wedding day, and why… so how did they fare?
Posy & Posy experts predicted the flowers she would choose would have lots of interesting ingredients with a splash of sentiment, symbolism and meaning.
The Meaning Behind The Flowers
While we didn't predict the Lily of the Valley or Stephanotis pips, we hit the mark with the inclusion of baby blue thistles, white roses, trailing ivy and the traditional sprig of myrtle.
Princess Eugenie's wedding bouquet was quite a traditional white creation. However as predicted and reflective of her personality, it was modern and unique with the pop of colour from the baby blue thistles dotted throughout.
The bouquet sang sentiment and symbolism in the evocative language of flowers.
So What Did The Princess's Bouquet Symbolise?
Ivy – signifies fidelity and marriage
Myrtle – signifies love
Thistle – bravery, devotion, strength and determination
White roses – purity, innocence and new beginnings
Lilly of the valley – luck in love and the return of happiness
Stephanotis – happiness in marriage
The bouquet was similar in style to that carried by the bride's mother Sarah Ferguson, being a fully wired bouquet. However it was far smaller and not in the shape of an 'S'.
Looking stunning in her gown by Peter Pilotto and Christopher De Vos, the dress also contained hints of the language of flowers.  The fabric was woven with thistle for Scotland – a nod to the couple's fondness for Balmoral – a shamrock for Ireland and the bride's Ferguson family history, the York Rose and ivy representing the couple's home.
Royal Traditions
The tradition of carrying myrtle began after Queen Victoria was reportedly given a nosegay posy containing myrtle by Prince Albert's grandmother during a visit to Germany. In the same year, Queen Victoria and Prince Albert bought Osborne House as a family retreat. A sprig from the posy was planted and it continues to thrive there today.
The sentimental tradition is said to have begun when Queen Victoria's eldest daughter, Princess Victoria, first carried the myrtle when she married in 1858. Every royal bride since is believed to have followed Princess Victoria's lead.
Princess Eugenie also followed a tradition started by the Queen Mother on her marriage to King George VI in 1923. The former Elizabeth Bowes Lyon had lost her brother Fergus in the First World War and placed her bouquet on the Grave of the Unknown Soldier at Westminster Abbey.  The Princess acknowledged the lives still being lost in conflict by doing the same.
All the team at Posy & Posy wish the Princess Eugenie and her new husband Jack Brooksbank every happiness.
Posy & Posy are a unique floral recipe subscription service. Prices start from £28 per box.
What We Predicted…
The Sentimental. This bouquet gives a nod to the home the Princess shares with fiance Jack, Ivy Cottage. We envisage a soft romantic bunch with an ever so slight wild side and interesting floral ingredients. Incorporating a hint of Ivy, blush Aviginon and blush Roses, we have included some soft Cotton, Snowberry, Astrantia and hints of soft bronze grasses to keep the bouquet warm.  Think modern cottage garden, and look for that traditional sprig of myrtle.
The Fairground. With her love of colour and hints of a fairground themed reception, we hope for a truly modern posy. Fond childhood memories of pink cotton candy translated in a floral form, this style is a nod to beloved sister Princess Beatrice as pink was reportedly her favorite colour as a child. We've mixed outrageous pink spider Gerbera, with soft pink Campanula, interesting Calla Lilly, blush spray Roses, Amaranthus, Astranita  and Leucadendron with hints of double pink Freesia all coming together for that funfair feel.
The Dark and Romantic. Complements Princess Eugenie's unique style and love of floral prints. Tradition mixed with modernity, we love the dark romantic feel that comes from the rich burgundy Chrysanthemums, Leucadendron and Kangaroo Paw. Mixed with hints of vintage pink Roses, unusual silver grey Brunia and beautiful silvery blue Thistle, with the ever-present sprig of myrtle.
The Language of Flowers
As well as being beautiful, the choice of wedding flowers can also send a subtle message. In fact Tussie-Mussies or Nosegays became popular in Victorian times and were traditionally composed with fragrant herbs held tightly together in a circular design, creating a custom of communicating messages using the language of flowers. Our predictions also nod to the language of flowers:
Ivy – fidelity and marriage;
Myrtle, Roses and red Chrysanthemums – signify love
Thistle – bravery, devotion, strength and determination
Astrantia – strength, courage and protection
Campanula – Gratitude
Pink Roses – Admiration and joy
Calla Lilly – Rebirth, faith and purity
 And with Jack Brooksbank reportedly nervous about his speech, a good amount of thistle was clearly just the ticket!