Tired All The Time (TATT)? TV's Dr Dawn Harper Can Help!
---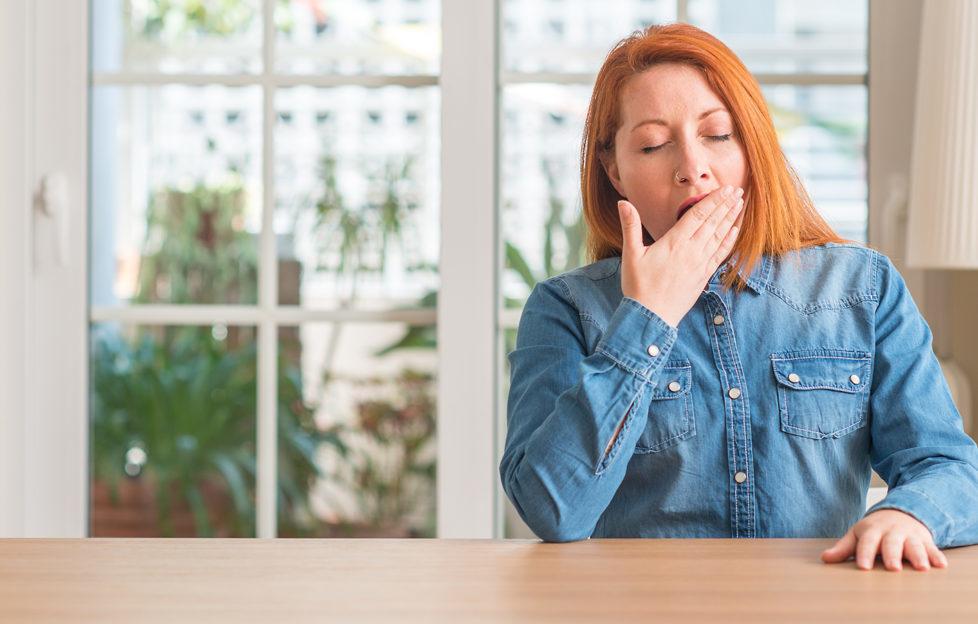 Pic: iStockphoto
by Dr Dawn Harper, Practising GP, Healthspan GP Medical Consultant and award-winning media medic and author of Live Well to 101. 
We all know that exhausted feeling after a bad night's sleep, when the alarm goes off and you can't bear the thought of getting out of bed, but what if that is an everyday occurrence and each day is an effort? To me, that is the difference between being tired and being fatigued. In fact, the dictionary definition of fatigue is "extreme tiredness resulting from mental or physical exertion or illness". And it is something I come across in just about every surgery I do.
People tell me they feel tired all the time, they have no energy and just want to sleep all day. That's proper fatigue. It can be a sign of depression or a result of stress and at this time of year it may also be due to seasonal affective disorder (SAD). As night's draw in and we are exposed to less sunlight, most of us feel less energetic, but for some, the clocks going back can herald the onset of depressive symptoms, with a lack of motivation, poor sleep, a craving for carbohydrate and often weight gain.
Light boxes can really help here and I have several patients who know to start antidepressants or St John's Wort as soon as the autumn hits. There are also a number of physical causes that need to be considered. I always run a series of blood tests to rule out things like undiagnosed diabetes, anaemia, thyroid disease, liver or kidney problems or coeliac disease. To be fair, most of the time these blood tests are normal.
Usually, in General Practice, we don't book follow up appointments for results that are expected to be normal, but, for me, being "tired all the time" is an exception to that rule.  If the results are all normal, it is a good opportunity for me to look in more depth at the individual's lifestyle, exercise levels and diet.
The benefits of regular exercise on improving sleep quality and energy levels are well documented but it is a conversation that has to be dealt with sensitively. If you are feeling utterly exhausted, you may take some convincing to get out in the fresh air to exercise, but those patients who take that advice really do reap the benefits, and the benefits are two fold. Exercise itself is, of course, beneficial on so many levels, but so is exposure to sunlight. We have had a great summer in the UK this year, but exposure to sunlight during winter months is limited and between October and March the sun is not strong enough for us to make enough vitamin D. New advice from Public Health England is that adults and children over the age of one should consider taking a daily supplement containing 10mcg of vitamin D during the autumn and winter and people who are at higher risk of vitamin D deficiency should take a supplement all year round. High risk groups include:
People who don't make enough vitamin D. This includes those who are housebound, people who cover up when outdoors for religious or cultural reasons. People with darker skin tones and those who use sunblock whenever they are outside.
People who have increased need for vitamin D. Growing children, pregnant and breastfeeding mums all need more vitamin D as it is needed for growth.
People who adhere to a strict vegan or vegetarian diet may also struggle to get the required vitamin D from diet alone.
Rob Hobson, Healthspan Head of Nutrition says: "Vitamin D is found in oily fish such as trout, tuna, salmon, sardines, pilchards, herring and mackerel, red meat, liver and egg yolks and some cereals and spreads are fortified with vitamin D. But it can be difficult to get enough vitamin D from diet alone. In fact, according to national surveys in the UK, it is thought that as many as one in five people in Britain have low vitamin D levels.
"There are different delivery methods now  of taking vitamin D such as Healthspan Super D Vitamin Gummies, plus sprays but ensure you follow the correct dosage and look for products who are made adhering to Good Manufacturing Practice (GMP) such as Healthspan as this ensures quality and correct dosages as stated."