Let's Get This Party Started
---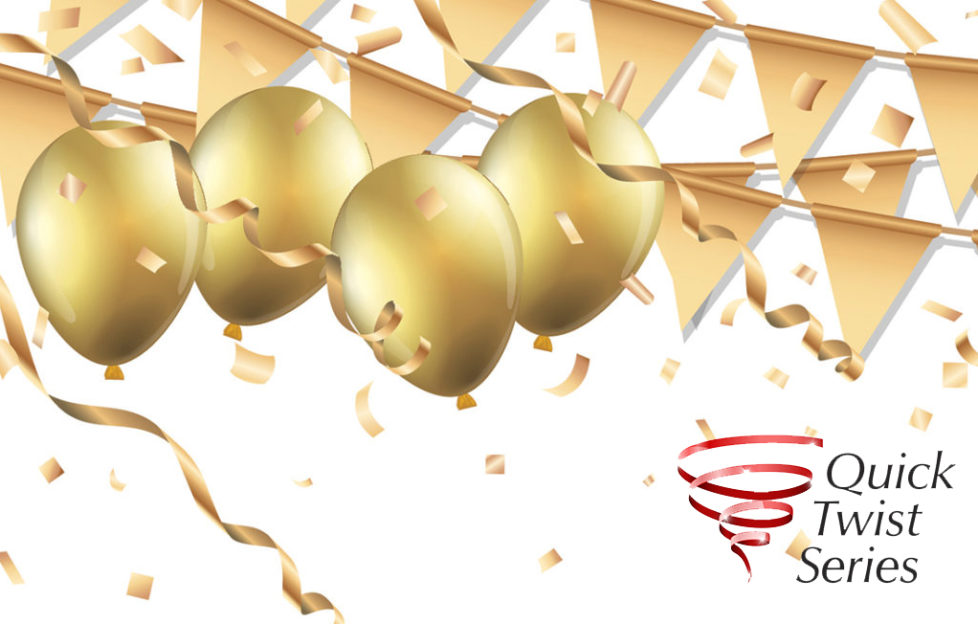 Illustration: Istockphoto
WRITTEN BY FRAN TRACEY
Village life had brought Molly and Jack so much joy over the years, and now it was time to share that happiness…
Molly glanced at the clock.
"We'd best get a wriggle on, Jack."
Molly and Jack always cut things fine. They weren't yin and yang. Just late and later.
They whizzed round tying gold coloured balloons to chairs, allowing a few to float upwards, bobbing nicely against the raftered ceiling in the medieval barn that was their village hall, reminding Molly of the many birthdays and christenings they'd attended here.
There was little left on her list.
Make-up, outfit.
Her make-up would be a slick of bright red lippy – bold at her age, but her favourite.
Molly and Jack's first born had arrived shortly after they moved to the village.
"You ready for this baby, Jack?" Molly had asked. The pregnancy had been unplanned.
"Ready as we'll ever be," he'd replied.
The "we" was comforting.
And they got on with it. Caroline emerged into the world two weeks late, squalling, flailing her fists, red-faced, skin mottled.
"Isn't she gorgeous, Jack?"
Caroline was followed swiftly by David.
"An heiress and a spare," Molly said.
The kids had kept their parents busy
"Mum, remember you're on the Guides rota tonight."
"I need help with history, Mum, I need to interview someone old?"
She glanced at the Guides programme. Origami.
"Dad'll help at Guides, love, David needs to interview me."
Always running, always late, yet Molly and Jack had coped, with help from their wonderful village community.
---
Now the silver surfer years had arrived they could breathe.
Except they were bored.
"What we need, Jack, is a project."
Jack had bitten his lip.
"You're right. Let's throw a party."
And so their plans were underway. Invitations for a "celebration of our life in the village" were issued, and RSVPs flooded in.
"Looks good, doesn't it, Molls?"
"Looks lovely, Jacko."
They took a moment to survey their work. Sun shone in through the high windows, motes of dust fluttering in the air. Everything looked crisp, fresh and ready.
They hadn't missed a detail
Jack kissed Molly. The same old frisson was still there, the one she'd felt when he'd first kissed her in the back row of the cinema.
Molly began unbuttoning Jack's shirt.
"D'you think we should? Guests could be here in any minute."
"The door's locked, Jack. If they turn up early, they'll have to wait." Molly led Jack to the back room. Well, they had to get undressed anyway, didn't they?
---
"You look fabulous, love."
"What, now I'm dressed?" she grinned, patting her hair down. "You scrub up well yourself, Jack," she said, brushing fluff from his collar. It wasn't often he wore a suit and tie.
Rat-a-ta-tat.
"Ready, Molly?"
Molly nodded. As ready as she'd ever be.
Hand in hand the couple opened the heavy oak door.
There were gasps of amazement as the guests filtered in.
"It's beautiful, Molly."
"You've done this, the pair of you? A right couple of party planners, aren't you? Is that what the occasion is? A chance to show off your talents? You want to be careful, there'll be no peace after this."
Their best friend Pete helped Molly and Jack inch their way to the front.
"Can I have hush, please?" Pete could be authoritative when necessary.
Most of the crowd quietened down
"Why's Grandad dressed like that?"
"And Granny's all posh, look. She's got Mummy's shoes on, the ones she threw at Daddy last week."
You've got to love the grandchildren, Molly thought, feeling Caroline's pain.
"Molly and Jack wish to thank you for joining them today. Such a wonderful turnout, and you're all so beautifully turned out too."
Murmurings began.
"They've been a fabulous part of village life for so long now, and having had recent time to pause and reflect they've decided they should do something they have always intended to do but never found time for."
A collective intake of breath.
Molly felt Caroline's eyes boring on her. Explanations would be required later.
"Better late than never, we're here to celebrate the wedding of Molly and Jack. I'm handing over to our celebrant, Denise. See you all on the other side."
Molly stepped forward.
Now was the time to finally say "I do" to Jack.