10 Top Tips For Staying Healthy This Winter
---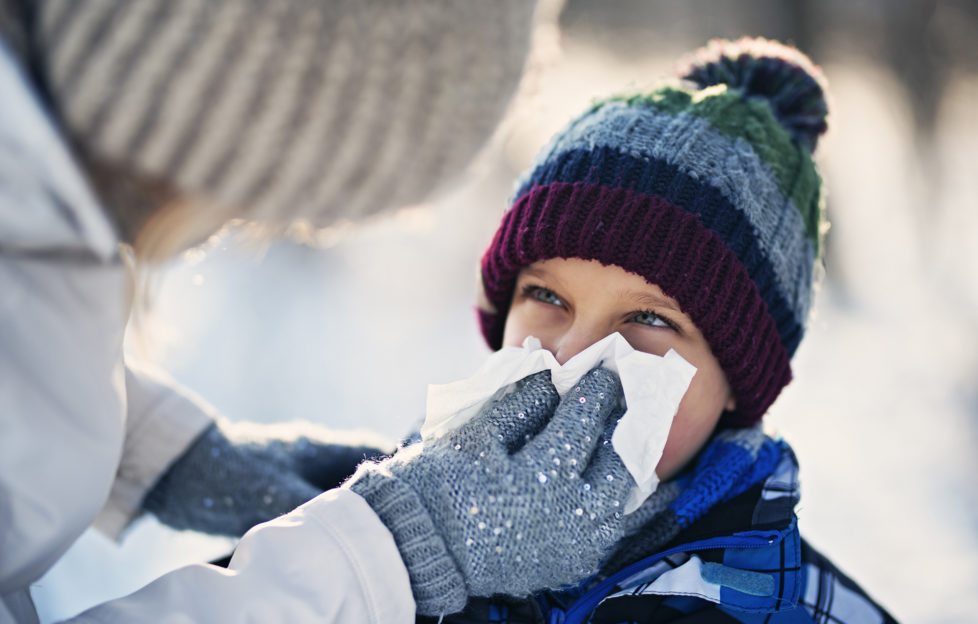 Pic: iStockphoto
Alistair Murray, Clinical Director at Echo, has some helpful steps to follow to keep yourself and family as healthy as possible.
Keep Fit
It is important to keep up your exercise as much as possible over the winter. Regular exercise helps to control weight, manage stress levels, offset Seasonal Affective Disorder (SAD) and even boost your immune system. Make an effort to get into a routine of getting out the house and exercising. Try something new like ice skating, or long winter walks, or start to do more exercises at home. Any movement is good for you, so even parking your car a bit further away from work or choosing to take the stairs over the lift is a good start and will benefit you in the long run.
Eat Well
The colder weather can often see people reaching for comfort food to give them short bursts of energy and to briefly make them feel better. It is best to avoid these as much as you can, and that you try as hard as possible to maintain a healthy diet during these colder months. Make sure you include a minimum of five portions of fruit and veg a day. Vitamin C-rich fruits, such as clementines and satsumas, will not only help your immune system fight off bugs and viruses but will also help to quell any sugar cravings you may have.
A good idea is to have a hearty breakfast to help get you through the day. Not only do foods such as porridge keep you going for a long time, but they also ensure that you have a good intake of fibre and milk. Dairy products are a good source of protein, vitamins A and B12 and Calcium, which helps boost the immune system. For later in the day, why not try some seasonal winter vegetables such as carrots, parsnips and swede alongside food rich in Omega 3 fatty acids, such as fish, nuts and seeds? Drinking lots of fluids is also important for keeping the body functioning properly. If you do fall ill, remember that resting and making sure you are well hydrated are the best ways to help you recover faster.
Get Enough Sleep
Getting enough sleep is crucial for your all-round well being, particularly in winter. The longer nights mean that your body will naturally want to sleep for longer as it tries to adjust to the shorter daylight hours. Getting into a regular sleep pattern with enough hours will help your body fight off illnesses as well as aiding your mental health, as tiredness is one of the major contributors to stress.
Wash Your Hands

It is a well-trodden path, but no winter health advice would be complete without a reminder to ensure you wash your hands. Cold and flu are particularly common over the winter and are largely spread through hand contact with infected surfaces. Regularly washing your hands with warm water and soap – or if that is not available, an alcohol-based hand sanitiser – will not only keep you healthy but will also protect others from the spread of viruses.
Get Immunised
If you are aged 65 or over, have a long-term health condition, are pregnant, are a carer, or a young child, you will be eligible for a free flu vaccination. Even if you are not a part of this group, some pharmacies also offer it for 18+. Flu vaccinations will help protect you and your family from the flu and can also decrease the severity of side effects if you do catch the virus.
Keep on top of your prescriptions
With cold and flu viruses more active over winter, it is important that you stay on top of your current prescriptions. Bad weather or illness can prevent you from getting out of the house and picking up your repeat prescriptions, or worsen your long-term condition. Do also ensure that you have enough prescription medication to last over holidays. Apps such as Echo can help remind you when to reorder your medication, meaning you don't need to take extra time out of your day to go and pick it up.
Check in on your elderly neighbours
When you're young, fit and healthy it can be easy to forget that other people can struggle to get through the winter months. If you have elderly neighbours or relatives, check in on them regularly during winter. If it's icy or snows during the winter many will struggle to be able to get out of the house, so picking up food/medications or other essentials can be helpful. To make life easier for carers Echo has introduced a function on the app which allows individuals to manage the medication of their loved one. This will mean peace of mind that the medication will be ordered and delivered on time. Lastly, remember that winter can be a lonely time for the elderly if they live alone so, even if they don't need help around the house, checking in on them often will help brighten their spirits.
Take steps to protect yourself
Even if you are currently feeling healthy, it could be well worth taking daily vitamin supplements. Alongside a healthy diet, taking supplements of vitamins C and D can be very beneficial for your general health. Vitamin C and zinc will help your body battle cold and flu, while vitamin D helps to supplement the lack of sunlight experienced in winter. Stock up also with cold remedies, painkillers like paracetamol or ibuprofen. If you do fall ill, even if it is only a cough, you should go to your GP or pharmacist to ensure that it does not get worse.
Manage Stress
Stress can become more of an issue over the colder months and is often attributed to Seasonal Affective Disorder (SAD). Stress is shown to make people tired and worn down, leaving them more vulnerable to bugs and viruses that are more prevalent during winter. There are numerous ways to deal with stress and beat the winter blues. Remember to talk to someone, be it family or friends, about your anxieties or the causes of your stress, and ensure you take some time out of your day to relax through meditation or activities such as reading a book, and get enough sleep.
Keep Warm
Keeping warm this winter is very important – particularly if you are very young or aged 65 or over. Ensure that you keep your home heated to at least 18C overnight. Layer your clothing and wear appropriate outerwear (waterproof coats and so on) when going outside. Remember that wearing multiple thinner layers will keep you warmer than one big one. If you have elderly neighbours, ensure that they too have adequate heating in their homes, as cold temperatures at night is a prime reason for people falling unwell.