Champions Back Call For More Women Cycling
---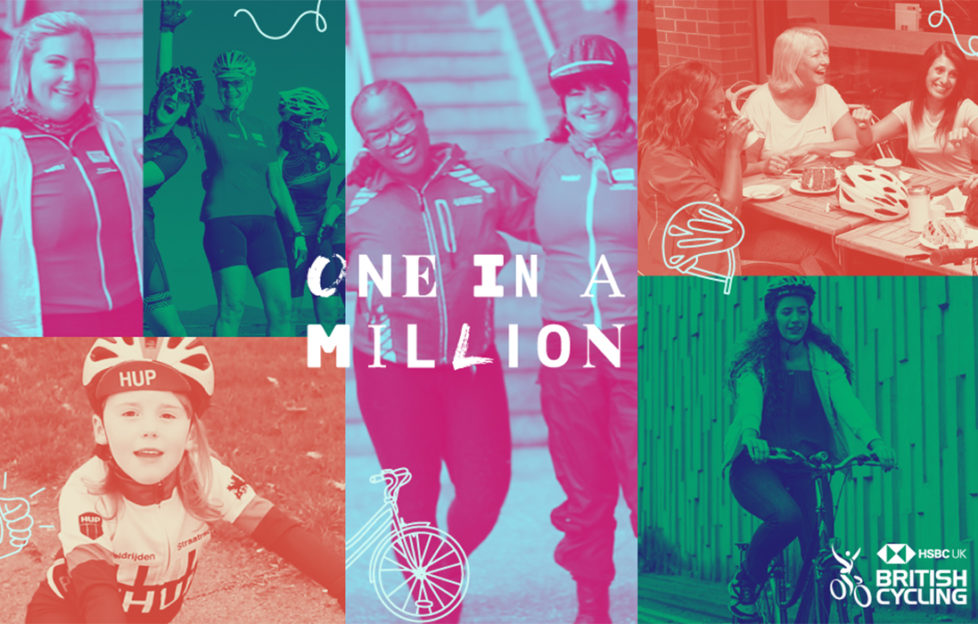 Cycling champions are backing a campaign to get one million more women on bikes by 2020.
Laura Kenny, Lizzie Deignan, Sir Chris Hoy, Elinor Barker and Joanna Rowsell Shand are among the world and Olympic champions to get involved.
Latest research from British Cycling shows that almost 7 in 10 of frequent cyclists in Britain are men (69%). In Denmark, male cyclists account for 47% and female cyclists 53%.
There's a vast gap in confidence levels between women and men, the study shows.
64% of women say they don't feel confident riding their bike on the roads (26% higher than men)
Infrastructure (63%) and driver behaviour (66%) make them feel unsafe (17% and 13% higher than men, respectively)
72% feel there should be safer cycle routes and they have a lack of knowledge of where to go.
Statistics indicate the true potential to grow women's cycling. If these barriers were removed, 36% of women – equating to 9,720,000 – say they would like to cycle more frequently.
British Cycling launched its women's strategy in 2013. Back then, just 525,000 women were cycling regularly. It aims to boost this figure by 1 million by 2020.
The initiative is backed by Sport England's This Girl Can campaign. So far it has helped inspire more than 800,000 women to take up cycling.
However the organisation says that dwindling confidence levels indicate there is much more to be done.
Normalising cycling for everyone
The 'One in a Million' campaign aims to tackle perceptions which prevent everyday women from getting on a bike.
Julie Harrington, British Cycling chief executive, said, "Aside from reaching our million women target we want to create a cultural shift which normalises cycling for everyone – so that an equal number of women to men are riding bikes in this country.
"Cycling is increasingly being understood as a fundamental part of the solution when it comes to issues of public health and air quality. However, change will not come unless people feel safe on the roads. We know this disproportionately affects women.
"We want women to know that cycling is safe and there are plenty of easy and accessible options available for people wanting to get started.
Our Breeze programme has helped transform the lives of thousands of women who would never have considered cycling otherwise.
"However this alone isn't enough. We need to work with other organisations to improve infrastructure, accessibility and break down the barriers to transform Britain into a great cycling nation."
"Cycling has changed my life"
Indigo Kelly Forest, a teacher from Leicestershire, said, "I was a size 24 when I first got on a bike. I was dealing with grief after losing my mother and I decided, enough was enough.
Despite feeling embarrassed to even be seen on a bike, I discovered my local Breeze club and I've never looked back.
"Cycling helps me with all aspects of my life now, from my physical and mental wellbeing to pushing me on to achieve things I never thought I could.
"Before I started cycling I had a perception that it was unsafe, and that cycling wasn't for me. Getting over that initial hunch was the best thing I ever did – it's completely changed my life."
No need to wear Lycra!
Olympic Champion Sir Chris Hoy is an ambassador for the campaign.
"Cycling, in all its forms – whether it's commuting, competing, coaching or as a career – must be just as appealing to women as it is to men. And it's really important that everyone involved in cycling takes responsibility for this.
"These heightened negative perceptions of confidence and safety on a bike among women are concerning. This is worsening the cycling gender gap and preventing women from getting on bikes altogether.
"We need to redouble our efforts to encourage more women to consider cycling and show them that it is safe.
"You don't have to be super-fit or have a wardrobe full of Lycra. There are women's-only Breeze rides across the whole of the country waiting to welcome beginners.
"Getting a million more women in the saddle will be a great feat. But if we are to change the face of cycling in the UK, we need to drive forward progress by creating additional opportunities and true gender parity for women in cycling at every level."
British Cycling is urging women across the UK to join its One in a Million campaign to help address the gender gap in cycling.
Find more information and practical tips here.
Do you go out cycling, or would you like to? Let us know on Facebook – or send us a photo of yourself in the saddle for our letters page, and you could win £25! Address and email details in the magazine.