Gü Tangy Orange Double Chocolate American Pancakes
---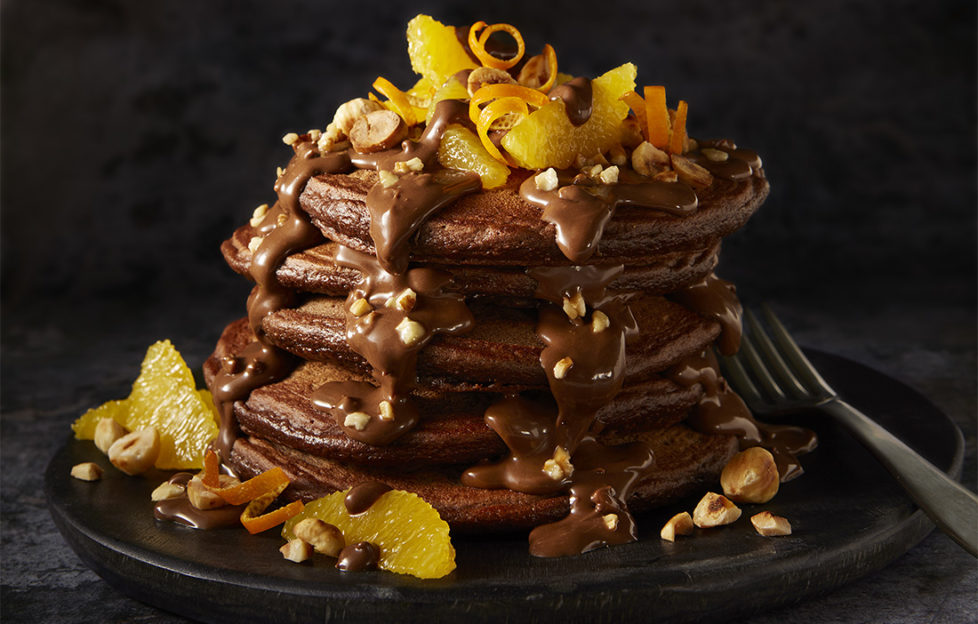 A popular classic of tangy orange and chocolate over chocolate pancakes, with intensely nutty roasted hazelnuts accompanying Gu's rich Hazelnut & Chocolate Crunchy spread.
Makes: 10-12 pancakes
Preparation time: 10min
Cooking time: 20-25min
Mix together the Gü Spread with a little milk, then whisk in the eggs and remaining milk.
Sift together the dry ingredients. Make a well in the middle and gradually whisk in the mixture of choc spread, milk and egg to make a smooth batter.
Add the melted butter to the batter and fold together.
Heat a non-stick frying pan over a low-medium heat and brush with a little butter.
Pour a ladle of batter into the centre of the pan and cook for 1min each side.
Keep warm under a clean cloth while cooking further batches with the remaining batter.
Stack five pancakes. Smother pancakes with Gü Hazelnut & Chocolate Crunchy Spread.
Place orange segments on and around the pancake stack, sprinkle with chopped hazelnut and drizzle with additional Gü Hazelnut Chocolate Crunchy Spread, if desired. Garnish with orange zest.