Secret Admirer By Helen Lederer
---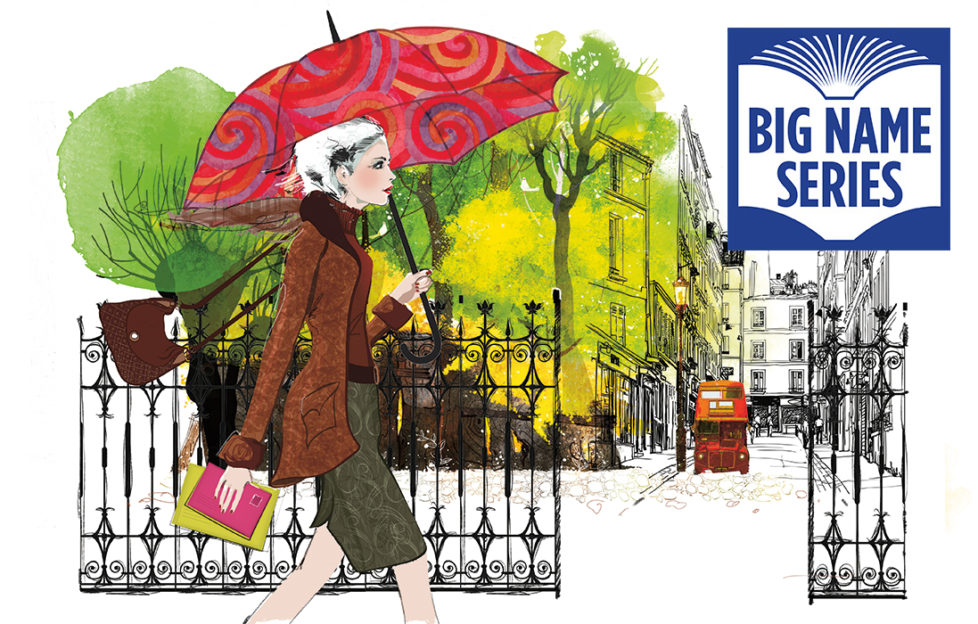 Illustration: Thinkstock, Mandy Dixon
Shirley was determined to fill that Valentine void – for herself and her daughter, too
Shirley Deering was just dashing out of the front door, when she remembered the cards. Two rather garishly coloured envelopes were propped against a plant on the hall table.
Perhaps I should send myself some flowers tomorrow, thought Shirley as she snatched the envelopes and hurried out into the rain. Nothing worse than waking up to a house empty of flowers on Valentine's Day.
Or perhaps she should just buy herself a small bunch of primroses and put them by her bed this evening? She would then wake up to a celebration of yellow and could pretend just for a moment that someone had placed them there as a token of their deepest love, before they both scurried off to work.
Shirley had just watched a strand on breakfast television, designed to promote happy endorphins in the over-fifties. Surrounding oneself with flowers on high days and holidays was one recommendation. Certain occasions could apparently trigger a sense of loneliness and isolation – and Valentine's Day was mentioned as one of these.
It wasn't just Shirley who needed to be cheered – there was her daughter, Mandy, to consider. It was for this reason there had been two cards on the table. Shirley had bought one for Mandy and gone to some lengths to forge what she thought might be a male-looking signature.
Today's challenge was to find someone who could post the card in a different postcode, to avoid suspicion, so that it would arrive at Mandy's university tomorrow.
As far as Shirley knew, there was no boyfriend on the scene, as yet, and she needed her daughter to feel loved and special on Valentine's Day – especially as she was so far away.
She shut the gate behind her and wrangled her umbrella into life, before running for the bus, late as usual. She felt she resembled a drowned rat instead of the smart recruitment officer she was supposed to be.
The chances of promoting any happy endorphins for herself, let alone her daughter, seemed as remote as getting to work on time.
---
The bus was unusually packed with people. There must be a problem, or maybe it was just the rain that held everything up. Shirley just about managed to squeeze herself onto the bus before the doors closed, but was nowhere near a rail to hang onto for stability. She just hoped she could remain upright and dry off a bit before she got to St Pauls.
Predictably enough, the bus made an emergency stop within minutes of her getting on and she found herself chin to chest with a man and his briefcase. She was vaguely aware of a trilby hat – which seemed suitable attire given the weather – but she couldn't see a face.
"So sorry," said Shirley, embarrassed and flustered. She was sure she had left some wet marks on the person's coat, as well as yelping rather loudly. This was regretful but unavoidable. Someone had trodden on her toe as she fell.
"Not at all," the man replied gallantly and moved backwards to allow her more room. Unfortunately the move proved over-ambitious, given the consistent lurching of the bus.
Shirley watched with horror as the man toppled backwards on to a mother with a young child, who let out an indignant howl at being squashed so rudely. His trilby fell off onto the muddy floor of the bus.
It was now the man's turn to apologise as he retrieved his hat. Shirley was able to see curly brown hair at the nape of his neck. It looked remarkably like that of a man she had rather wanted to dance with at the Christmas party. But it couldn't be. Surely.
The mother shushed the child and glared at him
"We must stop meeting like this," said the man, once he had righted himself and the child had been given a sweet.
Shirley looked around, and realised he was directing his comment at her. He was smiling. He had warm blue eyes.
She smoothed her long, upstyled silver hair automatically and hoped her lipstick was still intact. She knew she didn't look too bad for her age. Just rather wet.
Normally she would have dismissed his remark as being rather corny. "We must stop meeting like this" was such a cliché after all. Still, his smile was very appealing. He was now seeming very familiar, but she peered up at him more closely, to be sure.
"We're both on the fifth floor," he offered by way of explanation with a slight tilt of his head.
"Strictly speaking, we're both on the 138 bus, going to St Pauls. I hope."
"And if we're not being strict…" He twinkled at her. "I'd have to say that I've seen you in the lift."
She raised one eyebrow. The hat didn't do him any favours. Mind you, she wasn't at her best either.
"And in the canteen – you like salads, I think? – and at the Christmas party, when you lost your handbag?"
Yes, it was now confirmed, thought Shirley. This was Graham Samuels. Director of Finance at her insurance office. Everyone liked him enormously but she had not been sure how to talk to him, since he'd been widowed a few years ago. What was he doing on her bus?
Of course she remembered him at the office Christmas party. He had been very helpful about her lost bag, but had then spent the evening dancing with a secretary which had piqued her. She could remember it clearly.
"My car's decided to give up on me and I've got to get to Brighton for a conference." He answered her unspoken question.
He was looking at her
Shirley nodded. She had become aware of the way he was looking at her. Amused and yet interested. She wished she'd been wearing a nicer coat, or higher shoes. As it was, she felt rather short. Or maybe it was just that he was rather tall.
"But Brighton's not in the same direction as St Paul's," was all she could think of to say.
She tried to put the image of the secretary dancing with him out of her mind, but the woman had been rather showy, if memory served.
"I forgot some papers," he explained.
"Ah."
They both looked ahead. An idea was forming in Shirley's mind.
She was lonely. She too had been widowed many years ago, but had encouraged Mandy to be independent and take her chances when she was given a place at Aberdeen. Surely a card sent from Brighton – arriving in time for Valentine's Day at her university – would indeed be a great result. Mandy would have no idea who it was from, but at least she would think she had an admirer…
---
Once they were through the doors of the insurance office, Shirley plucked up courage. She turned to him.
"Um. I was wondering…"
"So was I," he said encouragingly.
"Oh…"
Shirley wasn't sure what to say next but luckily the lift arrived, which diverted them both.
"You first," he said.
"Well, I was wondering if…" Shirley said as she rummaged in her bag. Two people who were already in the lift looked on with interest.
"If you could post this to my daughter from Brighton? It's a Valentine's card."
Graham took the envelope and looked at the address… then he looked at Shirley
"But it's addressed to you."
"What?" Shirley snatched it back, mortified. "I meant this one."
She handed him the other card. Graham nodded.
"I'd be delighted."
The other lift users nodded their approval at this transaction. Shirley was relieved when she reached her floor to get out. She felt herself blushing furiously.
---
The next morning, on Valentine's Day, Shirley woke up with a feeling of mild anticipation. There were no flowers by her bed, but at least there would be one card waiting for her on the mat – even if she had sent it to herself.
Wait. There on the mat were two cards.
She opened a small, neat, white envelope. The card was very plain and had male-looking handwriting inside.
I have now admired you in the lift, the canteen, at the Christmas party and more recently on the 138 bus. Meet me tonight so I can admire you more?
Underneath a squiggle of a signature was the name of a restaurant and a time to meet.
---
Just as Shirley was leaving the house she received a phone call.
"Guess what, Mum?" Mandy's voice was high with excitement.
"What, darling?" Shirley adjusted her necklace. She wanted to look her best.
"I got this weird Valentine's card in the post this morning. From Brighton! But it can't have been from my boyfriend, because he's in my hall of residence up here!"
"Your boyfriend?" asked Shirley, removing the necklace with her free hand. She didn't want to appear too showy on a first date.
"Yes. Didn't I say? So I've got two cards this year!"
"Snap," said Shirley, smiling at her reflection. Mandy was too excited to notice this news from her mother.
"Maybe I shouldn't mention the other one, though?" Mandy asked. "What do you think, Mum?"
"Oh, I don't think it will do any harm," said Shirley happily. "Two cards are better than none."
Look out for more Big Name fiction online every Monday and Thursday throughout March