Peanut Honeycomb Banana Cake
---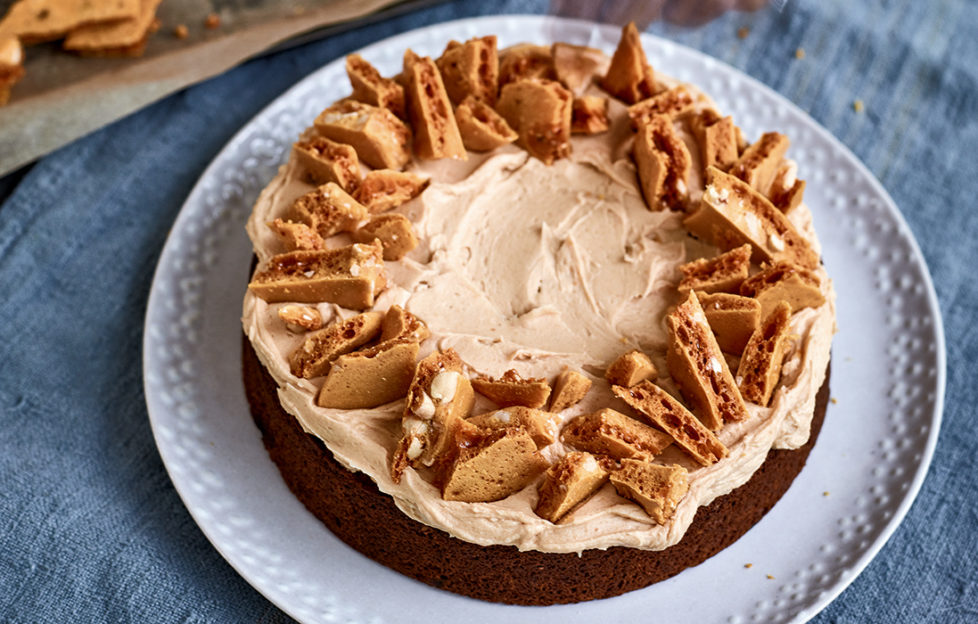 Nadiya Hussain is supporting Asthma UK's Big Asthma Bake Sale. To get involved visit www.asthma.org.uk/BABS. In the meantime, here is a delicious recipe from Nadiya, perfect for raising funds.
Serves: 8-10
Preparation time: 30min, plus cooling
Cooking time: 50min

Start with the honeycomb, which you need to make a few hours in advance. Lightly grease a large baking tray, preferably one with an edge, as once the magic happens, this stuff just travels. Line with baking paper.
Put the sugar and golden syrup into a medium pan on a medium heat and allow to cook gently. Have a cup of water handy with a pastry brush in it. Occasionally brush down the inner edge of the pan just above the sugar, to wash away any sugar crystals and help stop the mixture crystallizing. Once the sugar has melted, turn the heat up just a little and leave the mixture to bubble away, until the whole thing turns a rich amber colour (145–150°C on a sugar thermometer).
As soon as it reaches this stage, add the peanuts and stir through. Now add the bicarbonate of soda and stir it in really well. The mixture will bubble and rise up. Mix well and pour into the prepared tray. It will spread of its own accord. Set aside and let it cool completely. This can take a few hours.
Preheat the oven to 180°C, Fan Oven 160°C, Gas Mark 4. Grease the base and sides of a 20cm round loose-bottomed cake tin. Line it with baking paper.
Cream the butter and sugar until light and fluffy.
Beat the eggs in a bowl and mix in the mashed banana. Add to the butter and sugar and mix to combine well. Add the flour and baking powder and fold in until you have a smooth cake batter. (As smooth as it can be with lumps of banana in it!) Pour the mixture into the tin and level the surface. Bake for 45–50min.
Take the cake out of the oven and leave to cool in the tin for 15min, then remove from the tin and leave to cool completely on a wire rack.
For the icing, mix the butter and peanut butter until combined into a smooth paste. Add the icing sugar and milk and whisk until light and fluffy.
Once the cake is completely cooled, smother it with the peanut butter icing. Take 100g of the honeycomb, crush it up roughly, and use it to decorate the top. In theory that should leave you some spare honeycomb to eat before you even get to the cake.
Allergy Warning: This recipe contains nuts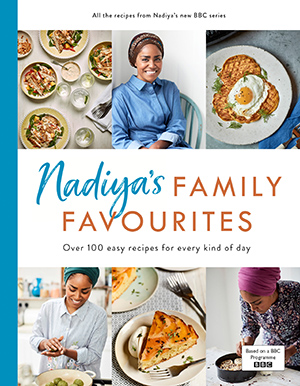 Nadiya Hussain is supporting Asthma UK's Big Asthma Bake Sale. To get involved visit www.asthma.org.uk/BABS