Holiday Heaven For ALL The Family
---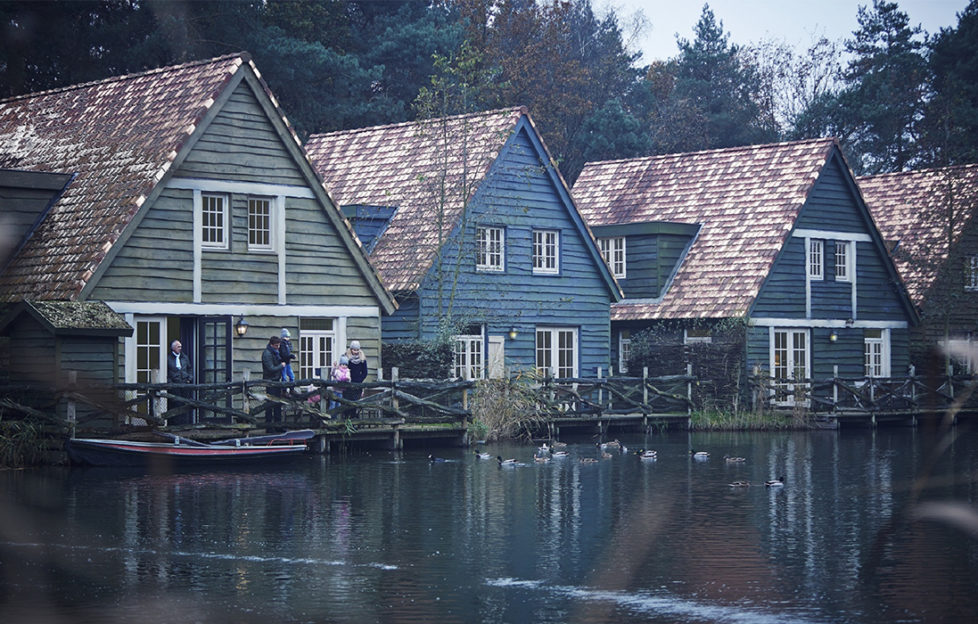 Holiday homes at Efteling Bosrijk, in the Netherlands
Stand-out UK and European stays for spring, summer and beyond, from Booking.com
Would you go on holiday with your children and grandchildren? Multi-generation breaks are a great way to take advantage of larger holiday properties, so you can share the cost between family members. As well as the chores and babysitting, of course!
Half of UK parents surveyed have felt they had to abandon dream destinations to ensure a holiday that is family-friendly. A fifth say planning their trip is one of the biggest stress factors linked to a holiday.
Now staff at Booking.com are aiming to make parents' lives easier by highlighting some fantastic locations for a memorable trip. Here are their five top suggestions for family-friendly holiday accommodation in the UK and Europe.
Dalmunzie Castle, Perthshire, Scotland, Guest Review 8.6/10
Bring your family to this enchanted castle set amid the lush mountains of Cairngorms National Park. Dalmunzie Castle, the historic masterpiece turreted in Scottish Baronial style, stands at the head of a 6500-acre estate. The building dates back to 1510.
A stay here is perfect for families longing for time outdoors, as this castle sits in the heart of Glenshee. Just a few steps from the front door you will find breathtaking mountains, glens and rivers.
Burren Glamping, Kilfenora, Ireland, Guest Review 9.6/10
This cosy vintage horse truck has been creatively transformed into bespoke farm accommodation. The Burren Glamping truck is comfortable, spacious and comes complete with a wood-burning stove and electric shower. It can sleep up to six people.
Kilfenora is situated in the heart of Burren and Cliffs of Moher Geopark, so families can enjoy scenic, peaceful countryside. A long list of activities includes hill walking, mountain biking and surfing.
If it's animals you're after, then you can get friendly with the amiable on-site free-range pigs, cattle, donkeys, dogs, a cat, hens and ducks.
Stay on the site of SantaPark, "the home cavern of Santa Claus"! The Arctic TreeHouse Hotel provides a unique blend of luxurious comfort, local Lappish traditions and modern Scandinavian design.
In contrast to the nest-like cosiness, the windows provide impressive panoramic views of the forest and Arctic skies.
Families staying here can expect extraordinary experiences, immersed in the one of nature's most magical settings.
Efteling Bosrijk, Kaatsheuvel, Netherlands, Guest Review 9.1/10
Luxurious, cosy holiday homes, apartments and group accommodation await you at Efteling Bosrijk. The site is also within walking distance of the fairytale-like Efteling holiday park.
Families can relax in a range of peaceful surroundings. Choose from holiday homes at the waterside (pictured top), in a cosy village square, or among the trees, perfect for exploring the forest of Kaatsheuvel.
Efteling offers a large pool in addition to saunas, themed restaurants and outstanding play areas. This property not only sits within sight of the holiday park but provides unlimited access to all of its facilities.
Oxford Riverside Glamping at Swinford Manor Farm is an opportunity for a truly rural family getaway, just four miles from the city of Oxford.
The stylish tipi tents are equipped with double beds and electric heating, as well as charging points and an external fire pit.
This magical glamping site is sure to have parents reconnecting with their kids. Play board games, explore the rolling hills and spend the night roasting marshmallows under the stars!
About Booking.com
Booking.com B.V. has grown from a small Dutch start-up to one of the largest travel e-commerce companies in the world. It has offices in 70 countries worldwide.
With a mission to empower people to experience the world, Booking.com invests in digital technology that helps take the friction out of travel. They connect travellers with the world's largest selection of incredible places to stay. These range from apartments, vacation homes and family-run B&Bs to 5-star luxury resorts, treehouses and even igloos.
Each day, more than 1.5 million room nights are reserved with us, without booking fees and backed up by our promise to price-match.
Follow them on Twitter and Instagram, and like on Facebook.