Look Who Susie Met At The Chelsea Flower Show!
---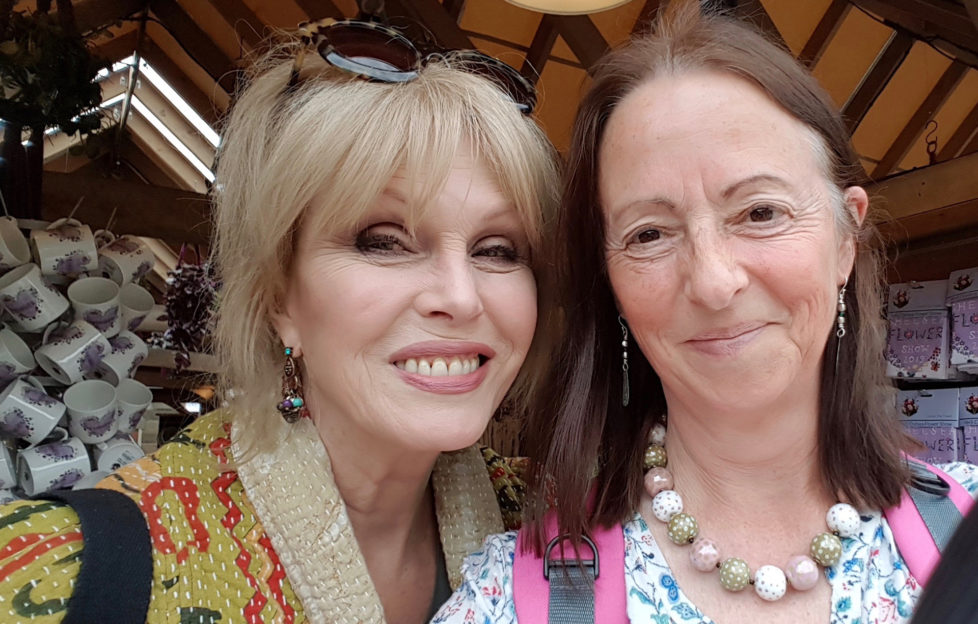 Pic: Susie White
By Susie White, My Weekly Gardening Expert.
Press Day at Chelsea Flower Show is the highlight of my gardening year. A day of revelling in outstanding designs and the very best floral displays, in meeting horticultural heroes and in taking photographs to use in my column. It's beautiful, exciting, glamorous and the 8 hours that I am there are over too quickly. When I catch up with the BBC coverage later on I always find I've missed things; there is just so much to see!
I arrived at the Chelsea Flower Show for 7 o'clock which is when the garden press are allowed in. Early light is often best for photography so I quickly made my way to Main Avenue to see the 11 large show gardens. How do they do it? A few weeks ago this was all just grass. Now there are beautiful trees, incredible buildings, ponds, waterfalls and even a canal.
One of the first I saw was the Back to Nature Garden, a collaboration between the Duchess of Cambridge and the landscape architects Andrew Davies and Adam White. High above my head was the fabulous birds nest of a tree house with a rough hewn wooden ladder going up into it. To encourage children to explore the nature world and to use their imagination, this little piece of woodland with its ferns and soft greenery has a waterfall, rustic den and a campfire, a hollow log for children to play in. Just the day before the Duke and Duchess with their children spent an hour playing there and the children had helped collect many of the leaves, moss and twigs.
Chris Beardshaw's designs show great plantsmanship so I always enjoy them and this year was, I think, his best ever. For the Morgan Stanley Garden he had found a beautiful leaning pine tree and, as in the Japanese gardens you might have seen on Monty Don's programme, used a hand carved wooden prop to support it. The curve of the trunk is cleverly echoed in a bonsai tree in a pavilion that you reach through low yew topiary cushions, scented herbs, fox tail lilies, richly coloured irises and delicate umbellifers.
I chatted to Chris about the importance of children learning about the natural world and about encouraging them to be interested in growing. He said that when he was in his early teens he was shown how to propagate plants by a nurseryman and that was what it took to fire his enthusiasm. "It just takes one person to flick the switch," he says. As with previous years, his garden will be taken apart and reused in community projects in East London.
The Welcome to Yorkshire Garden is inspired by the county's history of industry, manufacturing and innovation as well as its natural environment, and designer Mark Gregory has created a wild looking garden of perennials and vegetables around a lock keepers cottage. Quite amazingly, the canal is 10 feet deep and has black wooden canal gates. Look carefully in the wild edges and there's a wire sculpture of a water vole.
I found great beauty in the planting and sweeping curves of the Dubai Majilis Garden. Inspired by arid landscapes and sand dunes, it's a contemporary oasis with sinuous blue and white pools of water threading between hillside terraces. The colours of the flowers are subtle, there's silver foliage and it evokes a feeling of heat.
There are categories of smaller gardens – Artisan Gardens and Space to Grow Gardens. At one of the Artisan Gardens, a pair of donkeys were there for the photographers. This is the Donkey Sanctuary: Donkeys Matter garden with a shelter near a well to show the importance of clean fresh water for animals and a bank of lavender amid rocky ground.
Every year Kazayuki Isihara creates immaculate beautiful small gardens with acers, moss, ferns and water. He won a gold medal again for his Green Switch, a glass walled tea room (and a glass walled shower!) set amongst waterfalls flowers and foliage, a calming place to unwind. He always has such attention to detail and I wandered round the back of his display to admire the perfection and apparent naturalism of the part most people wouldn't see – moss covered rocks, cascading foliage and ferns: quite stunning.
Publicising The Camfed Garden: Giving Girls in Africa the Space to Grow were women in vibrant coloured dresses. The garden represents female-led climate-smart agriculture in sub-Saharan Africa with edible crops amongst the rocky red soil. With a backdrop of a rural Zimbabwean classroom with its rich coloured walls and chalkboard, there were beans, bananas, cassava and sweet potatoes. It's to draw attention to the urgent need to empower and educate young women in poor communities affected by climate change.
Best in Show went to Andy Sturgeon for the M & G Garden with its dramatic black charred oak sculptures emerging like rock strata from lush greenery. Shade loving plants and trees create a prehistoric feel around small pools and clear streams. Woodland has definitely been a theme this year, along with ferns, wildflowers, reconnecting with nature and the beauty of the natural world.
The sun came out around lunchtime and I headed for the cool of The Great Pavilion and to marvel at the incredible displays put on by nurseries: great banks of irises and alliums, dahlias, chrysanthemums, vegetables, tropical plants and floral art. Medwyn Williams won gold for the 12th time with his stupendous display of vegetables.
The great thing about Press Day is being able to get right up to the exhibits and take photographs without crowds. And, of course, the celebrities are there in force, too: Bill Bailey, Julian Clary, Rob Brydon, Judi Dench, Kirstie Allsopp, Nigel Slater, Will Young, Charlotte Hawkins, the list goes on, many like Imelda Staunton and Jim Carter there to publicise a particular charity. I had the odd experience of queueing for a cheese toastie next to Richard E Grant!
It was nearly time to say goodbye to Chelsea for another year – the garden press leave before 3 o'clock when the show ground gets ready for the Queen's visit – but there was one last thing I just couldn't resist. I'm not used to taking selfies, but Joanna Lumley was so charming when I rather embarrassedly asked her!!