Our Holiday Home
---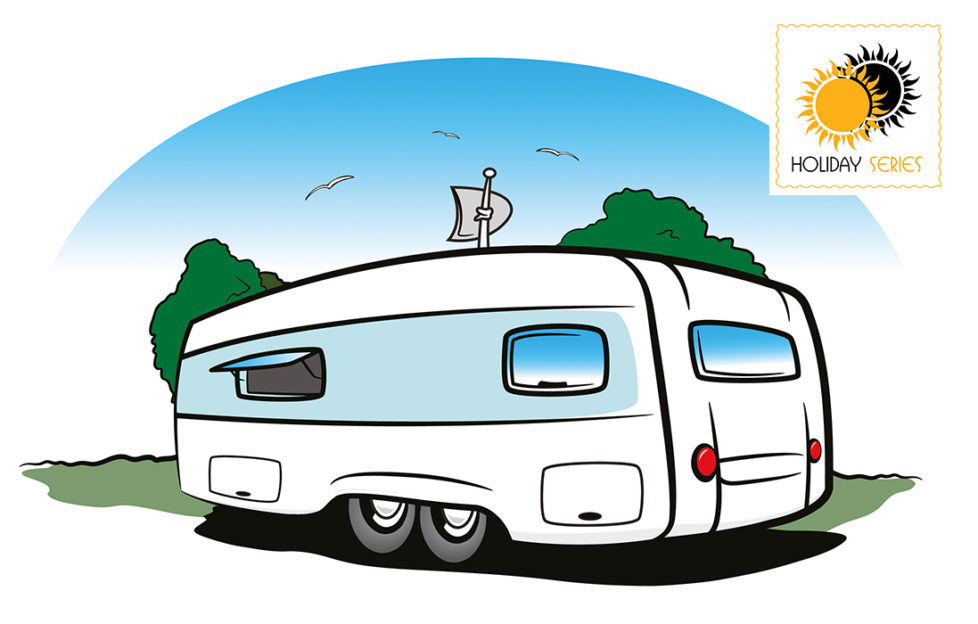 The rain danced on the caravan roof. It was a sound Jo once loved, finding it reassuring and rhythmical during the autumn weekends when they first made the caravan their second home.
Not tonight, though. The boys snored in rooms once havens of cuddly blankets, now filled with huge feet and man-sized clothes. The kitchen was crammed with ingredients to feed four adults, and Rob sat watching late TV surrounded by fishing rods.
This was fabulous when the boys were small. It had provided endless cheap holidays but the clutter and mess spoke volumes.
"Sell the caravan?" Toby looked shocked when she made the suggestion.
"She's joking," Sam smirked, unfolding his long limbs from behind the table.
"No, I'm not. We've outgrown it."
"Why?" Rob said, dumbfounded. "We're in the perfect spot for fishing."
Jo was unpopular that night, and the following morning, but as her husband and sons prepared to go fishing she knew she was right.
"We're thinking of selling the caravan," she told her parents after a weekend spent dodging rods and wellies.
"No!" Her dad staggered as though he'd been pushed. "It's a fisherman's paradise down there."
"That lovely market, all those tiny shops and the sea." Her mum's face crumpled with dismay. "Why?"
Rob's parents fell silent at the news.
Jo felt guilty. The fishing and canoeing, the craft stalls and tea shops, the change from weeks made busy with work and school – their trusty caravan had given them all that.
If Jo let herself remember wheeling the boys in pushchairs around the site with Rob, working out on paper if they could afford the payments, her eyes filled with tears.
Then she thought of the boys hunched around the dining table, all elbows and huge portions.
---
It's going," she told them the next time they pulled up outside. "I'm going to the office to say we want to sell it."
No one spoke to her that night until they were hungry.
Jo needed the change, if no one else did. Catering for big people in a small space was getting harder.
"Just think. Spain, buffet breakfasts, inclusive meals, waiters, chambermaids, sun loungers, airport novels, organised entertainment. Doesn't it sound great?"
They remained unconvinced.
The caravan was put up for sale. It wasn't worth a lot but it was still fit for another young family to enjoy, and there would be a nice little sum to put towards a different kind of holiday.
Jo flicked through holiday brochures for ideas.
The boys brooded when people came to see the caravan, hoping to jinx the chances of it selling.
They didn't brood enough, because a young couple with a small child made a decent offer.
The boys were glum. Rob organised a last lads' fishing weekend. Jo took time on her own to walk around the caravan park, exploring nooks and crannies she seldom had time to see.
It would be sad to leave. All those long walks, the river nearby where the boys had seen dragonflies and frogs and later learned to fish and use a canoe.
Every shop nearby, visits from Mum and Mum-in-law, friends, her children's friends.
And the people who owned caravans nearby. They'd become friends.
Jo knew they were leaving a lot behind. But there was a lot to look forward to.
---
When it was time to go, Rob and the boys packed the car. Jo mopped and wiped, left the oven ready for the new people to make their first meal and opened the windows to let in a breeze.
"No more cramped kitchen," she said aloud. "No more Calor gas smells."
She pulled the door shut on a million memories.
Rob revved the car engine without looking at her.
"Who wants to know where our next holiday will be?" she asked.
No one answered.
Jo pointed to a ridge where a line of gleaming caravans faced the sea.
New and deluxe, they had barbecues and sun decks, large rooms and snazzy kitchens.
While it wasn't the jet setting Jo had dared dream of, it was the different kind of holiday her family needed.
And their radiant smiles were as good as sunshine.
Enjoy a new holiday-themed short story from our archives every Monday and Thursday during August!