Chewy Chocolate Bars
---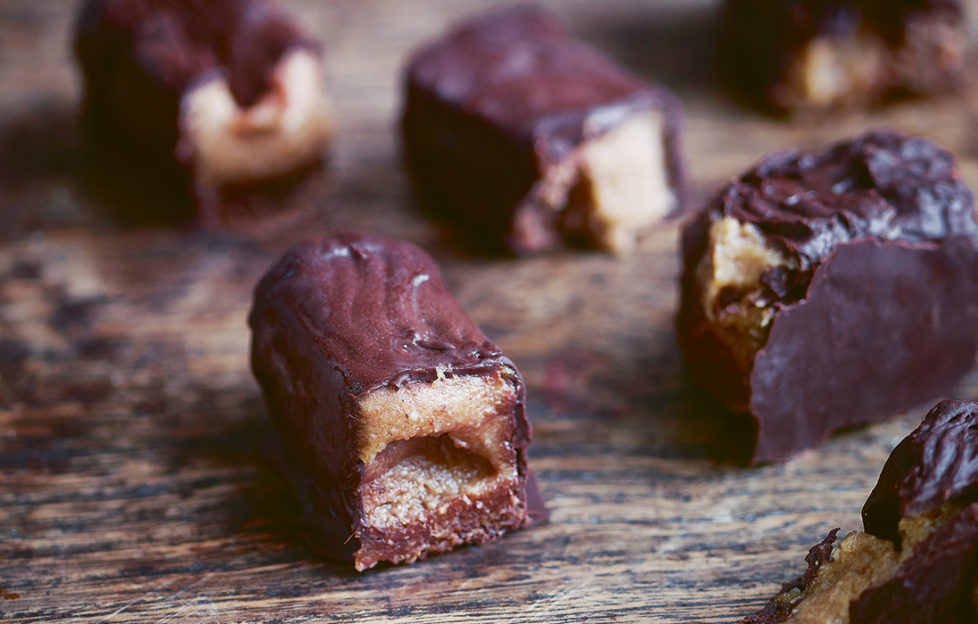 Chewy, gooey and absolutely yummy, these little bad boys are well worth making. Don't blame me if you eat them all in one go!
Preparation Time: 25min + 1hr soaking and 3hrs chilling/freezing
Makes 6-10, depending on size
Recipe taken from Happy Food by Bettina Campolucci Bordi (Hardie Grant, £20)
Photography © Nassima Rothacker.
Bettina's new book, 7 Day Vegan Challenge, will be published on December 26, 2019.
Soak dates in water for at least 1 hour – use enough to cover them.
In the meantime, make the chewy base by adding all the ingredients to a blender and blitzing until everything is combined and you have a semi-sticky mixture.
Place the mixture in a 450g loaf tin or silicone mould. I like to line the tray with plastic wrap so it's easier to pop out. Press down to create an even layer.
Next, blend the dates with 50ml soaking liquid, the salt, vanilla and nut butter until rich and silky smooth.
Spread the caramel evenly over the chewy base layer in the mould. Freeze for 2 hours.
When almost set, prep the chocolate layer. Melt coconut oil on low heat, add the cacao powder and maple syrup and mix well, then take off the heat.
Take the tin out of the freezer, pop out the mix and slice into 10 thin bars or 6 bigger bars. Place a piece of baking parchment on the work surface. Use a fork to pick up a bar and dip it in the chocolate mixture to coat. Spoon extra chocolate over if necessary.
Pop bars straight on the paper – as they are semi-frozen the chocolate will set straight away. Repeat with all the bars. Place in the fridge until ready to eat.
Bettina's Tips
I often sprinkle chopped nuts on the top, but that's totally optional.
These can be made in a big batch and kept in the freezer, although I warn you – they will disappear pretty quickly.