Diary of A Modern Gran | Rain, Spiders & Pushchairs
---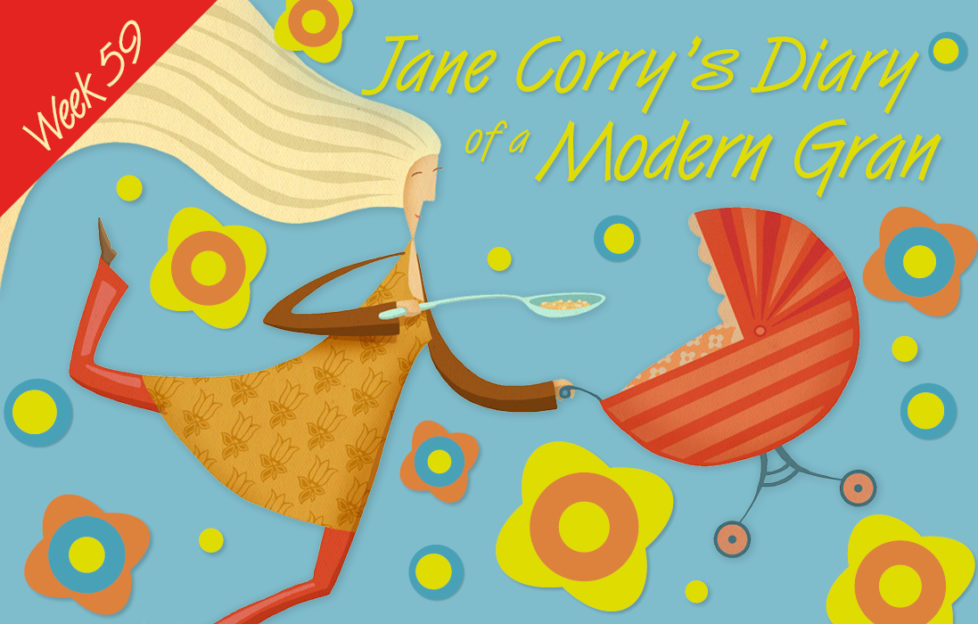 Illustration: Istockphoto
I'm sitting in the car in the pouring rain. George is on my iPad. Yes I know. I used to be against smart devices for under threes too but they are surprisingly educational. As I write, George is giggling over the cartoons that come up under the alphabet letter 'C'. At this rate, he'll be reading in no time at all and then I'll be super-gran amongst my friends. And no. Of course I'm not competitive!
We are here to kill time while Rose is at dance class right in the building next to our car. Usually we go for a walk but the rain is too fierce.
The session starts just three-quarters of an hour after nursery school ends. It means there's just enough time to shoot back home with both children to check on husband-with-crutches after his spinal and hip ops; give everyone a quick snack; have a quick scroll through my work emails and then zoom off to class.
It's not the best of timing but Rose loves it.
Mind you, today has not been without its dramas
This morning, just after dropping off Rose at pre-school, I put George in his buggy only to find that, to my horror, it promptly collapsed with the occupant inside. The look on my grandson's face as I turned him the right way up was rather like someone who had just got off a rollercoaster.
Thank heavens he wasn't hurt. In fact, he didn't even cry. How did it happen? Was it me or the pram designer with fancy ideas? In our day, it was a simple put up and down job without any mishaps en route.
Still, I managed to divert my grandson shortly afterwards with a little spider hugging during our toddler "sing and fling" class. Perhaps I should explain. At our group, there's an activity where we all hold up a coloured parachute with little toys on top. Then we let it go and the toys go hurling onto the floor much to the excitement of the children (and the grandparents too). One of them is a spider. And they're horribly realistic.
"Ugh," I can't help saying as George clasps one to his little chest with a look of pure delight.
"Watch it," warns a granny friend next to me. "Or you'll pass on your fears. Mine are terrified of traffic wardens."
Honestly! This granny business is a minefield…
Meanwhile, I set up a play date at lunchtime for my husband with a neighbour who has also just had a new hip. She and my husband swapped stories about operations and recovery times while I raced around after George trying to make sure he didn't climb our non-child- proof stairs.
It reminded me that social events are best kept to non-granny days. It really isn't possible to have an adult conversation with a little one around!
In fact, since starting my granny role nearly four years ago, my own vocabulary has developed into fluent "toddler speak".
"You mustn't talk about yourself in the third person," my teacher daughter is always saying. She has a point. But I can't help it.
"Be a good girl for Gan Gan," I say to Rose when she refuses to put her coat on after her dance class.
She shakes her head firmly. "I don't want to."
"But it's raining," I say.
"Never mind," she retorts.
So I try the first person instead. "Be a good girl for me," I say.
"Alright," she chirps.
Success! And I didn't even have to resort to chocolate button bribery.
On the way home, we pass the Christmas lights which were turned on last weekend in our seaside town with much excitement along with a steam train ride! Then I stop off at the supermarket with the children to get something for tea and catch sight of a large wooden Father Christmas figure in the window of a charity shop next year. It has twenty four little boxes for each day in December, leading up to the big day itself. Presumably the idea is to put in little gifts.
There's a message written on it…
My eye is drawn to a message on the packaging in big old-fashioned slanting writing. To William with love from granny and grandad. It looks as though it was written some years ago. How did it end up here? Why isn't it with this unknown recipient who might well be grown up now with children of his own?
My heart goes out to it, partly because my eldest son, now 36, is also a William. So I buy it.
"That's lovely," says my Will when he rings that night for a chat from Spain where he lives.
"There was an identical Father Christmas box," I tell him, "which had To Lydia with love from granny and grandad in the same handwriting. I'm wondering if I should have bought that too."
"No," he says. "Hopefully someone else with a daughter or granddaughter called Lydia will buy it. That way the circle will continue."
What a lovely thought! But I still can't help wondering about the family who first had it. Where are they now? And why did they throw out such a precious family gift? There's a story in this. Perhaps I'll write it. You never know. It might even beat those stories on the iPad…
---
I'd love to hear about your life too. You can catch up with me on Twitter (@janecorryauthor) or Facebook (Jane Corry Author). See you next week!
I Looked Away by Jane Corry is published by Penguin Viking. To buy, go to https://amzn.to/2Lq2rew and https://www.hive.co.uk/Product/Jane-Corry/I-Looked-Away/23635139

Don't miss an exclusive serial, The Grans' Club, written by Jane Corry for My Weekly. All instalments are available now.
Read Jane's other Gran's columns here