Christmas Every Day
---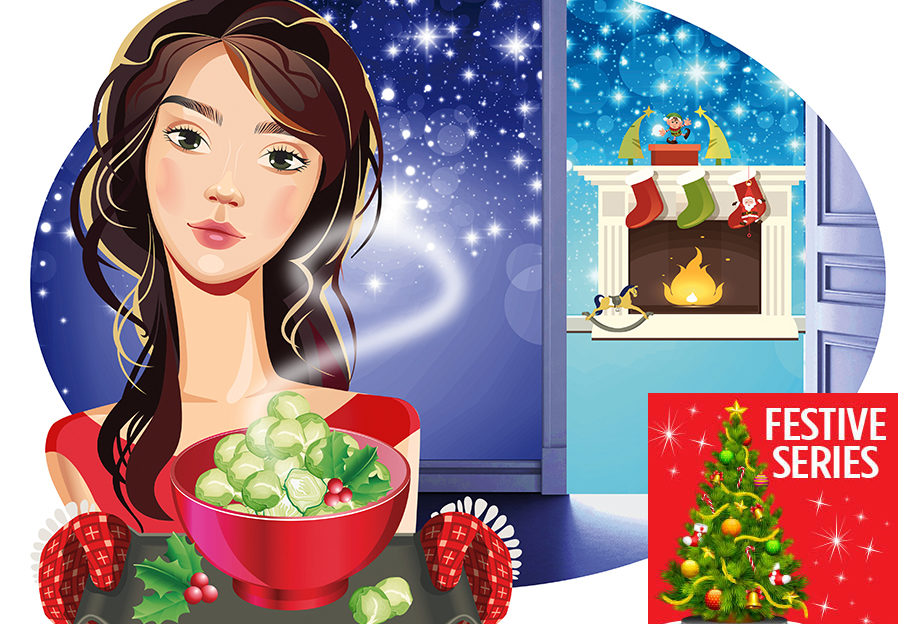 Illustration: Mandy Dixon, Shutterstock
With endless tree ornaments to paint and a secret ache at her heart, it's hard for Rachel to stay merry all the time…
"Is it Christmas every day? Or does it just feel like it?"
I gaze at the ranks of wooden Santas waiting to be packed into boxes. The cheery figures, carefully handmade by Oliver and painstakingly painted by me, bear tiny brass rings in their hats and are destined to dangle from Christmas trees.
I get through an awful lot of red paint on the Best Family Christmas Decorations production line. All those jaunty hats and red tunics over round tummies!
Oliver slides his arms around me.
"I thought you loved Christmas."
Aware of a hint of injury in his voice, I snuggle in.
"I do, because I fell in love with you at Christmas, at a Christmas market, where you were selling Christmas decorations. But I do start painting Christmas baubles in January and finish selling them at the last Christmas Fair on the twenty-third of December. It would be great to decorate a nice plant pot or garden chair for summer, sometimes."
"Only one more market and one more fair, then we can take some time off."
"Yes, to cook Christmas dinner!"
He laughs, eyes crinkling at the corners. "You say this every year – but you enjoy Christmas when it comes."
"Not this year. I'm completely Christmassed out."
But I grin, to show I'm joking. Even if I'm not, not really.
Friends in offices think my job's a doddle, me painting wooden elves as they spend their days answering phones and tapping keyboards. They're sure my life's one long "Ho, ho, ho!"… but I'm finding the Christmas spirit harder to come by than it used to be.
By the time I joined the Best family, its members had been making Best Family Christmas Decorations for three generations.
Oliver's grandparents started a small toy-making business, then Malcolm, Oliver's dad, joined them with the idea of concentrating on Christmas products.
When it came to Oliver's turn, he came up with jointed figures to hang on Christmas trees: elves, Santas and reindeer, whose limbs flip and spin when jiggled.
We know, having been on the market circuit since early October, that the jiggly figures are loved by children and adults alike.
Today's is in a town about half and hour from home in a square by an enormous and gaily lit tree.
Jingle Bells pours from the PA system and, as usual, Joanna, my mother-in-law, is first to start unloading the van.
"I'll get the skirts and tarps on the stall while you bring the boxes."
She scurries ahead with her arms full of red velvet and silvery trim, ready to transform the basic boards and metal frame into a magical setting for our beautiful creations.
Joanna never seems tired of it being Christmas every day. She deftly displays tree ornaments on silver-sprayed branches, and, on tiered stands, the table decorations that are Malcolm's work. Her breath turns to steam on the wintry air. "Doesn't it look wonderful? Oh, I have got a clever family! You've used such jolly colours, Rachel."
I pass her a box of reindeer.
"Bright colours appeal to the children and they're often the ones who persuade the parents to buy. I wonder how many decorations make it to the family Christmas tree? I'll bet lots of the kids end up with them in their bedrooms!"
I smile, but then I'm taken by surprise at a prickle of tears as I envision somebody's angel-faced little girl dropping softly off to sleep, a green-suited elf on her headboard.
"And our decorations can be kept for generations, long after the modern ones might have broken." Malcolm clips his cash belt on, settling it into its familiar place around his capacious waist. "You can't beat good old-fashioned quality craftsmanship. I'm thinking about making traditional Christmas toys, as well as decorations, next year, like my mum and dad used to."
Feeling the cold already, I pull on a fleecy Santa hat.
"What sort of thing? Spinning tops?"
His eyes shine as he speaks of fresh creations.
"More like rocking horses, and toy boxes that you could paint a child's name on. The kind of gifts bought by grandparents who have grandkids to spoil."
He halts, eyes meeting mine. Dismay slides across his face.
I turn my attention to unpacking jiggly reindeer. There's no need to raise my gaze to know that Joanna will be sending Malcolm "a look".
It's almost a year to the day that my latest pregnancy came to nothing. Three times Oliver has been excited. Three times my in-laws and my mum and dad have had their hopes raised that they'll be grandparents. And three times we've all been disappointed. No one more bitterly than I.
Joanna takes two reindeer gently from my hands and I realise I've been standing, motionless, staring at them.
"Why don't you men go and buy us all tea and bacon butties?" she calls. "It'll warm us up."
"Good idea." Oliver sends me a reassuring smile as he leads his dad towards the catering van. I can see them talking as they go, Malcolm probably murmuring apologies and Oliver telling him it's OK. Malcolm would never upset me deliberately.
"Thank you," I whisper, as Joanna hugs me quickly, sharing her strength and warming me, both at once.
Joanna always knows what to say or do, how to make tension disappear. Never does she make a thoughtless comment; never does she underestimate my pangs when friendly customers ask if I have children of my own.
Yet never has her sympathy put an ounce of pressure on my childless shoulders. Joanna, happy, chatty Joanna, has, as the saying goes, "been there and bought the T-shirt". Oliver was an only child and he was "hoped for" for a long time – so she, too, has been through the disappointment, losses and false alarms.
Even on days like today, when I just want to retreat quietly into my own thoughts, Joanna understands.
After a long – though profitable – day, I'm exhausted. At least there are far fewer jiggly figures left to pop back into their boxes. I fall into the familiar rhythm of putting their little boxes into bigger boxes, big boxes into the van.
Oliver swoops one of the larger boxes out of my arms and steals a cheeky kiss.
"Not long now, beautiful," he murmurs. "Not long!"
I manage a smile and a wink but I feel oddly taut and tearful, longing to be home where I'll no longer have to put a face on things, to soak in a hot bath while my hands and feet thaw.
"Roll on tomorrow," I murmur back, as I pass him yet another box.
---
This is the way to spend a day off." But Oliver's hand is clammy as he clasps mine.
"But only your wife gets to lie down!" The radiographer, Gemma, jokes, as she smoothes warm jelly over my bare tummy with something that looks a bit like a microphone.
Gemma, who knows something of our history and appreciates our nervousness, sends us a last comforting smile before she fixes her eyes onto the screen in front of her.
Ours is one of the last appointments before the department closes for Christmas and the airy white corridors are strangely hushed. I can feel my hand trembling in Oliver's. I focus on a tiny cluster of Christmas stars pinned in Gemma's hair.
Gemma looks too young to be responsible for interpreting the results of the scan, to be involved in people's hopes and dreams. And fears. Although I'd intended to relax and let her do her job, suddenly I find my voice.
"Is everything all right?"
Oliver inhales sharply.
Gemma pauses, tilts her head, then turns the screen towards us. A beaming smile transforms her expression.
"It looks a bit like a teabag on the moon but that's your baby! And that dark area pulsing away, that's baby's heart. There's a little arm and that big blob is the head. Everything looks completely normal. Congratulations! Your pregnancy appears to be going well."
"Do you think they'll like their gifts?" I'm almost dancing as I make tea for Mum and Dad, who have turned up after a two-hour car ride and pronounced themselves to be parched. "It's not as if we've spent very much."
"They'll love them and we're going to need to get used to practising a little economy."
Oliver swings me off my feet into a great hug. I savour the feel of his heart beating against mine, listening to the sound of voices in the sitting room, where Mum and Dad are catching up with all the news from Joanna and Malcolm.
Giddy with excitement, I hug Oliver back.
"I hope they're all pleased."
"Pleased? I don't think you need to worry about that. Now, come on, let's take the tea in and try and act normally, or they'll guess something's going on."
The morning seems endless. Mum and Joanna giggle over the sherry and help with the dinner while the men set the table and open wine.
Soon, we're staggering in with a golden turkey, trying to find space to heave it onto the table between the wine glasses and crackers, all talking at once.
"I'll carve."
"Oh, don't say we left the sprouts in the kitchen!"
I just can't wait for everyone to finish their turkey and crispy roast potatoes, then Christmas pudding with brandy sauce.
But, finally, Oliver refills everybody's glasses and declares, "And now, presents. I'm afraid Rachel can't wait another minute."
His eyes twinkle as brightly as the Christmas lights as he retrieves four flat packages from beneath the tree and hands one to each parent.
"A picture?" Joanna says, slitting the paper of her package. Then joy dissolves the lines between her brows. "Oh… does this mean…?" She lifts her gaze to us, eyes wide with hope.
"Lovely frame," observes Dad, who takes longer to catch on to things. "Oliver, this is your handiwork, isn't it? But what's it a picture of? It looks like an alien in an egg."
Oliver pulls me right out of my chair and into his lap, as if he can't get close enough to my precious cargo.
"It's our baby." His voice is tight with pride. "Those are the prints of the scan. That's the head, there, look, and an arm. That dark area, that's the heart – and we could see it pumping!"
I can manage only to squeak.
"And I'm twenty weeks along now, so it seems pretty safe to tell everyone. You're the first, of course."
Then everything's a blur. People hugging and kissing me, then hugging and kissing each other.
"This is the best Christmas present ever!"
"The first rocking horse I make will be for my first grandchild!" Malcolm announces proudly.
Finally I give way to the tears that have been threatening for days, letting them roll hotly down my face, the tears of hope and fear that have turned to tears of joy.
"This will be my and Oliver's last Christmas on our own," I sniff. "The last one to laze around and please ourselves."
"By next Christmas it will be sleepless nights and expensive baby gifts!" crows Oliver.
I wipe my eyes and beam at my lovely husband, who was my rock when I found myself in a hard place.
"And from now on, it won't seem as if it's Christmas every day. It really will be."
We're sharing another lovely short story from our archives every Monday and Thursday throughout December. Look out for the next one!