Christmas Baby
---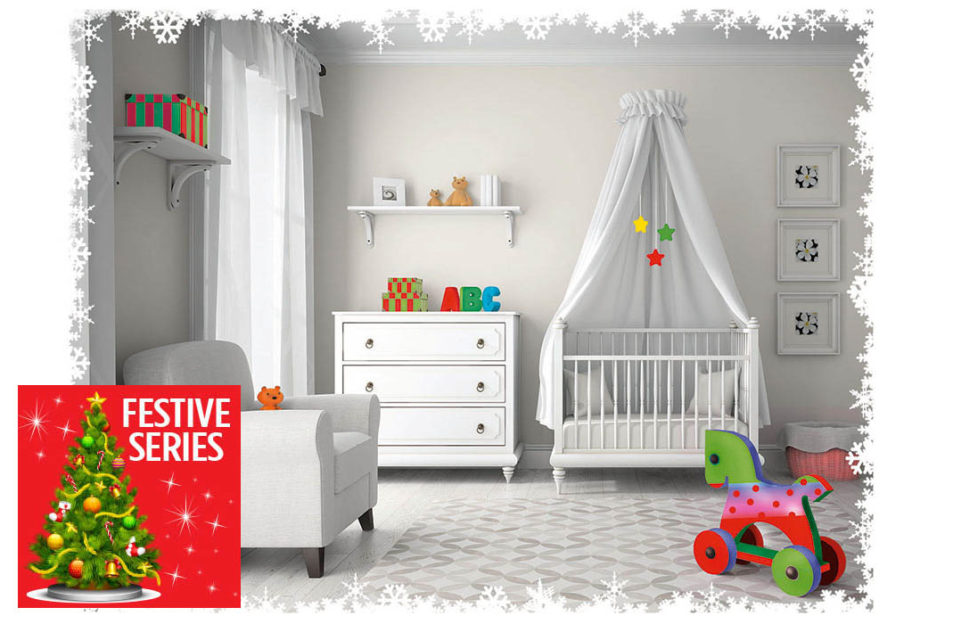 Pic: Shutterstock/ Rikki O'Neill
As we enter the maternity wing, the huge Christmas tree in the foyer takes my breath away. It stands in one corner, in a big tub festooned with red crepe paper. Gold and scarlet baubles dangle from its spiky green branches.
I stop and clutch at my sister's arm. "Oh look, Charlie, isn't that beautiful?"
Charlotte sighs. She tugs gently at my sleeve. "Lauren…"
I pass my hand over my swollen stomach and smile at her.
"Give me a moment, Charlie," I murmur and my sister is silent.
The Christmas tree is a real one. Its scent is tangy-sharp; the fragrance of pine mingling with that familiar hospital smell of antiseptic.
Even though it is barely afternoon, the tree is lit. Strings of jewelled lights entwined among the gaudy glitter of purple and silver tinsel give a welcoming glow.
At the top of the tree nestles the Christmas angel. It leans towards us, graceful in filmy robes of silvery white, its gauzy wings outstretched. At the base of the tree is a cardboard Nativity scene, the little figures set in place.
My glance lingers on the figure of Mary.
She sits serenely in the simple stable, her blue-painted gown draped about her. She's cradling her baby. The love shines from her eyes as the cardboard kings and shepherds kneel to offer their gifts.
I feel Charlotte take my hand. She is watching the figure of Mary, too.
My sister's blue eyes glisten with sudden tears.
She starts to speak but I touch my finger lightly to her lips – "It's all right, Charlie" – and her words remain unspoken.
We leave the tree and make our way over to the admissions desk to announce our arrival. We have phoned ahead, so are expected.
I explain that my husband, Joe, is at home looking after the children. He'll be here as soon as he can sort out a babysitter.
Charlie's husband, David, was at a business meeting but is on his way.
This "early-bird" baby has caught us all unawares.
In a short while we are taken to the labour ward where Charlie helps me to change. I know the loose cotton gown will be cool and roomy during labour.
The midwife is friendly and cheerful. She confirms the birth plan and that Charlie will be my birth partner. Then I am examined and there are the familiar checks of pulse, temperature, blood pressure and so on. The midwife feels my abdomen, determines the baby's position and listens to the heartbeat.
Charlotte watches intently, monitoring every move, every contraction.
I'm not sure who is more nervous about this birth – my sister or me. I think it might just be Charlie. I wink at her and tell her it will all be fine.
The midwife appears at regular intervals to repeat the checks and give me reassurance. Charlie is the perfect birth partner. She has devoured every manual on childbirth that she could find. She knows exactly what to do and, as if by instinct, when and how to do it.
My sister holds my hand, she wipes my face, she gives me sips of water. She massages my back and shoulders, and helps me move into easier positions. Her touch is sure and gentle. She does her best to comfort and keep me calm for the birth of this precious baby.
I glimpse in her blue eyes the nervousness she tries to keep at bay.
Charlie isn't the only one to help me through this. On my bedside table is the family photograph I have brought with me of Joe's face smiling happily out at me.
He is standing next to me, his arm about my shoulders. Our three small children – Lily, six, Kyle five, and Evie, three – are caught in a mischievous tumble at our feet.
The picture was taken on the beach last year, during a seaside holiday to Dorset. Charlie was the photographer.
I press kisses to the four beloved faces. Then I reach for Charlie's hand again as another contraction grips…
---
Later, in the delivery room, I have a lovely warm shower. Then my sister helps me into bed. She sits beside me, reminding me of the relaxation and breathing techniques we have learned together.
She works alongside the midwife, discreet and unobtrusive. Her words are soft and clear, her instructions firm, but I catch the slight tremble of her voice, the quiver of her touch.
I paste on a smile and remind her that first babies can take time but subsequent babies often arrive a little quicker. This baby, I say, should be a doddle.
Who are you kidding? I hear her think.
Charlie glances at her watch. "It's nearly Christmas Day, Lauren."
She wipes my face again and tries to deflect my thoughts.
"Wasn't that a gorgeous Christmas tree we saw earlier?"
I lie back and breathe in the imaginary sharp-scented tang of the tree, and my mind slips back across the years to another Christmas…
We were sisters. I was six years old and Charlotte five. It was last week of the Christmas term and our school was having a concert.
It was a programme of varied seasonal entertainment. Charlotte's Reception Class was first on the agenda, performing the traditional Nativity play, backed by a percussion band and choir from my own class.
Charlie was chosen to be an angel.
Mum had made her a long white dress from an old nightie, and stitched her dressing-up fairy wings to it, but, at the very last moment, my sister decided she didn't want to be an angel. She wanted to be with me, with the "big girls" in the choir.
She screwed up her face until she looked really ugly, not like an angel at all. I think that's why her teacher let my sister, Charlie, join the "big girls" choir.
I didn't want Charlotte in the choir. My sister was always getting her own way.
"She is the youngest, Lauren," Mum kept saying to me.
I got tired of hearing it.
After school that day, all the children were instructed to collect their costumes and return with their parents in time for the concert.
The girls in the choir were allowed to wear party dresses, and were asked to bring a doll from home to hold for The Cradle Song.
At school, everyone had to change into plimsolls so we wouldn't make a noise on the stage.
As Charlotte and I tugged on our plimsolls, my stomach suddenly flipped.
I'd forgotten my doll!
My teacher said there wasn't time to go home for it. She fetched an odd plimsoll from lost property, wrapped it in a tea-towel, and told me to pretend it was my baby!
On the stage, I stood next to Charlotte, behind the curtain, waiting for our turn.
"Let me hold your doll. I'll give it back when the music begins."
"No!" Charlie clutched her doll tight.
"I'll give it back. I promise."
My little sister was the precocious one, the spoiled one. I was the good girl. I didn't tell lies.
Charlotte huffed and swapped her baby doll for my plimsoll one, but as we started to sing, she called out, "Give me back my doll. Now!"
I ignored the pouting of my sister's rosebud mouth, the tears in her blue eyes, her silent accusation.
Gently I rocked my baby. I was its mother. I sang, "Mary's little baby sleep, sweetly sleep…"
The guilt came later.
---
I hear the chime of the Christmas bells as a sudden spasm cramps my body.
"It's Christmas Day, sis," says Charlotte.
Then the midwife is here. "Not long now, dear."
She smiles at us. "Your husbands have phoned. They send their love and will be here very soon."
---
The baby is a girl. Charlie cuts the umbilical cord as we planned. I glimpse the beautiful perfection of this baby before I turn and place her gently into Charlotte's waiting arms.
I am grateful for these moments alone together.
This is a special time; a time for sisters, a time for a new mother and her baby to begin that magical bonding…
All through her life, with one flash of her lovely blue eyes, my precocious, angel-faced sister achieved everything she wanted.
Except the one thing she craved most.
I wasn't sure at first about the surrogacy, but my body is so fertile and made my three lovely children, while Charlotte's…
"Do you remember the plimsoll doll?"
Charlie nods and brushes a finger down her daughter's cheek.
She looks up at me with a tremble of her rosebud mouth, the shine of tears in the blue of her eyes.
"Thank you," she whispers.
It is enough.
Look out for a new themed series of short stories from our archives, starting in January